Two women who were viciously assaulted by former partners have spoken out as the PSNI launches a new plan to tackle violence against women and girls.
Jenny Hunter and Stacey McClatchey told their stories as police laid out plans to encourage more reporting and secure prosecutions.
Police statistics show that between 2017 and 2021, 34 women and girls in Northern Ireland were killed by men.
The incidence of domestic abuse is currently at its highest ever level.
The strategy being launched by the police has two main outcomes: to stop attacks on women and girls, and to build trust with them in the police response.
The work has been welcomed by the Women's Aid Federation of Northern Ireland.
Chief Executive Sarah Mason said it was an "historic day" which would finally bring Northern Ireland into line with the rest of the UK.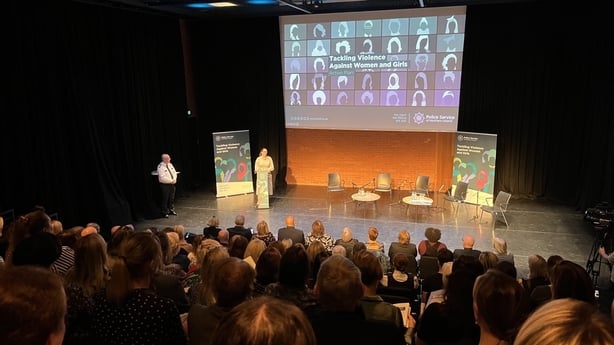 'He told me not to look at myself'
In September this year, Ms McClatchey's partner was sentenced to 12 years in jail for offences including threats to kill and causing her grievous bodily harm.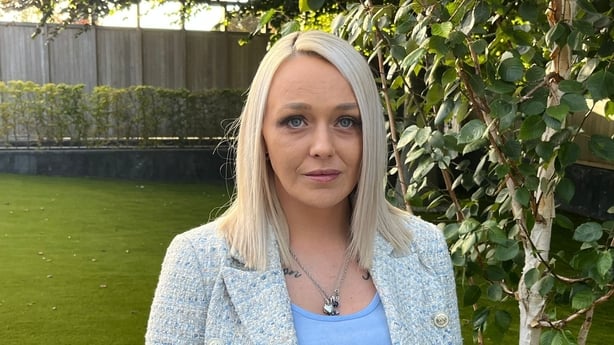 She described how he had dragged her around the kitchen of their home by the hair and kicked her in the face, breaking her jaw.
"I came round and it was daylight, he was in the dining room sitting drinking a bottle of wine and he was crying and saying that he was sorry.
"He told me not to look at myself, he had the mirrors covered with towels downstairs so that I couldn't see myself.
"I brought myself upstairs to the children's room where they had mirrored wardrobes, and I broke straight away."
We need your consent to load this rte-player contentWe use rte-player to manage extra content that can set cookies on your device and collect data about your activity. Please review their details and accept them to load the content.Manage Preferences
He stopped her from seeking medical treatment for ten days and made her lie to doctors.
He forced her to conceal her injuries with make-up and tell her family the injuries were accidental.
Two months later he beat her again while drunk, fracturing her cheekbone, an injury for which she's still awaiting surgery.
Ms Hunter described how she'd called the police after her drunken husband returned to their home and attacked her after a row.
He pulled her from the bed she was sharing with their three-year-old daughter and dragged her by the hair to another bedroom where he straddled her and grabbed her by the throat, telling her he was going to kill her.
"He told me that I had driven him to it, and that it was my fault and he asked me if I was ready for it.
"My girls were screaming, all I could hear was this animal sound from them...I thought in that moment that he was actually going to kill me."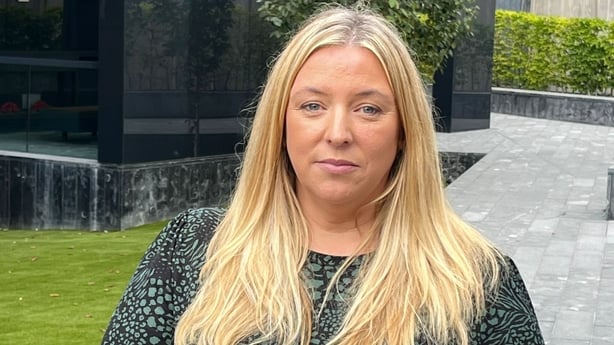 He also wrecked the house, punching holes in the wall and smashing photographs as Ms Hunter's young daughters stood in the room crying.
She fled with her children to a neighbour's house for help.
Her husband of six years was sentenced to 18 months probation. He went on to abuse his next partner and was jailed for ten months for those offences.
The number of domestic abuse crimes in Northern Ireland in the year to April 2022 rose to more than 21,000, a 14% increase on the previous year and the highest figure recorded since statistics began almost two decades ago.
The police have promised to increase patrolling in identified "hotspots" looking out for predatory behaviour and helping women and girls who may be vulnerable.
They've also committed officers to help women who are targeted and harassed online.
"This is a watershed moment," said PSNI chief constable Simon Byrne.
"Never before has there been such a shared focus and ambition to radically reduce violence against women and girls and we must keep the momentum going."
25 PSNI officers being investigated
Part of the new strategy will also focus on training PSNI officers on how to deal better with domestic abuse allegations, and to tackle misogyny in its own ranks.
The PSNI said it would pursue any alleged offenders amongst officers with the same vigour as in the general population.
In February the police said 25 officers were being investigated following allegations of sexual misconduct. Nineteen of them had been suspended pending the outcome of those inquiries.
Many of the allegations came to light following the murder in London of Sarah Everard by a serving officer of the Metropolitan Police.
Northern Ireland recently enacted new legislation to criminalise coercive control and stalking.
Twenty-five people have been charged with stalking offences since April.
Since February, when coercive control laws took effect, until June - 213 people have been arrested for that offence.