Mount Errigal is synonymous with Donegal. The image of this iconic mountain pops up regularly on almost anything to do with the county.
However, about 12 years ago, local people in the nearby village of Dún Lúiche began to get worried about the damage being done to the mountain by the thousands of people who were climbing it, after noticing their steps eroding the sensitive bogland.
A stakeholders' group was set up and today was an important day for them, as they marked the first phase of the conservation of the mountain.
An aggregate path has been constructed about 1.5km up the side of the mountain and, within months, it will reach the top.
Josephine Kelly who is Project Officer with Cairde na hEaragaile - Friends of Errigal - said that at one point they had counters on the mountain, which recorded about 40,000 climbers a year, but those numbers grew exponentially, especially during the pandemic, as more and more people sought out the mountain.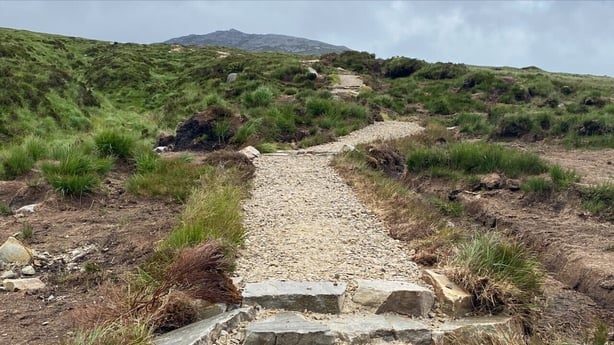 However, as more people climbed it, more damage was done as they strayed from the trail seeking out drier places to walk.
The idea of the path, she said, is to concentrate the walkers along the one route to allow the rest of the landscape to recover over the next couple of years.
Paul Roarty who is a member of the local development group, Forbairt, Dhún Lúiche, said that if this work had not been done, then within a few years, the mountain would have been beyond repair and they, as a community, want to leave the mountain to future generations in the condition it deserves to be in.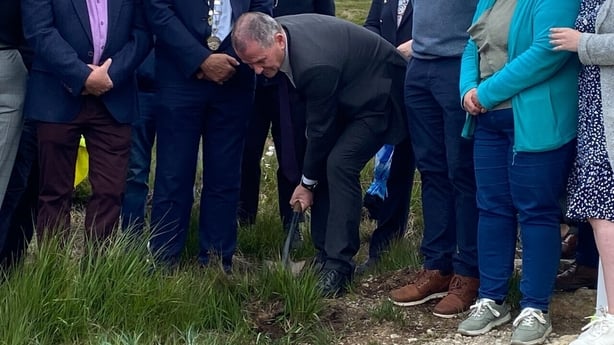 At a symbolic re-sodding of the bog by Liam Ward, Director of Services with Donegal County Council, he highlighted the importance of Mount Errigal to Donegal in terms of tourism and the local economy.
He said there is a duty on the council to work with the local community to ensure that there is no further damage done to the sensitive landscape and that it is protected for future generations.
As we get into the summer season, where even more people are expected to travel to Mount Errigal to climb and enjoy the scenery, the message from the custodians of the mountain was to please respect it and help conserve this iconic mountain by using the new pathway.