They thought it would be just one more winter, one more Christmas, out of their home; 2021 would see them back sleeping in their own beds, celebrating the season in their own sitting room, cooking dinner in their own kitchen.
Now though, the Noone family do not even want to even think about - let alone dream about - when they might get back home. They have had too much disappointment already.
Their house at Quigley's Point in Co Donegal sits on a beautiful site overlooking Lough Foyle.
However, it now stands boarded up, with the exterior walls crumbling away and the interior gutted, ready for demolition whenever possible.
It may be an overused phrase in the media, but it is one Noel and Joan Noone genuinely use about their home. It was to be their "dream home," their forever home, when they began building it in 2004.
They moved there in 2006 and were improving it by degrees, completing a bedroom or a bathroom when they could.
The cracks first started appearing in 2011. It was St Patrick's Day 2014 when an engineer confirmed that the house had a serious mica problem.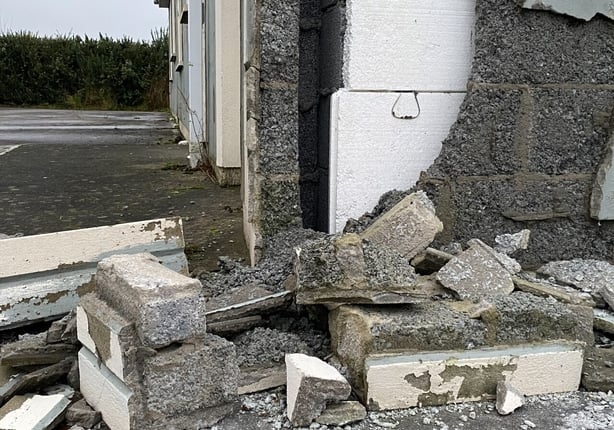 Since then, Mr Noone said it has been "plight and fight" to get it fixed. Now, over seven years on, they feel they are still no nearer a resolution to get their home back.
Over that time, Ms Noone said she lost heart in her home.
It "killed her" to pay for paint to do up a room for a confirmation, even though they had always enjoyed having those family celebrations - communions, confirmations, birthdays, and Christmas in the house.
She said they had lots of good times there for nine or 10 years, but those celebrations in their own home have come to an end.
"Mica is always the topic of conversation and then it turns to Covid."
The family moved out temporarily over a year-and-a-half ago to care for Ms Noone's father before he passed away, but the house rapidly deteriorated and it was not safe for them to move back in.
They miss it dreadfully and Mr Noone said it has had an impact on everyone, including their children Shaun, Aoife and Eimear.
Shaun, who is doing Leaving Certificate this year, said he misses the space to study and all the great memories he has of special times there, like birthdays and Christmas.
Aoife is doing her Junior Certificate and feels dejected by their situation, let down by a Government she says who "should be their heroes but who are not".
The Noones applied for the original scheme to compensate owners of mica-affected homes when it opened in June last year and just before Christmas 2020 got word that they had been approved for option one – demolition.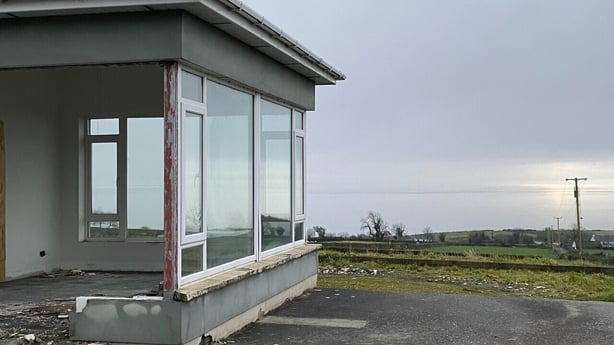 The house could not be repaired. It would have to be knocked and rebuilt. They were shocked though to discover that the so-called 90/10 scheme would still end up costing them tens of thousands of euro, maybe as much as €100,000, even though they were going to scale back on its size to try to save money.
Campaign ramped up in 2021
The Noones were not alone in facing a huge bill under that scheme and 2021 was a year when the Mica Action Group really ramped up its campaign to have the plight of thousands of families recognised.
Families who, through no fault of their own, were living in crumbling homes, took to the streets of Donegal and Dublin to plead their case for 100% redress to repair or rebuild homes that were disintegrating around them.
"Just hurry up and give us a scheme that works."
It was not easy to bare their hearts and souls to the nation, describing the physical, emotional and financial toll mica had taken on their families, but the Noones, like others, felt they had no option – they had to get the powers-that-be to listen.
As negotiations continued to try to extract a workable redress scheme from Government, people like Noel and Joan tried to keep their hopes up. They had put out tenders for the work on their home, but struggled to get a contractor. They thought they had one, but it did not work out and, with that, went the hope of starting work in September, with the dream of being back in by Christmas of next year.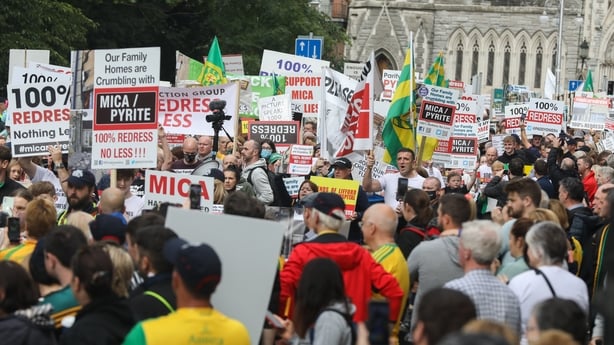 Now, Mr Noone is looking at alternative options. He has lost faith in blocks. He figures he would be anxious about any settlement cracks, so he is researching timber frame or ICF (insulated concrete forms) builds. Again, though, finding a contractor is a problem, he said, because most companies in Donegal seem to be tied into traditional builds.
"We should be looking forward to family time, the joys of Christmas, but now we are looking at another winter and another Christmas out of our home."
Whatever about the type of house to replace their boarded up one, the cost is still a major problem for the Noone family. They still have 19 years of a mortgage to pay on the condemned house and the new scheme, which was announced recently after protracted negotiations, still does not work for them or many others.
One of the key difficulties in the new scheme is the sliding scale of €145 per square foot for the first 1,000 square feet of a home, reducing to 110 for the next 1,000 and sliding downwards after that.
Mr Noone said quotes are coming in at €150 per square foot across the board, but in the current climate it is difficult to get a builder to commit to a figure for any period of time given that costs continue to rise.
Under the new scheme, the Noone family could be aided to the tune of €315,000, but the prices they are being quoted are all "north of €360,000," Mr Noone said.
He has engaged with banks multiple times and there has been talk of setting up committees to work with owners of mica-affected homes. However, he believes that the banks are "sitting on the fence" and reckons they could do more to help families like his.
Mr Noone has salvaged as much as he can from the house, including insulation, skirting boards and sanitary ware. He hopes to save as much money as possible by reusing them whenever the rebuild gets under way.
He wants people - especially those who make decisions about mica redress - to realise that people like him are "not trying to build a swimming pool or anything" – he just wants his home back.
He and his wife work and pay their taxes and have done nothing wrong, Mr Noone said, and they would both love the Taoiseach, ministers Paschal Donohoe and Michael McGrath, and the civil servants involved to visit homes like theirs.
"Not a whistle-stop tour," he said, adding that they should spend time here with families and see the reality for themselves.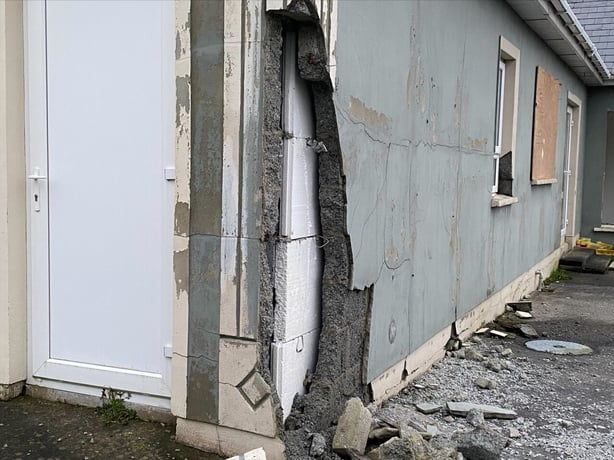 Ms Noone is "just sick of it all" now and says the Government must give people some hope.
"Just hurry up and give us a scheme that works," she said.
This time last year, Mr Noone said, he was optimistic but that is not the case this Christmas. It is all taking too long, life goes on and there is another year lost. Their children are growing up, Shaun will hopefully be going to college next year, but will he be able to come back to his own home at weekends?
As it is now, the family do not come to see their house very often, because it is too depressing. Every time they do visit, they can see further deterioration.
One of Mr Noone's big fears is for families who have not been able to move out of their homes, because they have nowhere to go or cannot afford rent on top of a mortgage. He dreads the prospect of a serious accident "when a wall caves in or a roof collapses".
While everyone around the country is sick of talking about Covid-19, the Noones are sick of talking about mica.
Ms Noone's brother and brother-in-law both have mica-affected homes, while Mr Noone's parents, his brother and his three sisters also live in mica homes and are facing the same problems.
"Mica is always the topic of conversation and then it turns to Covid," Ms Noone said.
"It just wears you down," Mr Noone said.
"We should be looking forward to family time, the joys of Christmas, but now we are looking at another winter and another Christmas out of our home.
"I know we will get there one day but it's just taking too long, and life is moving on."