A virtual museum experience is being delivered to primary schoolchildren in Northern Ireland through a programme called Museum on the Move.
Museums Northern Ireland say the interactive workshops were developed as a response to Covid-19 restrictions, but have been so successful that they will continue to be used as an educational tool.
Christabel McCartney, Education Assistant at National Museums NI, said a box of artefacts is delivered to the school and the teacher will then connect by zoom with museum staff for a talk about the objects.
Ms McCartney said nearly one third of the schools had been in rural areas where the pupils often cannot get to do museum visits.
She said the programme had also renewed interest from schools in museum visits and they intended to continue the Museums on the Move while museums are open to the public.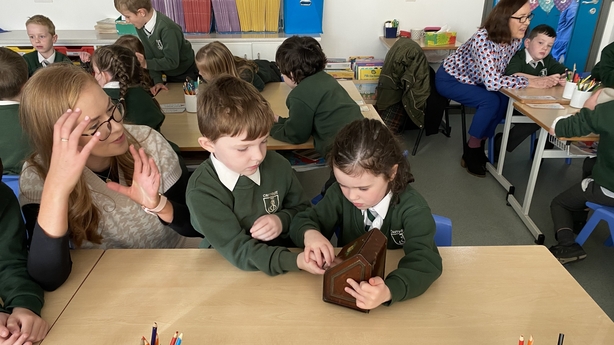 "Our main aim is to get accessibility for our museum artefacts," said Ms McCartney.
Bookings for the classroom experience have now backed up into the 2022/23 academic year, she added.
Pupils at St Joseph's Primary School in Carryduff, Co Down, were given a workshop on farming life in the 1900s, with artefacts used before electricity including a flat iron, a plunger to clean clothes and a wooden carpet beater.
They were also shown a video about life on the farm.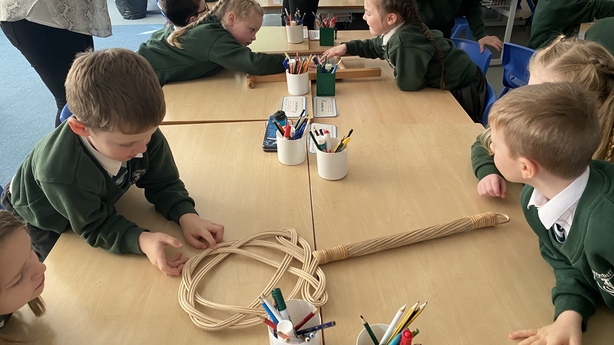 Teacher Hannah Campbell said the session is exciting for the children and there are a lot of thinking skills behind it.
"They are comparing and contrasting and seeing how life has changed from a hundred years ago to now and comparing it to their own life".
Pupils Tiarnan and Holly both said they enjoyed seeing the artefacts, but said it would be better to visit a museum
Other workshops include sessions about Ancient Egypt, the Vikings, Victorian medicine and Northern Ireland during the Second World War.
There were 334 Museum On The Move sessions during the last summer term, reaching a total of nearly 13,000 children.