The President and Taoiseach have led tributes to Pat Hume, widow of the late SDLP leader and Nobel Prize winner John Hume, who has died.
Mrs Hume passed away today at her home in Derry following a short illness.
In a statement issued through the Hume Foundation, the Hume family said: "We are heartbroken to announce the death of Pat Hume at home in Derry earlier this afternoon after a short illness.
"Pat died as she lived - surrounded by family, peacefully and generous to the end.
"Pat spent some days in the hospital in the days preceding her death and she saw first-hand the outstanding work that healthcare workers do, and the pressures that they are facing due to Covid."
The family said funeral arrangements will be announced in due course, and will adhere to Covid guidance. The wake will be restricted to family only.
They added: "We would like to express our thanks to the doctors and nurses of Glendermott Medical Centre, Dr Aaron Peace, the cardiology, palliative care teams and the staff of the Ambulatory Care Unit at Altnagelvin hospital, the Ambulance Service, the Foyle Hospice and all those who gave Pat such outstanding care."
Her death comes just over a year after that of her husband John. His death led to a flood of tributes from around the world.
Although not an elected politician, Pat Hume was described as a colossus within the SDLP and was Mr Hume's closest confidant and an advisor.
She encouraged him to persist when he faced huge external and internal party criticism when engaged in talks with former Sinn Féin President Gerry Adams.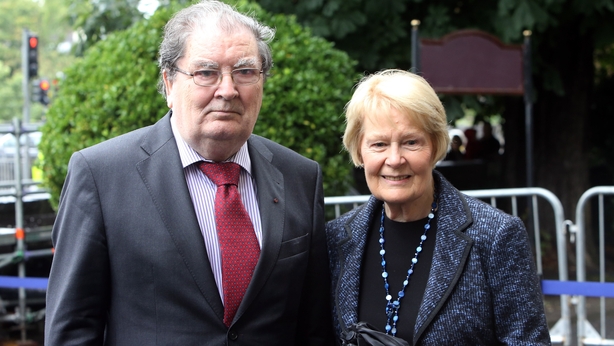 President Michael D Higgins paid tribute to Pat Hume, saying many people will hear of her passing "with great sadness".
"Their sadness, however, may I believe be helped as they recall Pat's extraordinary contribution to life on this island and beyond.
"That life of Pat Hume was one of total commitment to community, to the possibilities of peace, to the measures of non-violence that were necessary to assert, vindicate and achieve the results of civil rights," said the President.
"While her support of the work of her late husband and Nobel Prize recipient, John Hume, was an exercise in solidarity, a partnership in courage, endurance and fortitude, her personal contribution was unique, immense and important in its own right."
President Higgins added: "Pat's personal contribution as teacher, mother, in conditions of conflict, political adviser, constituency secretary and consoler of the victims of oppression from so many sources, was extraordinary in every sense.
"The care, compassion and consistent support she gave was exemplary and without a hint of exclusion.
"It was an honour to address the John and Pat Hume foundation last June and to have the opportunity of recognising the contribution of John and herself to the Peace Process.
"Pat's work, like that of John, will always have an indelible place in the minds of all Irish people, in particular those courageous people, of all dispositions, who sought a principled peace as an alternative to violence in any form, who worked day and night for a future that would be inclusive of the best of values.
"Sabina and I and our family, I know, will be but a few among the many who will wish to offer our condolences to her children, wider family, friends and the people of Derry and beyond in whose hearts she will always hold a place. Siochán siorraí do a anam lámhach, uasal croíuil."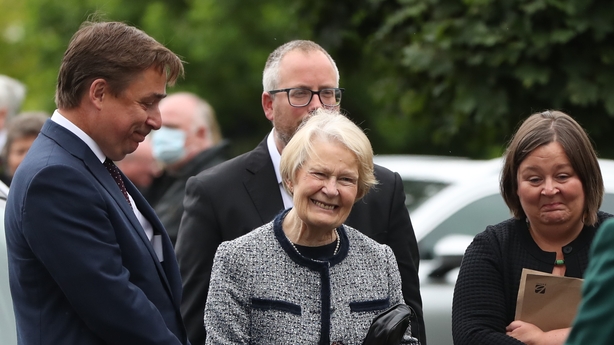 Taoiseach Micheál Martin said he was deeply saddened by the news.
"Alongside her husband, Pat made it her life's work to bring peace and stability to this island - showing huge resilience and courage along the way. My deepest condolences to all of the Hume family," he said.
In a statement, the leader of the SDLP Colum Eastwood paid tribute to Mrs Hume describing her as her husband's guiding light.
"Pat's compassion, fortitude and strength of character was a driving force behind the peace process and paid tribute to the leadership she has shown in Derry throughout her life."
"Without Pat Hume, there would have been no peace process in Ireland, that's the simple truth.
"The compassion, integrity and immense fortitude that defined her incredible character breathed life into our peace over the course of a long campaign that, at times, must have looked like it would never bear fruit. Pat never gave up faith."
Hillary Clinton tweeted: "Pat Hume was a gracious, determined force behind the achievement of peace in Ireland.
"She and her husband John both made the world a better place and set an example for us all. Sending my condolences to her family."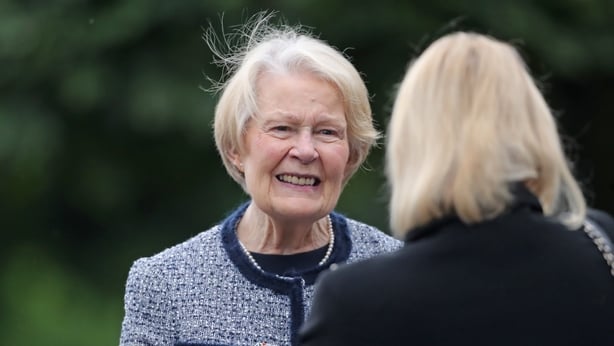 ---
Read: Hume Foundation to inspire future generations of peacemakers
---
Stormont's First Minister Paul Givan said: "There is a real sense of loss following the death of Pat Hume. Not just among her friends and family – and my thoughts and prayers are with them at this difficult time – but for the many lives she touched, both directly and indirectly.
"It is a testament to her legacy that people from all backgrounds, near and far, are tonight joined in sadness to mark her passing."
Deputy First Minister Michelle O'Neill said: "I was very sad to hear about the death of Pat Hume. Pat was a strong and determined person whose immense contribution to our peace is recognised across this island and across the world."
Leader of the SDLP Colum Eastwood described Pat Hume as a wonderful and courageous woman who comforted many others in the dark days of the Northern Ireland conflict.
Mr Eastwood said that her contribution to the life of Derry and to peace and justice in Ireland was "immense".
Sinn Féin leader Mary Lou McDonald said she was deeply saddened to hear of Mrs Hume's passing.
"A retired teacher, Pat Hume was on the frontline of Irish politics alongside her husband, the late John Hume, from the days of the Civil Rights movement to the peace process and as a community activist in her own right.
"Following John's sad passing last year, Pat was central to establishing the John Hume Foundation to continue his work promoting peace and reconciliation.
"I want to recognise and place on record my respect for the very important role played by Pat Hume to bring about the peace process and the courage, generosity and risks taken by both herself and John to achieve peace in Ireland," she said.
Naomi Long, leader of the Alliance Party, said she was "very sorry" to hear of Pat Hume's passing.
She described her as "an absolute lady, warm and friendly, always encouraging. Her dedication to peace was total as was her dedication to John, especially in his latter years, when we often saw them in Greencastle."
DUP leader Jeffrey Donaldson said that Pat Hume had lived a "unique life".
He said: "My deepest sympathies to the Hume family on the death of Pat Hume. A unique life well lived and no one who met John left the conversation without knowing Pat. A lovely lady."
Ulster Unionist leader Doug Beattie tweeted: "Although we never met I am saddened by the death of Pat Hume. My thoughts are with her family."
Pat Hume is survived by her children Aine, Therese, Aiden, John and Mo.
Additional reporting Vincent Kearney