The DUP has said it will not make an official comment on reports that the party leader and Northern Ireland's First Minister Arlene Foster is facing a leadership challenge.
It is being widely report that at least 21 DUP members of the Stormont Assembly, as well as four of its Westminster MPs, have signed a letter of no confidence in Mrs Foster and deputy leader Nigel Dodds.
In a statement issued this evening, the party said it will not be making any comment.
"The Democratic Unionist Party conducts its business in accordance with its constitution and rules," the statement said.
"The officers of the party oversee the conduct and organisation of its internal democratic electoral processes.
"Whilst understanding that there will be from time to time public interest in party processes, these issues, in the first instance, are matters for members of the party and we are not able to make any further comment at this time."
Mrs Foster earlier played down suggestions her leadership of the party was under threat, following a report in the Belfast News Letter, which said there was internal party unrest over her leadership.
Asked about the report during a visit to Belfast's Shankill Road, Mrs Foster said stories on leadership "come up from time to time".
"So we'll just deal with it and move on because I've bigger things to do, including getting us through this Covid pandemic, including listening to the concerns of working-class communities," she said.
We need your consent to load this rte-player contentWe use rte-player to manage extra content that can set cookies on your device and collect data about your activity. Please review their details and accept them to load the content.Manage Preferences
Ms Foster was elected as the first female leader of the DUP in December 2015, taking over from Peter Robinson. She had been the only candidate.
She has represented the Fermanagh and South Tyrone constituency since 2003.
There has been growing unease among DUP members about Mrs Foster's leadership in recent months.
Their primary source of concern is her handling of the Brexit process.
The DUP is facing anger from the wider loyalist and unionist community for the introduction of an Irish Sea border.
Critics have accused Mrs Foster of failing to use the party's influence at Westminster - particularly during its confidence and supply deal with the Conservatives - to secure a Brexit deal that saw Northern Ireland leave the EU on the same terms as the rest of the UK.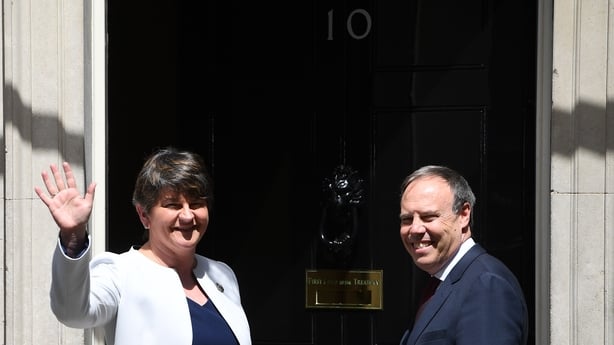 She has also been accused of not being vociferous enough in opposition to the Northern Ireland Protocol, which governs the new Brexit trading barriers between Northern Ireland and Britain, ahead of its introduction at the start of 2021.
Poor recent polling numbers have exacerbated the discontent within the party faithful, who are mindful of next May's looming Assembly election.
Mrs Foster's decision to abstain in a vote on gay conversion therapy last week appears to have further agitated sections of the party's fundamentalist grassroots.
This morning, the Belfast News Letter reported that several DUP constituency associations had written letters expressing concern at Mrs Foster's abstention on a motion that called for a ban on gay conversion therapy but did not incorporate a specific mention of protections for religious practices.
The majority of her party Assembly colleagues voted against the motion, having failed to amend it to include reference to religious protections.
Mrs Foster was among only five party members, including fellow Stormont Executive ministers Peter Weir and Diane Dodds, who abstained.
That episode points to tensions between Mrs Foster, a former Ulster Unionist, and the more traditional wing of the DUP, who perceive her as potentially too moderate on some social issues.
Additional reporting by PA