More than half a million people in Northern Ireland have now received a first Covid-19 vaccination.
In its latest update, Stormont's Department of Health announced that 505,188 people have now received a jab. Of those, 31,898 have also received a second dose.
Those figures are equivalent to just over 1.3 million individuals and almost 83,000 second doses in the Republic of Ireland.
Just over half of the first doses, 255,138, have been administered by GPs across Northern Ireland.
The remaining 250,050 were administered by Northern Ireland's six health trusts. All of the second doses were administered by the trusts.
The milestone has been reached just under 12 weeks after Co Down nurse Joanna Sloan entered the history books on 8 December.
The 28-year-old mother of one was the first person on the island of Ireland to receive a Covid-19 vaccination.
Since then, she has been kept busy managing one of Northern Ireland's seven mass vaccination centres at the Royal Victoria Hospital in Belfast.
"I feel excellent, thanks for asking," she said earlier this week.
"I am working very hard and am here most days and managing the vaccination centre, but I'm in very good health, and I'm very well."
The centre can vaccinate up to 1,100 people per day, and Ms Sloan injects as well as oversees others who do so.
She steps in when things get particularly busy and has personally administered "a few hundred doses".
We need your consent to load this rte-player contentWe use rte-player to manage extra content that can set cookies on your device and collect data about your activity. Please review their details and accept them to load the content.Manage Preferences
The vast majority of those vaccinated in Northern Ireland have only received a first dose.
Health authorities followed the British government policy of delaying second jabs to increase the number of people with some level of protection against the virus.
"It's going pretty well," said Patricia Donnelly, head of Northern Ireland's vaccination programme.
"We've got through all the priority groups so we feel very pleased. The advice to us from the Joint Committee on Vaccination and Immunisation was really to vaccinate those most likely to die, and those most likely to come to harm, and that is what we have done."
Health authorities made residents and staff in care homes the number one priority and it is members of that target group who have received second doses. The last dose to a current resident of a care home will be administered today.
"Most people over the age of 65 are now vaccinated and we've also worked through the clinically extremely vulnerable, and now we're working with the clinically vulnerable and carers," Ms Donnelly added.
"After that we drop down the age range to those below 65 and we'll do that in five-year tranches, probably in the next few weeks."
While more vaccine doses have been administered in Northern Ireland, health authorities south of the border have administered a higher proportion of second doses.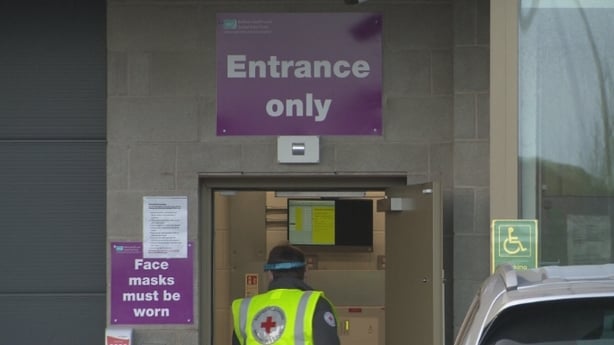 Some have questioned whether the efficacy of the vaccine will reduce if the gap between doses is increased, but Ms Donnelly defends the approach on the basis that the first dose gives a high level of protection.
"We wanted to see what the developing information was around how the immune system needed to develop over time, and there was an advantage, particularly with AstraZeneca, to have a bit longer (between doses) than the four weeks that was recommended by the manufacturer," she said.
"It also gave us, quite frankly, opportunities when that dose interval was stretched to vaccinate hundreds of thousands more people before we started second doses."
In terms of those eligible for vaccination, at this stage it will not be offered to anyone aged under 16, unless they are clinically vulnerable.
That means an estimated 1.5 million of Northern Ireland's population of around 1.9 million will be offered a vaccine.
"It isn't difficult to do the math," Ms Donnelly explained. "We've done about a third of the eligible population to date, and we think that's a very good place to be.
"Our chief medical and scientific advisors say we need about 75% update and so far that hasn't been a problem. We find that health care workers, older people, and carers, really want to have the vaccine so we've got, so far, about 90% update in the groups we have targeted."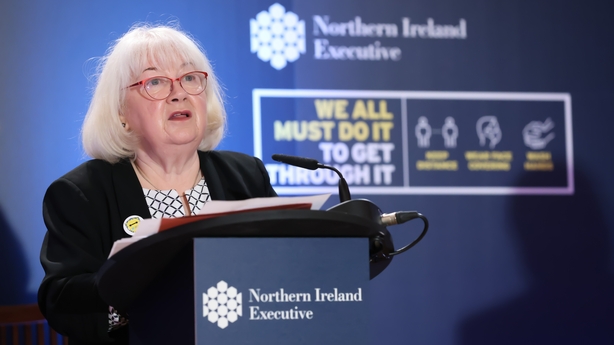 In addition to seven mass vaccination centres, each capable of administering more than 1,000 doses a day, 321 doctors' surgeries across Northern Ireland are also involved. There are also mobile units that visit care homes.
Another huge centre is scheduled to open in April in the SSE Arena, home of the Belfast Giants ice hockey team. It will be used for those aged 60 and under who have not already been vaccinated.
British Prime Minister Boris Johnson has said all those aged 50 and over in the UK will be offered their first vaccination no later than 15 April.
Depending on continued availability of supplies, Ms Donnelly said she was confident those aged under 50 will be offered their first jab by late April or early May, with everyone eligible receiving their first dose before the end of July.
So what about negative reactions to the vaccine? Have there been many?
"We're required under the medicines management regulations, we have to write a yellow card for every time there is an incident, and for 500,000 doses, there would be a minuscule number," she replied.
"I'm talking less than 20 reactions where people would have needed adrenaline or would have had an anaphylactic reaction, because we carefully assess individuals.
"We might use a different vaccine if Pfizer isn't suitable for them, and if we think they need to have the vaccination in controlled circumstances, within a hospital for example, we then organise that.
"The other impact we're seeing, and we're starting to see very powerfully, is we have fewer older people in our hospital beds, we have fewer old people in critical care, and we have fewer older people dying. So we know that that's making a difference."
One of those vaccinated at the centre managed by Ms Sloan this week was Belfast woman Michelle, who looks after her elderly parents.
She took up an offer for anyone working as a career to book a vaccination online.
"They were very fortunate, they got their vaccine the first day it came out. The Oxford they got, and I have always been just worried going in and out of their house. That's why when it came out for carers I applied straight away. I'm very happy, very happy today."
About 50km down the road, just outside Lurgan in Co Armagh, a new multi-million pound leisure complex sits on the banks of Craigavon lakes.
But it has not been able to open to the public, because of Covid. Instead, it has been converted into another mass vaccination centre.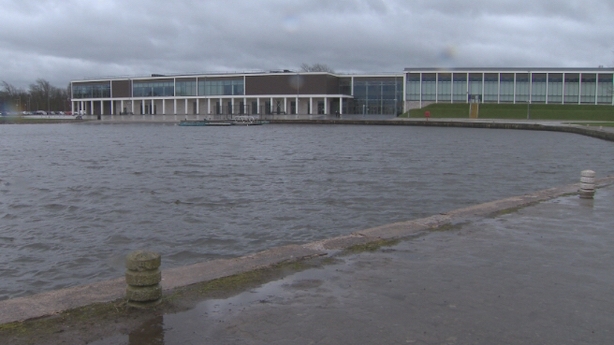 Its 16 vaccinators and support staff can administer doses to up to 1,200 people each day.
One of those vaccinated this week was former Ulster Unionist Party member of the Stormont Assembly Jo-Anne Dobson. She is now an ambassador for Kidney Care UK and donated one of her kidneys to her son, Mark.
"I'm absolutely delighted, so chuffed to have got it," she said.
"It's such a relief too because it gives you that extra bit of security as well, but delighted, couldn't wait to get it done this morning. Especially as my son's a twice kidney transplant patient, so it gives me the confidence even that I'm keeping safe for him as well."
David from Co Tyrone looks after his elderly mother, who lives alone.
"It feels great to have got the vaccine," he said.
"My mum relies on me for shopping and other bits and pieces and I'm worried sick every time I go to her house so this is a huge relief. I just can't wait to get the second dose."
Lorcan, a 20-year-old student from Co Armagh, helps care for his grandfather.
"He got his vaccine last week and he's buzzing about the fact that I'm getting mine today," he said.
"It's great because it will give me more confidence that we're safe when I go to see him."
Diane received her vaccination on Tuesday morning.
"I'm very happy and relieved , hopefully it'll make a difference," she said.
"I have two disabled children, so I worried what would happen to them if I got sick. So, this is just kind of peace of mind."
Back in Belfast, Ms Sloan said the speed of the vaccination roll-out has given staff and patients confidence that there is now a bright light at the end of what has been a very dark tunnel.
"Absolutely yes, I think as well working here really does give that sense, that feel of relief," she explained.
"Not only do you see the reactions of those that we're giving the vaccines to, and you can sense that, but also we, as part of our substantive roles, whether you work in the emergency department, ICU etc, there is a little bit of relief there that we are seeing the numbers declining.
"There is that hope as well, knowing that this vaccine does reduce the severe symptoms of Covid-19 and it does help protect you from severe illness, that it will reduce the amount of people that we are seeing coming into our hospitals that are very unwell and dealing obviously with their, their family members as well."
Belfast woman Deirdre helps care for her elderly mother.
With some expressing concern about getting a vaccine, and unsubstantiated claims and rumours about what the jabs contain, and about serious side effects, she had a short message for those who might be concerned.
"Get your arm out, get the needle in, and let's get everything back to normal again."