The Northern Ireland Executive's chief medical and scientific advisors say they remain fully committed to their roles, despite a bitter political row about advice they provided last week.
The DUP vetoed a proposal from Stormont health minister Robin Swann, based on expert advice, to extend Covid-19 restrictions for a further two weeks.
Instead, after four days of debate, the Assembly eventually agreed to a compromise deal for a partial extension, with the hospitality sector remaining closed until 27 November.
Hair and beauty salons and premises without a licence, such as cafes and coffee shops, can reopen from this Friday.
Stormont's justice minister and Alliance Party leader Naomi Long has said the political wrangling caused her to consider her continued participation in the Executive.
The experts who advise the politicians, Chief Medical Officer Dr Michael McBride and Chief Scientific Advisor Professor Ian Young, today took part in a Covid-19 media briefing.
Asked by RTÉ News if either had reconsidered their positions as a result of their advice not being heeded, Dr McBride described the decisions facing ministers as "extremely tough".
"Our role is to provide our best advice to ministers and we will continue to do that to the best of our ability based on the evidence," he said.
"Ian and I have both said repeatedly that we will not be found wanting if indeed there is further advice on wider or deeper restrictions that are required, or indeed any other intervention.
"I have a job of work to do. It's a privilege to hold this office and I will continue to do that job of work as long as I'm able to do so.
Dr McBride said the next few months will be "very difficult and challenging" but that he knows what his responsibilities are.
"That's to continue to serve the population of Northern Ireland, and all ministers around the Executive table, and I'll not be found wanting in that."
Asked to clarify whether he had reconsidered his position, he replied: "I have responsibilities which are, at times, the burden of them weighs heavily, but I will continue to fill those responsibilities to the best of my ability.
"I think I've answered the question."
9 further Coronavirus deaths recorded in Northern Ireland, 7 occurring during past 24 hours, taking official @healthdpt toll to 878. There are 549 new cases from tests on 3,075 individuals. It takes cumulative total of positive tests to 47,711 @rtenews @FergalBowers @Orlaodo

— Vincent Kearney (@vincekearney) November 17, 2020
Prof Ian Young said he felt the advice he provided to the Executive last week had been "heard and listened to very carefully."
He added: "I did not feel in any way that the advice which was provided was ignored or discarded.
"I think we've consistently said all along that in addition to our advice, that the Executive need to take into account the economic factors and the societal factors which are very important in determining the best course of action as we move through what are really very difficult times."
Prof Young has said it is likely that a further period of coronavirus restrictions will be recommended before Christmas.
Dr McBride said dealing with the ongoing pandemic had "messed with people's heads" and was difficult for everyone across society, including ministers and their advisors.
"So I think we should not be beating ourselves up over the fact that we are considering really, really difficult and challenging issues, issues and trade-offs and considerations that we have never had to face before," he said.
"This is tough. There are only are tough choices, all with a series about outcomes here, and sadly, that is the case."
He added: "I've said before, and it's on record, I think one of the most difficult jobs is to be a minister sitting around the Executive table at this time weighing up those impossible choices between health, protecting the health of the population, safeguarding our health service so that it's able to care for people, thinking about the economic damage and the wider societal damage.
"These are impossible choices."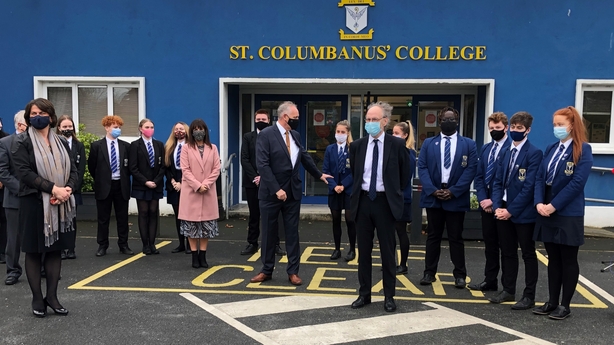 Earlier today, First Minister Arlene Foster called for a "collaborative and collective" way forward as ministers ponder the coronavirus restrictions.
The DUP leader said she hoped her party would not have to use the peace process-era safeguard again.
"We do not want to be in that position. We want to be in a position where we can come together collectively."
Her comments come as nine further coronavirus deaths have been recored in Northern Ireland, with seven occurring during the past 24 hours. It takes the official Department of Health death toll to 878.
There are 549 new cases from tests on 3,075 individuals, taking the cumulative total of positive tests to 47,711.
There are 449 confirmed Covid-19 patients in hospital, with 44 in ICU, 35 of whom are on ventilators.
The seven-day infection rate per 100,000 people for Northern Ireland has fallen below 200 for the first time since 5 October, and now stands at 197.9.
The council area with the highest infection rate remains Causeway Coast and Glens with 300.0 followed by Armagh, Banbridge and Craigavon on 254.1, and then Mid Ulster on 215.6.
Further ministerial discussions are expected to take place around the handling of the pandemic.
Ms Foster called for a "collaborative way" of working with the health minister.
During a visit to St Columbanus School in Bangor, Co Down, she said ministers were not planning for the early closure of schools.
The DUP leader said: "This is a crisis for our community and the economy. We have heard clearly from our businesses about the impact."
She added: "People who lost their jobs, they have lost all purpose in their lives. They need to get that back again, to feed their families."
She said the other parties complained about the use of the cross-community veto yet they were the ones who included it in the 1998 Belfast Agreement.
She added that public health had improved due to the interim restrictions and the reproductive rate of the virus had dropped below one.
"School is one of the safest places to be. We need to deal with these issues because people need to have their life chances so that they can make a future for themselves.
"We want to disrupt that as little as we possibly can."
Additional reporting by PA