An initiative aimed at educating young people about road safety has launched a new programme for boys and girls aged from 14 upwards.
The Garage Project allows young people work on real cars, carry out mechanical and body work as well as learning how cars work and the importance of safety.
It is funded by Peace IV and takes in ten young people at a time, meeting on Wednesday evenings to learn about cars under the expert guidance of instructors Leslie O'Donnell and Denis Ferry in a garage in Letterkenny and it is expected that about six or seven courses will be run this year.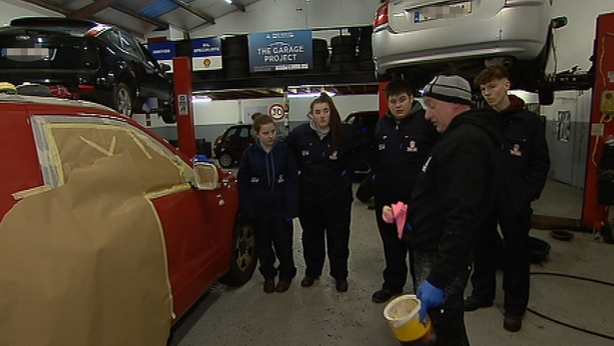 The Garage Project is part of the Pro Social Driving Ireland programme, which was set up in Donegal in 2012, and is now operating in several counties.
Its aim is to re-educate and rehabilitate participants who may have been referred by the courts or probation services by challenging their established thinking patterns and attitudes towards driving and bring about greater awareness of their driving behaviour.
There have been several high profile road fatalities in Donegal in recent years, some involving young people, and Pro Social chairman Mick Quinlivan said the project came about as a consequence of that.
He said in a county like Donegal it is hard to survive without a car and young people are obviously interested in them.
He said what this course aims to do is teach them a respect for cars and how they work, to respect themselves and other road users.
Mr Quinlivan said a big concern is young people modifying cars, cutting springs and lowering them and he said this course will educate them as to why this is very dangerous and an "absolute no no".
Judge Paul Kelly was one of those involved in setting up Pro Social Driving and is fully backing the Garage Project.
He said it the project will channel the interest young people have in cars in the right direction, educating them on safety before they become a risk on the roads and ultimately prevent them from coming before the courts.
Among the participants on the first Garage Project course are two girls, Ava Harkin wants to become a mechanic and Sophie Boreland who said young people have a reputation for "acting up" on the road and it's good to learn how to stay safe and also how to do work on your own car.
Another participant, Ryan Cunningham, said he has learned a lot and they do not want to lose more young people in the county.