A group of students in a Co Donegal school are creating a "wellness tree" which aims to make past, present and future members of the school community feel connected.
The student wellness committee at Loreto Community School in Milford invited pupils from neighbouring national school Scoil Mhuire, along with former teachers, present pupils and other local people to join them in creating the tree.
Under the guidance of blacksmith Gearoid Herbert, they are crafting 300 individual copper leaves for the tree which is under construction at his forge in Galway. The finished piece is hoped to be erected in the school grounds by Easter.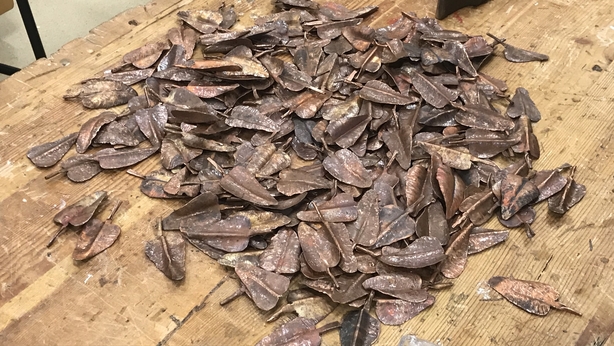 Teacher Jo Cotter says that the tree is all about friendship and respect, getting people talking and working together on something new.
Students at Loreto are supporting the initiative, with one pupil describing it as a lovely way of connecting past, present and future at the school in a bond of friendship.
For the fourth and fifth class pupils of Scoil Mhuire, it is an opportunity to visit the "big school" in a fun and friendly way before joining in first year.
Student Gráinne Sweeney says there are a number of initiatives to make people feel connected and realise their potential in school whether they are academic or not.
This includes an outdoor willow classroom where students can learn outdoors, along with gardening classes, all of which Gráinne says leads to a greater sense of happiness in the school.