Buntings, banners and a black and white painted car.
These are just some of the signs that something special is going on in the tiny, rural village of Kilcoo in Co Down.
A sign - which says 'Kings of Ulster' - and made out of white bags filled with stones on the side of a hill by Kilcoo GAC is another giveaway.
The village team has made it to the All-Ireland Senior Football Club Championship in Croke Park.
It is the first time in the club's 114-year history to have qualified for the national decider, which takes place on Sunday.
They will face Corofin of Galway in the decider, who are chasing their third All-Ireland title in a row.
The local council said the population of the village of Kilcoo is around 335, while there are less than 2,000 people in the three local census areas.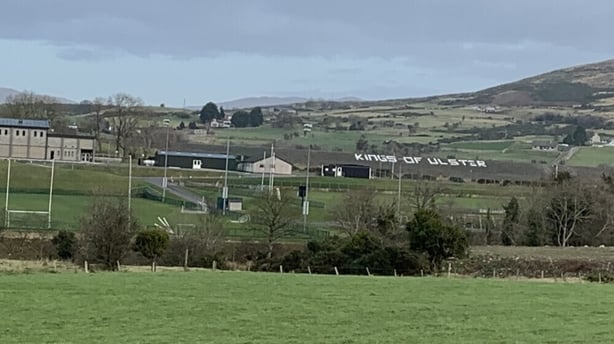 The achievement really is a community and family occasion.
The team itself is made up family members, friends and neighbours.
Assistant Manager Conleith Gilligan said it's a big help that they are a close community.
"I think its maybe 16 players that are brothers, you know in one way or another and the rest of them are all related so it's very, very tight knit. And everybody within the club and committees are fathers, or brothers or uncles so it's just a very special family occasion."
He also said a lot of the players are fathers and there's a "great buzz about".
"You have to let them enjoy that as well because you know it is a special time for the people of Kilcoo."
Bridie Branagan has five sons on the team - Aidan, Niall, Araron, Darryl and Eugene.
"They've always played, there was always football in the school. Then we've under 10s, under 12's, under 14s, right up to minors, seniors so they've all played at that age group.
"So it was just constant in this house cos you know Aidan's 37 and Eugene's just 23 and Mark's an older one, so I've been going for years in the car, back and forth, round to the field. But you just did it because they loved it and you were happy that they were doing that."
She said sometimes people ask her if gets an allowance for all her washing, but she said it doesn't bother her.
"Once everybody puts their clothes into the wash basket before they go bed and the boots line up at the patio door because the sun comes in there, so they're dry for the next training."
She said the boys have always been really competitive with each other and that they drive each other on to succeed.
After the Ulster final she said there were older people out on the pitch crying.
That's how much it means to them because for years Kilcoo won nothing and now everyone is behind them, she added.
She said she is always nervous before a game and on Sunday she will be "really, really nervous" and won't be able to eat.
"I don't have anything all day until the match is over, not a bite! I'd just be really, really nervous. You know I'd just be hoping they don't get injured, they don't do anything wrong, they play well, all those things goes through your head."
The local school in Kilcoo is St Malachy's Primary School.
The club's silverware is on display and the entire school has been decked out in black and white posters supporting The Magpies for weeks.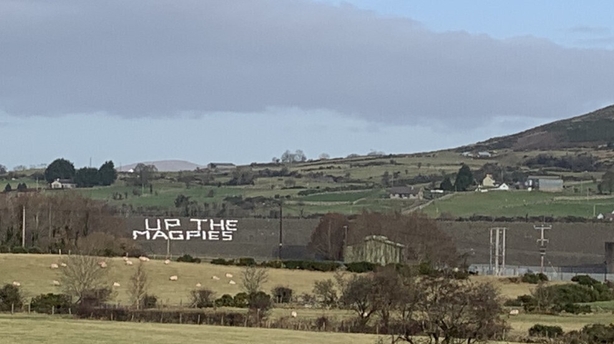 Every member of the panel attended St Malachy's.
Principal Maura Mussen said it is "almost surreal" that the team has made the final.
"It's lovely to watch them growing from babies really, right the way through. And to my delight I've taught every single one of the boys so there's a great connection there.
"And we're at the stage now where we've got their children coming into school so it's been lovely to watch them. We're very proud of them.
"The Ulster Championship was the goal. This is just the icing on the cake."
The pupils said "it was like a dream" and they hope Kilcoo win because they will "celebrate for ever and ever and ever".