The erection of an electric fence and a padlocked gate at the golf club in Portnoo, Co Donegal, has angered a group of local people who say access is now blocked to a popular beach.
The Save Our Beach at Castlegoland Action Group is calling on the owners of the Narin and Portnoo Golf Club and Donegal County Council to restore what they say are traditional rights of way to Castlegoland beach.
The campaigners in south west Donegal say they have no issue with the members of the local golf club.
Their problem, they say, is with the new owners of the club, Knather Acquisitions, who acquired it in 2017.
Recently an electric fence was erected along part of the perimeter of the club including along a section adjacent to Narin Strand.
The group says this has blocked off a pathway that people used to walk from Narin to Castlegoland.
On the other side of the property a padlocked gate blocks vehicular access.
Knather Acquisitions says it has restricted access to the club because of recent incidents on health and safety grounds.
The company says there has been an increase in non-golfers crossing the course and cites incidents in which horses and camper vans have gone onto the property.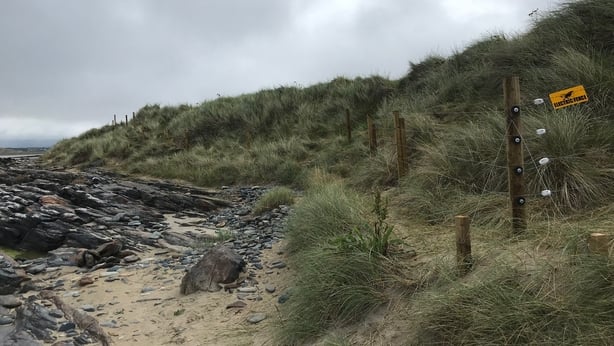 A statement from Knather Acquisitions says that it offered to buy or lease some adjacent land to donate to the community to give direct access to Castlegoland beach.
However Brónagh Heverin of the action group says that land is not for sale and that no one can unilaterally relocate a right of way.
Knather Acquisitions also says it was told by Donegal County Council that the disputed access routes are not recorded rights of way.
Ms Heverin disputes this and says the group has found records of the vehicular access where the gate has been erected on council records going back to 1930.
She says it is not unusual that the two pedestrian rights of way are not recorded and says they are evidenced by habitual use and as far as the action group is aware they go back at least 100 years.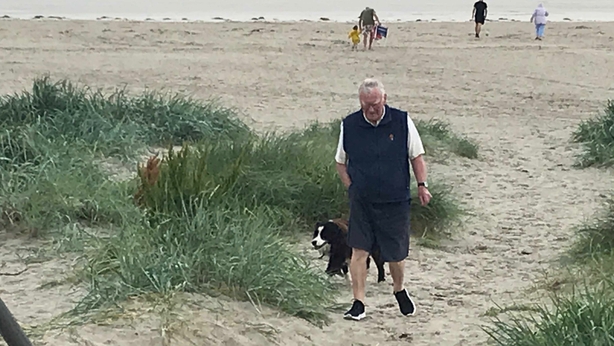 Local man Paddy McHugh said he has been using the traditional paths to Castlegoland beach for over 80 years and there was never any issue over access. He says there was a gate but it was never locked.
The original gate, according to the group, has also been used by farmers to pick seaweed on the beach.
Declan Brennan from Ardara said he had also grown up with being able to walk freely in the area and was standing up as part of the action group to ensure that access was restored for future generations.
Donegal County Council says that it cannot comment on the controversy as it is an ongoing planning enforcement issue.