Police investigating the deaths of three teenagers at a St Patrick's Day event in Co Tyrone have arrested two men on suspicion of manslaughter.
The men, aged 52 and 40, were arrested earlier today and are currently in custody.
"Detectives from PSNI's Major Investigation Team investigating the deaths of three teenagers Connor Currie, Lauren Bullock and Morgan Barnard at the Greenvale Hotel in Cookstown on Saint Patrick's Day have arrested two men aged 52 and 40 earlier today, Tuesday 19 March, on suspicion of corporate manslaughter. They have been taken to Dungannon Custody Suite for questioning," said a PSNI statement.
Lauren Bullock, 17, Connor Currie, 16, and Morgan Barnard, 17, from Dungannon in Co Tyrone, died in the tragedy at the Greenvale Hotel in Cookstown.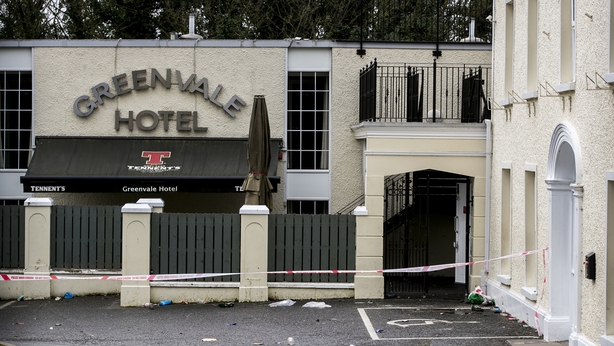 A 16-year-old girl is in a stable condition in hospital, while another two teenagers were treated for injuries.
The Police Service of Northern Ireland said it appeared that people had fallen and then been fatally injured, but are still investigating the cause.
PSNI Detective Chief Superintendent Raymond Murray told a press conference earlier today that initial investigations indicated that many young people had lucky escapes.
The officer said CCTV footage of the tragedy showed young people in the crowd trying to get into the hotel helping others who had fallen to the ground.
He paid tribute to them, saying their actions had saved lives.
He said the PSNI believes up to 400 people were at the hotel on Sunday evening and has so far traced 160 witnesses.
Appealing for more to come forward, he said it agreed with the Public Prosecution Service that anyone under the age of 18 will not be investigated for attempting to enter a licensed premises while under age.
"The sole focus of this investigation is to establish how these three young people died," he said.
The officer said the crush situation that resulted in the deaths lasted "for several minutes".
He said the police investigation will include the planning, management and staffing of the event.
Meanwhile, books of condolence opened today in memory of the three teenagers who died.
The books of condolence opened this morning at The Burnavon arts centre in Cookstown, at Ranfurly House, Dungannon, and at The Bridewell centre in Magherafelt.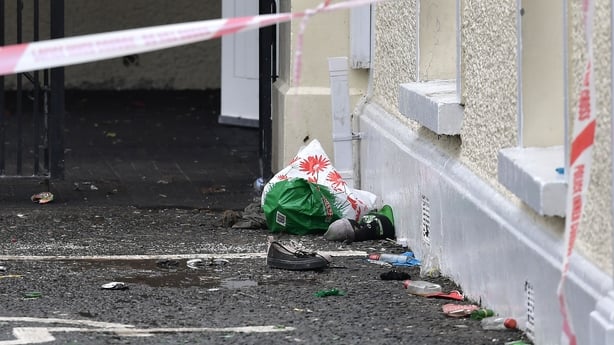 ---
Read more
Three teenagers dead following 'crush' at disco in Co Tyrone
---
The incident unfolded at around 9.30pm on Sunday as several hundred people tried to get into the venue in Cookstown.
One teenager who witnessed the incident outside the disco said it was the most frightening moment of her life.
"As I looked down I could see multiple bodies underneath me and as I looked up I could see multiple bodies on top of me," she said.
"It was the most traumatic, frightening and stressful moment of my life."
Emergency services attended within minutes and attempted to resuscitate the victims.
Two were taken to hospital critically ill but died later. One died at the scene.
Eboney Johnston, 16, was outside the hotel on Sunday evening. She said: "People just started to fall but as one person fell another went down.
"As a person went to lift another person up they were pushing and shoving and another person would fall, which caused a build-up of everybody lying there."
She added: "We looked down and you could just see everybody lying there and then you could just see Connor himself being took out.
"It was just such a tragic situation.
"We are just all so lucky that it was not any of us.
"We nearly feel guilty because it was not us, we nearly feel bad, the families, what they are going through, it is awful."
Det Chief Supt Murray said: "a number of parents have indicated they are concerned that their children, who may have been underage, were trying to enter a licensed premises".
"I want to reassure you, the focus of our investigation is not the age of people who were at the event - it is about trying to find answers for the families of the three teenagers who tragically died - we need to know what you saw so the heartbroken families of Connor, Lauren and Morgan know what happened to their children."
"I would urge parents to talk with your children, support them and encourage them to come forward and tell their story to police so we can get an accurate picture of events that night.
"Talk to your children, reassure them - we know they may be scared - but again I can assure you we are only interested in establishing what happened. Their account of events on Sunday night could be crucial to establishing how Connor, Lauren and Morgan died."
Det Chief Supt Murray said some people were concerned about "slightly underage" children coming forward to help with the investigation.
He said Northern Ireland's Director of Public Prosecutions Stephen Herron had agreed that it would not be an issue in this investigation.
"The absolute focus in this investigation is about finding out how three teenagers came to die on what should have been a celebration," Mr Murray added.
We need your consent to load this rte-player contentWe use rte-player to manage extra content that can set cookies on your device and collect data about your activity. Please review their details and accept them to load the content.Manage Preferences
Support in the community
At a meeting this evening, the council, health organisations, police, education and community partners met to share information and discuss the co-ordination of support services in place for young people and their families impacted by the Greenvale Hotel tragedy.
Speaking on RTÉ's Six One, chair of the Mid Ulster District Council, Cllr Séan McPeake, said that the meeting was "very positive" in getting all the relevant agencies together.
"Let's not forget, that the sheer volume of people that were outside the Greenvale on Sunday evening, they weren't necessarily from within the district, indeed they were from further afield, and across a number of council areas and a number of health trusts.
"We had a very good engagement here this evening, just to make sure that the proper support mechanisms were going to be available for everyone throughout the region," he said.
"It's left a lot of people very traumatised, very anxious, very worried. I met a group of young college students this morning who were in signing the book of condolence. I think even that lifted them (the teenagers) a bit, that they were able to see there was such an outpouring of grief, and to see that they were not alone, and that was the message we were giving today," said Cllr McPeake.
"People are traumatised, and not just the young people, but parents. And not just people were there but perhaps those who saw clips on social media."
Cllr McPeake added that the tragedy has touched the entire region because so many people would have gone to the hotel in their youth.
"Cookstown has a thriving nighttime economy. Literally thousands of people come every week to the various venues. The Greenvale, we went to it ourselves, I brought my children to it through the years too. So the tragedy resonates far and beyond those that were there on the fateful night," he said.
Additional reporting: PA