EU foreign ministers, including the Tánaiste Micheál Martin, met the Ukrainian government in Kyiv today and pledged continuing support for the Ukrainian people.
The Kremlin has been watching apparent western divisions over Ukraine with interest.
Vladimir Putin's spokesperson Dmitri Peskov said today the west would tire of what he called its absurd support for Ukraine.
This followed the election of Robert Fico's Smer party in Slovakia, and the pulling of military funding for Ukraine from a budget bill on Capitol Hill in Washington.
In Kyiv, EU foreign ministers attempted to push back against suggestions that support for Ukraine was fraying.
The French foreign minister Catherine Colonna said their presence was a message to Russia that it should not count on European fatigue.
The German foreign minister Analena Baerbock said Ukraine would join the EU and the union would stretch from Lisbon to Luhansk, the region that Russia illegally annexed in eastern Ukraine.
Ukrainian President Volodymyr Zelensky told a news conference that an end to the war, with Ukraine's sovereignty and territory restored, depended on cooperation with the EU.
That meant, he said, greater diplomacy and tougher sanctions, and air defence systems to prevent Russia hitting critical civilian infrastructure this winter, in a way, he said, that would make Russian terror meaningless.
The EU's chief diplomat Josep Borrell proposed a further €5bn in financial aid for Ukraine for 2024.
We need your consent to load this rte-player contentWe use rte-player to manage extra content that can set cookies on your device and collect data about your activity. Please review their details and accept them to load the content.Manage Preferences
Mr Martin said the presence of EU foreign ministers in the city would provide a powerful symbol of support to the Ukrainian people as they continue to resist what he called Russia's "illegal and immoral" invasion of the country, which was in flagrant breach of the UN Charter.
He was speaking on arrival at the Intercontinental Hotel, where he and other foreign ministers held talks with Mr Zelensky and foreign minister Dmytro Kuleba.
"Ireland has been very supportive of Ukraine's accession application to join the European Union," Mr Martin said.
"We support enlargement and we're looking forward to ongoing discussions in relation to that."
He said the presence of foreign ministers in the city indicated to the Ukrainian people that "we stand four square behind them and also that we see their perspective as a European Union member".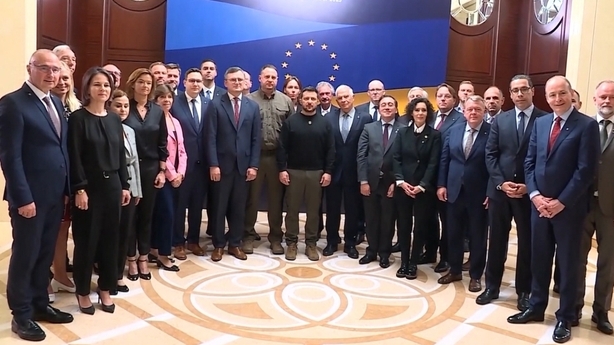 Today's meeting comes at a crucial moment with the EU's consensus on supporting Ukraine financially and militarily suffering an apparent setback with the election victory over the weekend in Slovakia by the pro-Russian candidate Robert Fico.
Mr Fico has in the past supported Russian president Vladimir Putin and, during the election campaign, said he would stop weapons sales to Ukraine.
Following his election victory he said his policy would not change.
It also comes as US funding for Ukraine was left out of a stopgap funding bill passed by Congress.
The White House rejected the Kremlin claims on Western fatigue.
"If Putin thinks he can outlast us he's wrong," Press Secretary Karine Jean-Pierre said today, adding that there was a large Western coalition supporting Ukraine.
Despite that, Kyiv is understood to be confident that €500m in EU military support, which has been blocked by Hungarian Prime Minister Viktor Orban, should soon be released.
The Tánaiste also held a number of bilateral meetings and will meet members of the Irish community, including those working in relief operations.