Ukraine has said that nine people were injured in Russian shelling in Kherson region as it deals with massive flooding from the destruction of a dam in Russian-held territory.
"As a result of shelling in the Kherson region, where evacuation measures are taking place, nine people were injured," Ukraine's interior ministry said, adding there were "no dead".
It said those wounded were six civilians, one police officer and two employees of the State Emergency Service.
Regional governor Oleksandr Prokudin said a doctor and a German volunteer were among the injured.
The regional prosecutor's office had earlier reported one person killed.
Ukraine took back the regional capital of Kherson in November, but the city remains within reach of Russian fire.
In a nearby village, "four locals were injured by shelling", the prosecutor's office said.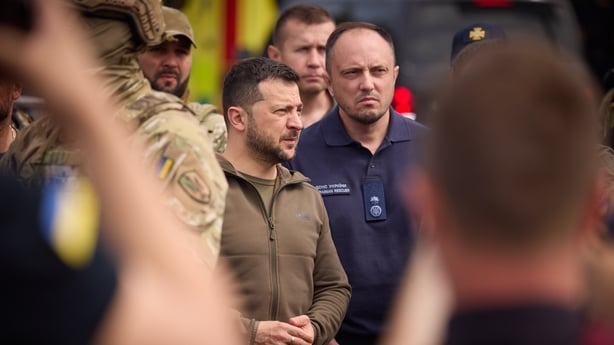 Russia accused Ukraine of killing two people at an evacuation point in a Russian-controlled part of the region.
Shortly after the shelling Ukrainian President Volodymyr Zelensky visited Kherson.
Moscow-installed authorities on the other bank of the now flood-swollen Dnipro River, said two evacuees were killed by Ukrainian shelling.
The Dnipro has steadily risen downstream from the breached Kakhovka dam, forcing thousands to flee their homes, flooding dozens of villages and parts of the regional capital Kherson and sparking fears of a humanitarian disaster.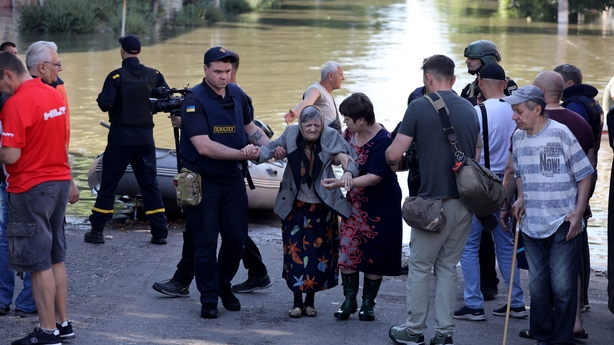 The death toll from flooding reached six as the Moscow-backed administration of Nova Kakhovka, where the dam is located, said five people had died and 41 were hospitalised.
Ukrainian police said one man had died in a riverside village in neighbouring Mykolaiv region, also affected by rising water levels.
Mr Zelensky posted videos showing him meeting officials in the Kherson and Mykolaiv regions, as well as viewing evacuation efforts from beside the floodwater in Kherson and visiting survivors in a hospital.
"I thank the rescuers and volunteers. I thank everyone involved in this work," he wrote.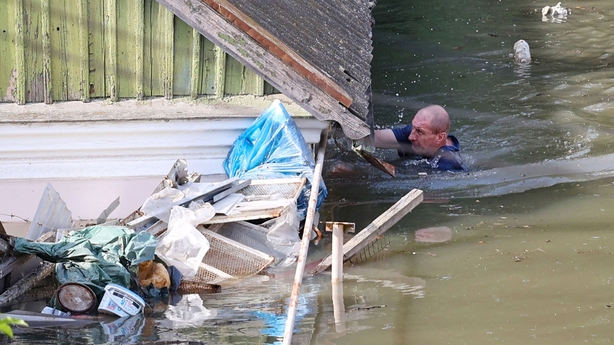 AFP journalists heard artillery firing in Kherson, striking the area used for rescue boats bringing in people from flooded areas.
"Due to targeted strikes by the occupiers during evacuations in the city, a civilian died. Two more people were wounded," Kherson's prosecutor's office said.
Russian-installed authorities in turn accused Ukraine of shelling a civilian evacuation point in the Kherson region, killing two people.
Ukraine and Russia, which have traded blame over the dam's destruction, have said they have evacuated more than 6,000 people and many more were fleeing by themselves.
A total of 600 square kilometres of the Kherson region is underwater, Kherson regional governor Oleksandr Prokudin said on social media, 68% of which is in Russian-controlled territory.
Ukrainian rescuers were venturing into Russian-controlled areas to save civilians, a military press officer Sergiy Sergiyiv said.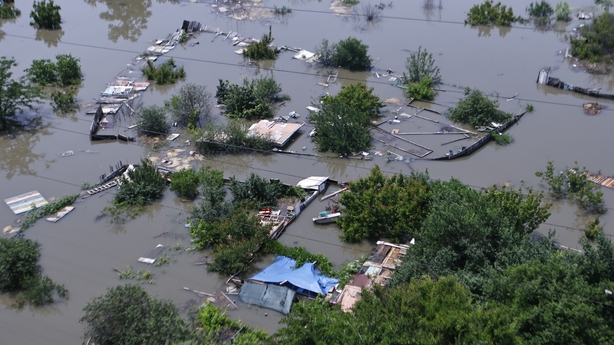 "For us the priority is our people."
Ukrainian authorities have said 30 settlements have been flooded, ten of which lie in territory controlled by Russia on the Dnipro's eastern bank.
In Kherson, rescuers were using boats and amphibious vehicles to pluck people from flooded areas. Some volunteers were also going out to rescue stranded animals and birds.
One woman, Tetiana Omelchenko, 65, said she had waited two days for evacuation from her block of flats in Kherson and had to climb through a broken window to reach a rescue boat.
"In my building, the water has reached the third floor and there are still people in there," she said.
An employee at Kherson's meteorological agency, Lora Musiyan, waded into the water to mark the level this morning: 5.33m above the norm.
President Zelensky singled out the United Nations and Red Cross for criticism in an interview with Germany's Bild daily, claiming: "They are not there."
The Red Cross of Ukraine denied this, saying it immediately began evacuating people and had six evacuation crews working and more than 200 volunteers providing humanitarian aid.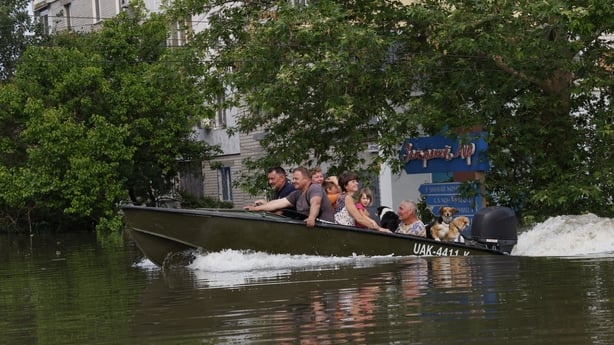 NATO Secretary General Jens Stoltenberg said he would chair a meeting today of an emergency coordination panel on the "outrageous destruction", with Ukraine's foreign minister Dmytro Kuleba set to participate.
France has also said it will send aid to Ukraine.
Taoiseach Leo Varadkar said Ireland has to prepare for the possibility of more refugees from Ukraine following the destruction of the dam.
Mr Varadkar, speaking ahead of a Cabinet meeting today, said: "We are part of the European Union and as part of the European Union we've said that Ukrainian citizens who need to flee to Europe are welcome in our 27 countries.
"We have to be prepared for the possibility that we'll see an increase in Ukrainians coming to other parts of Europe, including Ireland, but also we need to make sure that Ukraine gets the humanitarian assistance that it needs.
"One of the things we'll certainly be discussing at Cabinet today is how we can make sure that assistance gets to people in Ukraine and also in Russia-occupied Ukraine because that's going to be essential.
"Just look at the pictures, it's like a biblical scene almost, to see houses under water and seeing water levels so high."
Tánaiste and Minister of Foreign Affairs Micheál Martin announced €1m in emergency assistance following the destruction of the dam.
In a statement, Mr Martin said the funding will support "immediate and urgent humanitarian needs on the ground".
Meanwhile, a crowd turned up at the Russian embassy in Dublin to protest against what they called "Russian ecocide" in Ukraine.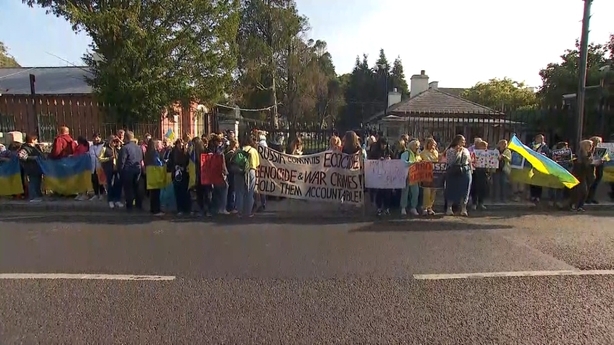 The Kakhovka dam provided cooling water for Europe's largest nuclear plant, Zaporizhzhia, which is under Russian control. The UN nuclear watchdog, the International Atomic Energy Agency, has said there was "no short-term risk" to the plant.
The dam's reservoir level has plummeted as water drains out. Ukraine's state hydroelectric enterprise Ukrhydroenergo said that plants upstream on the Dnipro were reducing capacity to minimise flooding.
Ukraine accuses Russia, whose forces control the dam area, of blowing up the dam, while Russia accuses Ukraine hitting it with artillery.
Ukrhydroenergo said that the dam was most likely mined from the inside.
The emergency service has warned the flood water has dislodged land mines that pose a threat to civilians.
The government has also sounded the alarm over the environmental impact, calling it "a crime of ecocide".
A Greenpeace campaigner in Kyiv, Denys Tsutsaiev, warned that it could take a decade for some species to recover from the catastrophe and some may not recover at all.
According to the latest information, "at least 500 tonnes of oil was released due to the dam destruction", the campaigner said, posing a threat to sea mammals and birds.