Ukraine's future hinges on the outcome of battles in the east, including in and around Bakhmut, President Volodymyr Zelensky said, with both sides describing brutal fighting in the small city as Russia intensifies a winter campaign to capture it.
The ruined mining town of Bakhmut has become the focus of Russia's invasion, with the months-long fight for it becoming Europe's bloodiest infantry battle since World War Two.
"It is very tough in the east - very painful," Mr Zelensky said in a video address that he has held nightly since Russia launched its invasion more than a year ago.
"We have to destroy the enemy's military power. And we shall destroy it," he added.
Separately, in what would be the first international war crimes cases arising from the invasion, the International Criminal Court (ICC) is expected to seek the arrest of Russian officials for forcibly deporting children from Ukraine and targeting civilian infrastructure, a source told Reuters.
Russia would be certain to reject arrest warrants against its officials, but an international war crimes prosecution could deepen its diplomatic isolation over a campaign that has killed thousands of civilians and driven millions from their homes.
Russia, however, appeared on the cusp of one long-sought diplomatic breakthrough with sources telling Reuters that China President Xi Jinping could visit Russia as soon as next week.
The Chinese foreign ministry did not respond to requests for comment. The Kremlin said it had nothing to announce yet.
---
Read full coverage of Russia's invasion of Ukraine
---
On the battlefront, Ukrainian soldiers said they were repelling attacks near Kreminna, north of Bakhmut.
In a forest some eight kilometres from the front, cannons boomed and explosions rumbled constantly in the distance.
Reuters reporters saw a soldier being brought from the front with a wounded leg. He was stabilised in a van with a splint and painkillers before being taken to a medical centre.
"Two or three weeks ago the fighting was at its peak but it has calmed down a bit," said Mykhailo Anest, a 35-year-old medic.
"There is a lot of artillery and mortar fire."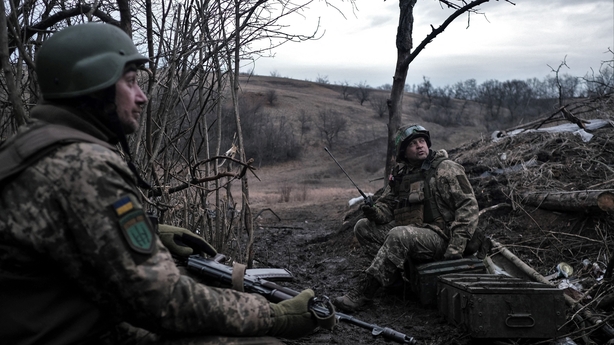 Bakhmut grinder

Trench warfare, described by both sides as a meat grinder, has claimed a huge toll in Bakhmut, in Donetsk, with both sides reporting hundreds of enemy troops had been killed.
Russia launched five missile attacks, 35 air strikes and 76 attacks with heavy rocket salvo systems over the past day, including on civilian infrastructure in the Sumy and Donetsk regions, Ukraine's military said.
Ukrainian forces repelled attacks on seven settlements in the Bakhmut front, it added.
Russia says taking Bakhmut would open a path to capture all of Donetsk, a central war aim.
Ukraine, which has decided to defend Bakhmut rather than withdraw, says wearing out Russia's military now will help its counter-offensive later.
But not every military analyst is convinced that defending Bakhmut is the best strategy for Ukraine.
Ukraine was suffering losses among reserves it intended to use for a later push against Russian forces, Ukrainian military analyst Oleh Zhdanov said in an interview.
"We could lose here everything we wanted to use for those counter-offensives."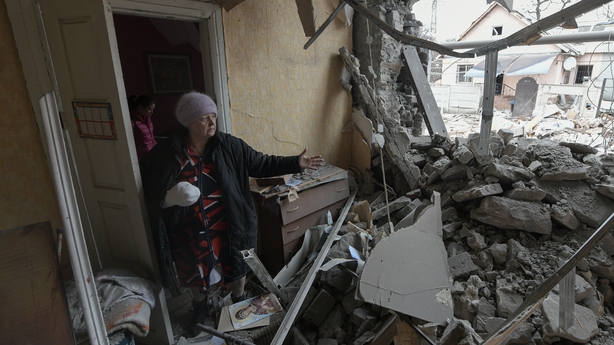 'Instrument in hands of West'

Russia launched what it calls a "special military operation" on 24 February last year saying it had to demilitarise and "denazify" Ukraine.
Kyiv and its Western allies reject that as a false pretext and say Russia has committed "crimes against humanity" by targeting civilians and civilian infrastructure. Russia denies that.
The ICC, which opened an investigation into war crimes in Ukraine last year, is expected to seek its first warrants against Russian officials "in the short term", a source with knowledge of the matter said.
It was unclear which Russian officials the prosecutor might seek warrants against or when they might be issued, but they could include the crime of genocide, the source said.
The ICC prosecutor's office declined to comment. Russia's defence ministry did not respond to a request for comment.
Konstantin Kosachyov, deputy speaker of Russia's upper house of parliament, said the ICC had no jurisdiction over Russia since it withdrew its backing in 2016.
"The ICC is an instrument of neo-colonialism in the hands of the West," he said.
Russia has pushed back against previous accusations that it had forcibly moved Ukrainians.
It says it has taken Ukrainian children to Russia only as a humanitarian effort to protect orphans and children abandoned in the conflict.
Ukraine says thousands of deported children are being adopted into Russian families, housed in camps, given Russian passports and brought up to reject Ukrainian nationality.
The UN genocide convention defines "forcibly transferring children of the group to another group" as one of five acts that can be prosecuted as genocide.
We need your consent to load this rte-player contentWe use rte-player to manage extra content that can set cookies on your device and collect data about your activity. Please review their details and accept them to load the content.Manage Preferences
Speaking on RTÉ's Morning Ireland, Hugh Williamson, Europe and Central Asia Director for Human Rights Watch said their is a "significant weight of evidence" that includes details of children, particularly those living in institutions, having been moved to Russia.
"Russia claims that this is a humanitarian act and they actually don't cover it up," Mr Williamson said.
"They've claimed that 350 children have been adopted in Russia and another thousand are waiting to for adoption.
"This, of course, is a huge violation of international human rights standards, particularly because these children are taken away from homes as well.
"So, this is happening on quite a large scale. These forced transfers, as they are called, and it's obviously a deeply worrying development."
In the devastated Ukrainian city of Mariupol, he said, children were taken out of an orphanage an put in buses to Russia.
"Some of them managed to escape to Europe and that's how we know about them," he said.
"This was a very traumatic trip for the children.
"On a small scale, that's the sort of thing that has been happening in the last few months."
Mr Wiliamson said any charges brought in the ICC will depend on the evidence gathered.
"We need evidence of a chain of command as it's called, and they need to provide evidence that President Putin knew exactly what was happening and did not intervene effectively to stop these war crimes, these crimes against humanity, from taking place," he said.
Separately, Russia's TASS state news agency reported that a Black Sea grain deal would be automatically extended after it expires on 18 March if there were no objections from the parties involved.