Germany will provide Ukraine with Leopard tanks, German national media reported, following months of intense pressure on Berlin to supply the armaments much sought after by Kyiv to repel Russian troops.
Berlin will also allow allies with stocks of the powerful German-made tanks to send them on to Ukraine, the German media said.
The reports came as the Wall Street Journal cited US officials saying that Washington is now leaning towards sending a significant number of Abrams M1 tanks to Ukraine, with an announcement possibly coming this week.
Citing unnamed government sources, rolling news channel NTV said Germany would hand over a company of Leopard 2 A6 tanks.
In the German armed forces, a company comprises 14 tanks.
Separately, Spiegel Online said the tanks would come from the Bundeswehr's own stocks, while other deliveries further down the line may stem from industry stocks.
Contacted by AFP, a spokesman for Chancellor Olaf Scholz declined to comment on the reports.
Earlier Tuesday, German Defence Minister Boris Pistorius said he encouraged allies to start training Ukrainian forces on using the tanks.
He had said a decision was still out on greenlighting their deliveries, but promised a verdict imminently.
Ukraine and several of its allies have been urging Germany for weeks to allow the delivery of the Leopards, but a US-led meeting of Kyiv's allies in Germany last week failed to yield a decision.
Over the last weeks, Chancellor Olaf Scholz had repeatedly stressed that Germany would not go it alone on sending tanks.
A senior US lawmaker told AFP last week that Scholz had told US congressmen that Germany will supply the battle tanks to Ukraine if the United States also sent tanks.
Earlier, Germany's defence minister said that allies could start training Ukrainian forces to use Leopard tanks, as NATO Secretary General Jens Stoltenberg predicted that a decision on their delivery would be made "soon".
Defence Minister Boris Pistorius had indicated that a decision could be imminent, revealing that he had "expressly encouraged partner countries that have Leopard tanks that are ready for deployment to train Ukrainian forces on these tanks".
"I expect a decision to be made shortly," he added ahead of a meeting with Mr Stoltenberg in Berlin.
Mr Stoltenberg welcomed the "clear message" from the minister, "because after a decision has been taken on the delivery on battle tanks, it will take some time to ... make them ready" and to train Ukrainian soldiers to use them.
We need your consent to load this rte-player contentWe use rte-player to manage extra content that can set cookies on your device and collect data about your activity. Please review their details and accept them to load the content.Manage Preferences

Ukrainian officials dismissed amid corruption claims
Kyiv has announced the dismissal of a dozen top officials in its biggest political shakeup following the country's first major corruption scandal linked to the Russian invasion.
Ukraine has long suffered endemic corruption, but government efforts to stamp out graft have been overshadowed by Moscow's nearly year-long full-scale war.
Western allies, which have allocated billions of dollars in financial and military aid to Kyiv to counter Russian troops, have often preconditioned such support on anti-corruption reforms.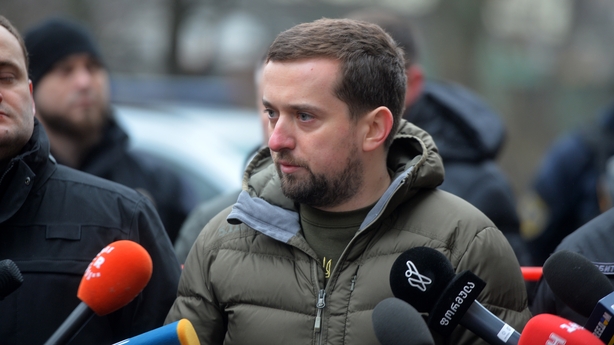 Presidential aide Mykhaylo Podolyak said President Volodymyr Zelensky had focused on "key priorities of the state" in dismissing the officials, who include governors of regions that have seen heavy fighting and deputy cabinet ministers.
"During the war, everyone should understand their responsibility," Podolyak tweeted.
"The president sees and hears society."
The shakeup came after a Ukrainian deputy minister of development of communities and territories, Vasyl Lozynskiy, was sacked at the weekend following his arrest on suspicion of embezzlement.
Photographs released by the National Anti-Corruption Bureau showed stashes of cash seized at Lozynskiy's office.
The 36-year-old was accused of receiving a $400,000 bribe to "facilitate" the purchase of generators at inflated prices as Ukraine struggles with electricity shortages following Russian strikes on the energy grid.
Zelenskyy's personnel decisions testify to the key priorities of the state... No "blind eyes". During the war, everyone should understand their responsibility. The President sees and hears society. And he directly responds to a key public demand – justice for all...

— Михайло Подоляк (@Podolyak_M) January 24, 2023
'Good deeds'
On Tuesday, key presidential aide Kyrylo Tymoshenko, who has worked with Zelensky since his 2019 election, announced his resignation.
The 33-year-old posted a picture of himself holding a handwritten resignation letter, thanking the president for the "opportunity to do good deeds every day and every minute".
Tymoshenko was implicated in several scandals, including over the alleged personal use last October of an SUV donated to Ukraine for humanitarian purposes.
Oleg Nemchinov, a senior government official, also announced the departure of five regional governors and four deputy ministers.
They include the heads of the central Dnipropetrovsk region, the northeastern Sumy region, the southern regions of Zaporizhzhia and Kherson, as well as the region surrounding the capital Kyiv.
Nemchinov additionally announced the dismissal of two deputy ministers of development of communities and territories, and a deputy minister of social policy.
The defence ministry separately announced the resignation of deputy minister Vyacheslav Shapovalov, who oversaw the army's logistical support.
It came after the ministry was accused of signing food contracts at prices two to three times higher than current rates for basic foodstuffs.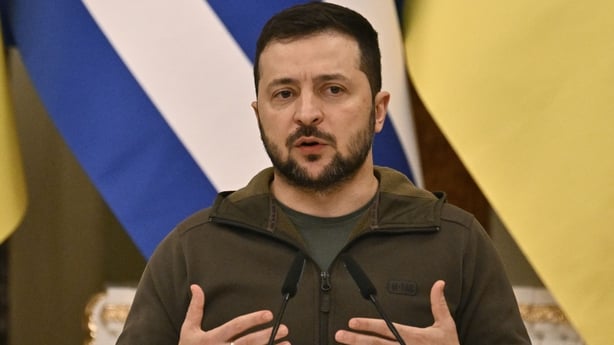 Spain holiday
The ministry insisted the accusations were "unfounded and baseless" but said Shapovalov's departure would "preserve the trust of society and international partners".
Deputy Prosecutor General Oleksiy Symonenko also resigned, following media reports that he had holidayed in Spain, reportedly using a car belonging to a Ukrainian businessman.
In his evening address on Monday, President Zelensky announced coming "personnel decisions" and said he was banning officials from travelling abroad unless work-related.
"If they want to rest now, they will rest outside the civil service," Zelensky said.
Despite being vocal about fighting corruption, Zelensky himself has been embroiled in corruption scandals in the past.
In 2021, the so-called Pandora Papers obtained by the International Consortium of Investigative Journalists said Zelensky used a network of offshore companies to buy three upmarket properties in London.
His office said at the time that Zelensky, who is a former actor and comedian, created the offshore companies to protect himself against the "aggressive actions" of the "corrupt" regime of then pro-Russian President Viktor Yanukovych.
Transparency International ranked Ukraine 122 out of 180 in its corruption ranking for 2021.
According to the Centre for Economic Strategy, a Ukrainian think-tank, the total amount of Western military and financial support for Kyiv could total $100 billion this year, including more than $40 billion for its armed forces.