Germany is not blocking the re-export of Leopard tanks to Ukraine, the European Union's top diplomat has said, after Poland vowed to send some as long as other countries did too.
The Kyiv government wants the German-made Leopard 2, one of the most widely used Western tanks, to help it break through Russian lines and recapture territory this year.
Germany, which must approve re-exports of the Leopard, has held back, wary of moves that could cause Moscow to escalate.
Under strong pressure from some of its allies, Berlin has said it is willing to act quickly if there is a consensus among those allies and notes that other NATO members have yet to formally ask to re-export the tanks.
Polish Prime Minister Mateusz Morawiecki, whose country borders Ukraine, said earlier that Warsaw would seek permission to send the tanks to Kyiv and was trying to get others on board.
"Even if we did not get this approval... we would still transfer our tanks together with others to Ukraine. The condition for us at the moment is to build at least a small coalition of countries," he said.
Yesterday, German Foreign Minister Annalena Baerbock had said Berlin would not stand in Poland's way if it chose to ask and today the European Union's foreign policy chief Josep Borrell said Germany was not blocking the export of the tanks.
"From what I understand, Germany is not going to ban the export of these weapons if any EU country that has them wishes to do so," he said after EU foreign ministers met in Brussels and approved €500 million of new military aid to Ukraine.
Poland's call for a coalition, however, signalled any transfer was still some way off.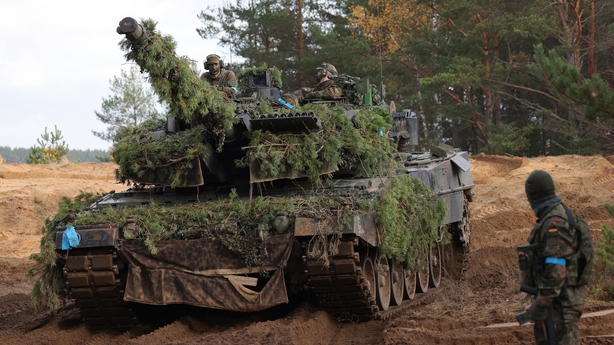 Spring offfensives
Warsaw has said it would provide a company of Leopards - around 14 - but Mr Morawiecki said a transfer only made sense as part of a brigade - a variable but much larger number.
Some 20 countries operate the tank, including Canada, Denmark, Finland, Netherlands, Norway, Austria, Spain, Sweden and Turkey.
Ukraine and Russia are both believed to be planning spring offensives to break the deadlock in what has become a war of attrition in eastern and southern Ukraine as the first anniversary of the Russian invasion nears.
Ukrainian President Volodymyr Zelensky, meanwhile, was grappling with a corruption scandal that could dampen Western enthusiasm for his government.
A newspaper reported that the Ukrainian military had allegedly secured food at highly inflated prices, and a deputy minister resigned after an investigation into allegations he accepted a bribe.
Ukrainian officials have been pleading with Western allies to supply them with tanks for months.
After Ukrainian advances in the second half of 2022, frontlines have been largely frozen in place for two months, despite heavy losses on both sides.
Ukraine says Western tanks would give its ground troops the mobility, protection and firepower to break through Russian defensive lines and resume their advance.
"We need tanks - not 10-20, but several hundred," Mr Zelenskiy's chief of staff Andriy Yermak wrote on Telegram.
"Our goal is (restoring) the borders of 1991 and punishing the enemy, who will pay for their crimes."
Arriving in Brussels today, Germany's Baerbock declinedt o say if she had been speaking for the whole ruling coalition when she said Berlin would not prevent Poland re-exporting the tanks.
Chancellor Olaf Scholz's Social Democrat party has expressed concern Russia might escalate or even retaliate.
Lithuanian Foreign Minister Gabrielius Landsbergis said the tanks should not be held up one more day, while Luxembourg's Foreign Minister Jean Asselborn said Russia could win the war if Europeans "don't help Ukraine with what they need now".
An EU diplomat said the ministers had then discussed the tanks.
"The Germans didn't like being pushed, they warn it can be counterproductive," the diplomat said.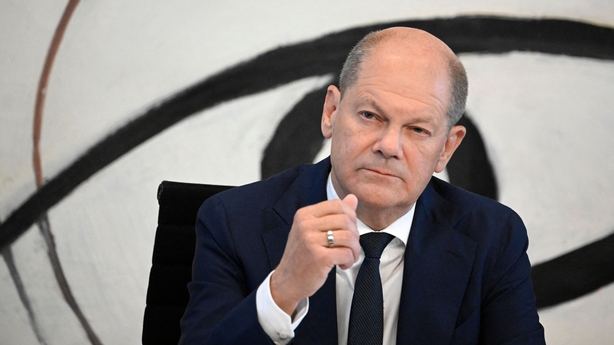 'Terrible war'
The Polish prime minister said Warsaw would also talk to countries with other modern battle tanks, without naming them.
American lawmakers pressed their government yesterday to export M1 Abrams battle tanks to Ukraine, saying even a symbolic number would help push European allies to do the same.
US State Department spokesperson Ned Price dodged questions about whether the United States would support other countries supplying Leopards without Germany's approval.
"We may be hearing more from our German allies in the coming hours, in the coming days," he said. "But, I will say, Germany is a stalwart ally across the board."
Britain has said it will supply 14 Challenger 2 tanks to Ukraine.
French President Emmanuel Macron said he did not rule out the possibility of sending Ukraine Leclerc tanks.
The Kremlin said the splits in Europe over whether to provide tanks to Kyiv showed there was increasing "nervousness" within the NATO military alliance.
"But of course all countries which take part, directly or indirectly, in pumping weapons into Ukraine and in raising its technological level bear responsibility" for continuing the conflict, Kremlin spokesman Dmitry Peskov said.
Since its invasion on 24 February 2022, which it has cast as defending itself from an aggressive West, Russia has taken control of parts of Ukraine it says it will never return.
Ukraine has said that restoring its territorial integrity is notopen for negotiation.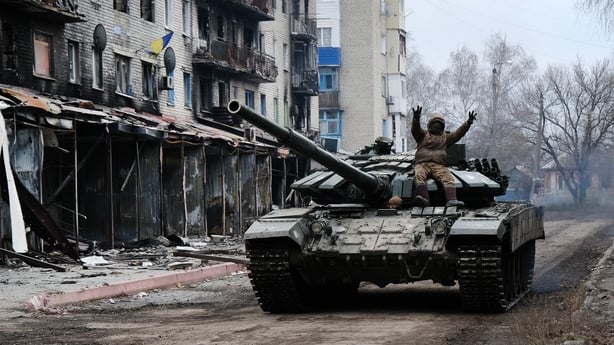 ---
The view from Poland - on how best to arm Ukraine
Latest Ukraine news
---
Germany a 'very strong supporter of Ukraine' - Tánaiste
Tánaiste Micheál Martin said Germany has been a very strong supporter of Ukraine and that would continue.
Asked about whether Germany should be sending Leopard 2 battle tanks to Ukraine, Mr Martin said: "Germany has been a very strong supporter of Ukraine, and continues to be one of the most significant supporters of Ukraine along with the United States, and the United Kingdom and France and others.
"That has to be acknowledged. It's a matter fundamentally for the German government. But I do believe the German government is working with other governments and these issues will be resolved in due course. There's a lot of engagement going on."
Asked if Ireland should rethink its position of not sending lethal aid to Ukraine, Mr Martin said Ireland did not have the capacity to send heavier weaponry to Ukraine.
"There are two issues here: military neutrality is an issue and it's not something that can be just put to one side. But also we don't have capacity militarily, let's be honest about that.
"So we have focused on where we can be of the greatest assistance, both in terms of the political side where we were one of the leaders in terms of supporting Ukraine's application to join the European Union, and secondly, in terms of accountability, and bringing accountability for Russian aggression," he told reporters on arrival at a meeting of EU foreign ministers in Brussels.
He said Ireland was working with other countries in proposing an interim court at The Hague to hold Russia to account for its war of aggression against Ukraine.
The Government has also shown its support by taking in tens of thousands of Ukrainian refugees, he added.
Additional reporting Tony Connelly