Ukrainian President Volodymyr Zelensky has made a surprise visit to soldiers in one of the most battle-scarred parts of his country.
The key city of Bakhmut is located on the frontline in the Donetsk region, which was annexed by Russia in September.
For months, Russia has mounted a sustained assault which has been dubbed by one of its architects as the "Bakhmut meat grinder'.
Yevgeny Prigozhin, the founder of Russia's mercenary Wagner group, said the aim is not simply to take the territory, but "the destruction of the Ukrainian army".
Today's visit by Mr Zelensky underlines Russia's failure on both fronts.
The Ukrainian president congratulated military officials and gave awards to servicemen, who he thanked for their "courage, resilience and strength".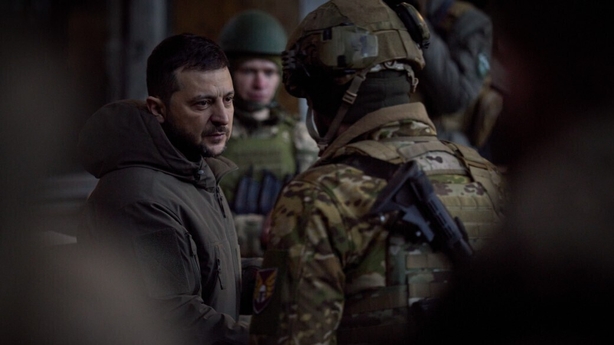 Mr Zelensky plans to visit Washington tomorrow in his first trip abroad since Russia invaded his country on 24 February, US media reported.
'Extremely complicated'
The Bakhmut visit coincides with a rare admission from the Russian President that his ten month-old war is not going to plan in the four Russian-occupied Ukrainian regions.
In a video message to Russia's security services, Vladimir Putin said the situation was "extremely complicated", which was also translated by Reuters as "extremely difficult", and urged security agencies to intensify their efforts to identify "traitors, spies and diversionists".
Mr Putin ordered the Federal Security Services (FSB) to step up surveillance of Russian society and the country's borders to combat the "emergence of new threats" from abroad and traitors at home.
Earlier this month, the Russian leader admitted that the war could be a "long process".
Yesterday, Mr Putin made his first visit to Belarus since 2019, where he and his counterpart extolled ever-closer ties at a news conference late in the evening but hardly mentioned Ukraine.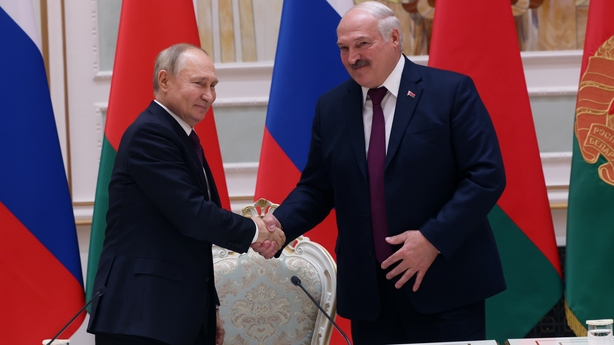 Today, Russian news agencies reported that Belarus had reached an understanding with Moscow on the restructuring of its debt and had agreed on a fixed price for Russian gas for three years.
Kyiv, meanwhile, was seeking more weapons from the West after weeks of attacks on energy facilities which have knocked out both power and water supplies amid freezing temperatures.
"Weapons, shells, new defence capabilities" are needed to "give us the ability to speed up the end to this war," Mr Zelensky said in his evening address.
Prime Minister Denys Shmyhal said Ukraine should prepare for new Russian attacks on its energy infrastructure, because Moscow wants Ukrainians to spend Christmas and New Year in darkness.
"Repairs continue but the situation remains really difficult," he told a government meeting.
Ukraine's military said it had shot down 30 of 35 "kamikaze" drones fired by Russia yesterday, mostly at the capital Kyiv. The unmanned aircraft fly towards their target, then plummet and detonate on impact.
Ukrainian officials said today that five people had been killed in the eastern Donetsk and southern Kherson regions, with eight wounded, and that 21 missiles had knocked out power in the southern city of Zaporizhzhia.
---
---
Iranian drones
Russia intends to give Iran advanced military components in exchange for hundreds of drones, the British Secretary for Defence Ben Wallace said.
"Iran has become one of Russia's top military backers," he told parliament during a statement on the Russia-Ukraine conflict.
"In return for having supplied more than 300 kamikaze drones, Russia now intends to provide Iran with advanced military components, undermining both Middle East and international security", he claimed.
Earlier on Tuesday, the European Union's foreign policy chief Josep Borrell told Iran's foreign minister that Tehran should immediately halt military support for Russia.
Iran has acknowledged supplying Moscow with drones but said they were sent before the war in Ukraine, where Russia has used them to target power stations and civilian infrastructure.
Britain, the United States and the European Union have sanctioned Iranian military figures and defence manufacturers believed to be involved in the supply of Iranian drones to Russia.