The International Atomic Energy Agency (IAEA) has called for the establishment of a security zone around Ukraine's Zaporizhzhia nuclear power plant, occupied by Russia and the site of fighting in recent weeks.
"The current situation is untenable," the UN atomic watchdog said in a statement after it sent a team to the plant last week, calling for "the immediate establishment of a nuclear safety and security protection zone".
The occupation of the nuclear power plant, Europe's largest, has sparked fears of a nuclear disaster as both sides trade blame for shelling the site.
"There is an urgent need for interim measures to prevent a nuclear accident arising from physical damage caused by military means," the IAEA said today.
We need your consent to load this rte-player contentWe use rte-player to manage extra content that can set cookies on your device and collect data about your activity. Please review their details and accept them to load the content.Manage Preferences
"This can be achieved by the immediate establishment of a nuclear safety and security protection zone," it added in its report.
"The IAEA recommends that shelling on site and in its vicinity should be stopped immediately to avoid any further damages to the plant and associated facilities," it said.
The UN agency sent a 14-person team to the site last week, including Director General Rafael Grossi, to assess the situation at the plant.
At least two members of the team were to remain there on a permanent basis to ensure the facility's safety.
Russian troops seized control of the site in early March and there have been repeated attacks in the vicinity. Both Moscow and Kyiv have denied responsibility.
On Saturday, the IAEA said the plant had been disconnected from its last remaining main power line to the grid and was relying on a reserve line.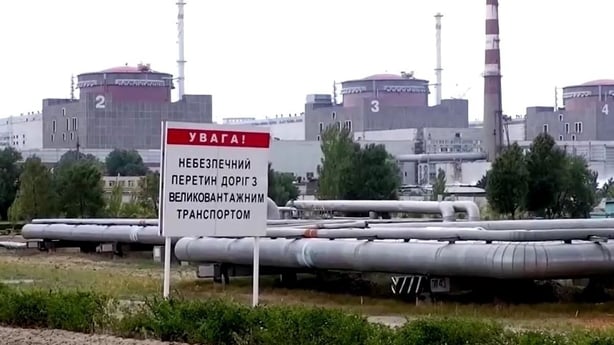 Addressing the UN Security Council this afternoon, United Nations chief Antonio Guterres said: "As a first step, Russian and Ukrainian forces must commit not to engage in any military activity towards the plant site or from the plant site."
"As a second step, an agreement on a demilitarised perimeter should be secured. Specifically, that would include a commitment by Russian forces to withdraw all military personnel and equipment from that perimeter and a commitment by Ukrainian forces not to move into it," he told the 15-member body.
---
---
Earlier today, Russia's defence ministry said Ukraine had fired 20 artillery shells on the town of Enerhodar and the area around the Zaporizhzhia nuclear power plant over the last 24 hours.
Three shells landed on the territory of the nuclear power station, including one that exploded near power unit No 2, it said in its daily military briefing.
Radiation levels at the site, Europe's largest nuclear facility, remained normal, it added.
The report could not be independently verified.
The incident came as Ukrainian forces pressed their counter-attacks in the south and east, raising the national flag over a town in Kherson province, a southern region occupied by Russia since the war's early days.
Ukrainian President Volodymyr Zelensky has warned of a near "radiation catastrophe" and said the shelling showed Russia "does not care what the IAEA will say".
The nuclear concerns add to the ongoing energy fight between Moscow and the West since Russian troops invaded Ukraine in late February as the larger military conflict continues.
European gas prices soared yesterday as Russia kept its main gas pipeline to Germany shut, bringing fears of a bleak winter for consumers and businesses across the continent.
Moscow blames disruption to equipment repairs and maintenance caused by Western sanctions for its halt to the flow of gas through Nord Stream 1, its main pipeline to Germany.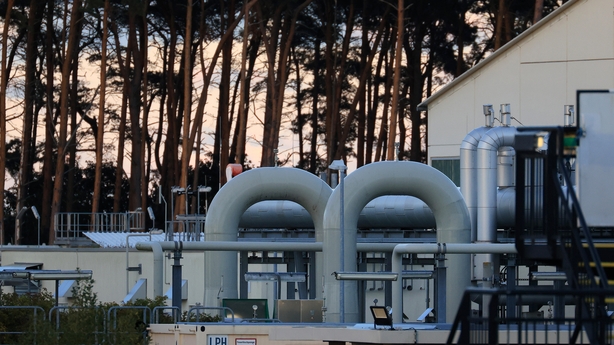 Russia was due to reopen the pipeline on Saturday but now says an oil leak has forced it to shut indefinitely.
Pipeline operator Gazprom's Deputy Chief Executive Officer Vitaly Markelov said this morning that Nord Stream 1 would not resume shipments until Siemens Energy repaired faulty equipment.
Siemens Energy said on Saturday that it had not been commissioned to carry out repair work, and that the leak reported by Gazprom would not usually affect the operation of the pipeline.
Europe and the United States accuse Russia of using energy as a weapon and are collaborating to ensure supplies.
Russian Energy Minister Nikolai Shulginov told reporters at the Eastern Economic Forum in Vladivostok that Moscow would respond to proposed price caps on Russian oil by shipping more supply to Asia.
The Kremlin warned the West that it would retaliate after Group of Seven finance ministers agreed last week to a cap to pressure Russia over its actions in Ukraine.
Four Russian ammunition depots destroyed in Kherson, says Ukraine
Ukraine's southern command said that four Russian ammunition depots had been destroyed in three districts of Kherson region in the previous 24 hours.
Bridges over the Dnipro river had been shelled, it added.
"Control and cover by fire of the crossings of the Dnipro river is systematic and effective," the southern command said in a statement.
Reuters was unable to independently verify the battlefield reports.
It comes as US President Joe Biden has said Russia should not be designated a state sponsor of terrorism, a label Ukraine has pushed for amid Russia's ongoing invasion while Moscow has warned it would rupture US-Russian ties.
Asked if Russia should be designated a state sponsor of terrorism, Mr Biden told reporters at the White House: "No."
Some US politicians have also pressed for the designation.
US intelligence has assessed that Moscow is buying artillery ammunition from North Korea as sanctions begin to reduce Russia's ability to sustain what it calls the "special military operation" in Ukraine, the New York Times reported.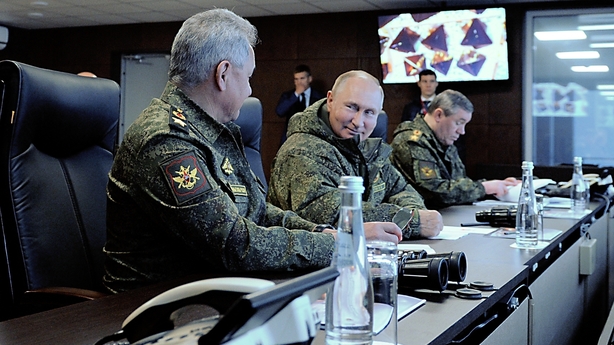 Putin attends military exercises with Chinese forces - Kremlin
Russian President Vladimir Putin attended large-scale military exercises today involving China and several other Russia-friendly countries, Kremlin spokesman Dmitry Peskov told local news agencies.
Mr Putin was meeting with Defence Minister Sergei Shoigu and military chief of staff Valery Gerasimov at the Sergeevski military range and could observe the final phase of the military exercises later, Mr Peskov was quoted as saying.
The military drills, called Vostok-2022, started on 1 September and are due to take place until 7 September across several training grounds in Russia's Far East and in the waters off its eastern coast.
According to Moscow, over 50,000 soldiers and more than 5,000 units of military equipment, including 140 aircraft and 60 ships, will be involved in the drills.
Participating countries include several of Russia's neighbours, as well as Syria, India and key ally China.
Similar drills were last held in 2018.