Ukraine has said that work had resumed at three Black Sea ports designated under a recent deal with Russia to resume cereals' exports that have been blocked by Russia's invasion.
"In connection with the signing of the agreement on the unblocking of Ukrainian ports for the export of grain, work has resumed in the ports of Odesa, Chernomorsk and Pivdennyi," the Ukrainian navy said in a statement on social media.
However, finding enough seafarers willing to sail ships stuck inside Ukraine's ports is set to pose a major challenge to the proposed grains corridor.
Some 80 ships remain blocked in Ukraine and the evacuation of most of their crew members means more mariners are needed in the region to get the cargoes moving.
Henrik Jensen, managing director of Danica, which specialises in providing crew for ships in Ukraine and eastern Europe, warned it may be hard to find people willing to go.
"The main concern at the moment is the security of crew members," he said.
It comes as Turkey formally opened a joint coordination centre for Ukrainian grain exports under a UN-backed deal aimed at resuming shipments for the first time since Russia's February invasion of its neighbour.Turkish Defence Minister Hulusi Akar unveiled the centre at a ceremony held five days after Moscow and Kyiv put their names on a deal designed to deliver wheat and other grain across the Black Sea from three designated Ukrainian ports.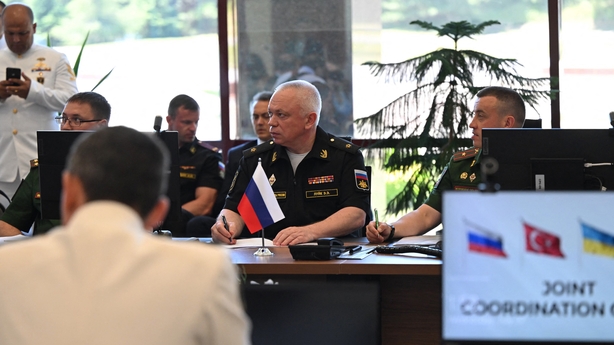 Meanwhile the fate of Ukraine's second biggest power plant hung in the balance after Russian-backed forces claimed to have captured it intact.
However, Kyiv did not confirm its seizure, saying only that fighting was under way nearby.
If confirmed, the seizure of the Soviet-era coal-fired Vuhlehirsk power plant in eastern Ukraine would be Moscow's first strategic gain in more than three weeks in what it calls its "special military operation".
Russian and Russian-backed forces have been struggling to make meaningful progress on the ground since their capture in early July of the eastern Ukrainian city of Lysychansk.
They have been repeatedly pushed back by fierce Ukrainian resistance to what Kyiv and the West regard as an imperialist Russian land grab in a pro-Western neighbour that Moscow dominated until the Soviet Union's 1991 break-up.
Unverified footage posted on social media appeared to show fighters from Russia's Wagner private military company posing in front of the Vuhlehirsk power plant, which some Russian state media - citing Russian-backed officials - reported separately had been stormed.
One of the Wagner fighters in front of the plant showed his watch to the camera - the time on it was 10.01 local and gave the date as 26 July.
Reuters could not immediately verify the veracity of the video or whether the plant had switched to Russian control or not.
The same unverified footage showed that working parts of the Soviet-era power plant, which is perched on the shore of a huge reservoir, appeared to be undamaged.
Ukraine did not confirm the power plant's capture and only said that "hostilities" were under way in two nearby areas. Last Monday, it said that "enemy units" had made some gains around the facility.
We need your consent to load this rte-player contentWe use rte-player to manage extra content that can set cookies on your device and collect data about your activity. Please review their details and accept them to load the content.Manage Preferences
British military intelligence said that Wagner fighters had probably succeeded in making tactical advances in the Donbas region of eastern Ukraine around the power plant and the nearby village of Novoluhanske.
It said some Ukrainian forces had probably withdrawn from the area.
Pavlo Kyrylenko, governor of Ukraine's Donetsk province that forms part of the Donbas, said at least one person had been killed by a Russian strike on a hotel in the town of Bakhmut, which is north of the power plant and a target which Russian forces have said they want to capture.
"According to preliminary information, there are dead and wounded; a rescue operation is under way," Mr Kyrylenko wrote on Facebook.
The local emergency service said a toll of one dead and four wounded had been confirmed so far.
Russian forces meanwhile suffered a setback in southern Ukraine's Kherson region after Ukrainian forces struck an important bridge straddling the Dnipro river with what a Russian-appointed local administrator said were US-supplied high mobility artillery rocket systems (HIMARS).
The Antonivskyi bridge is the city of Kherson's sole span across the river and Kirill Stremousov, deputy head of the Russian-appointed city administration, told Russia's RIA news agency it had been closed to traffic after the strike.
Footage posted on social media showed at least six large holes in its surface.
Separatist leader wants Russia to conquer cities across Ukraine
The leader of pro-Russian separatists in Ukraine's Donetsk region called for Moscow to conquer cities across Ukraine.
Denis Pushilin said on Telegram: "Today the time has come to liberate Russian cities, founded by Russians: Kyiv, Chernigiv, Poltava, Odessa, Dnipro, Kharkiv, Zaporizhzhia, Lutsk".
The cities cover almost the whole of Ukraine.
When Russia launched its offensive on 24 February, it claimed to be protecting the Russian-speaking population in the east from an alleged genocide orchestrated by the Ukrainian authorities.
Its assault on Kyiv failed, but Moscow has conquered a large part of southern and eastern Ukraine.
Russian President Vladimir Putin has repeatedly denied the reality of a Ukrainian nation, saying it had been artificially separated from Russia.
He has said he does not intend to occupy his neighbour, but the occupation authorities Moscow has set up in southern Ukraine are openly preparing to stage referendums on joining Russia.