A long wall by St Michael's Cathedral in central Kyiv commemorates the Ukrainian soldiers killed since 2014 in Donbas in the east of the country.
Since 2014, Ukraine has been fighting pro-Russian forces in that region, and the length of Kyiv's Wall of Remembrance is covered with hundreds of the faces and names of its dead.
The wall is a reminder that that part of Ukraine has been at war for far longer than just this year.
St Michael's cathedral is intimately connected with several chapters in the story of Ukraine's ongoing struggle to throw off the yoke of its dominant neighbour.
Its bells rang out one night in 2013 to warn residents that protesting students gathered in nearby Maidan Square were being attacked by the police. Many of those demonstrators took refuge in the cathedral.
The events of that night sparked a revolution that saw the pro-Putin government of Viktor Yanukovych toppled just months later, to be replaced by a Western-leaning one. With Putin's help Viktor Yanukovych fled to Russia.
So the square in front of the cathedral is a fitting location for one of the city's latest displays. It is made up of the burnt-out remains of Russian tanks and other vehicles, lately captured in this current war.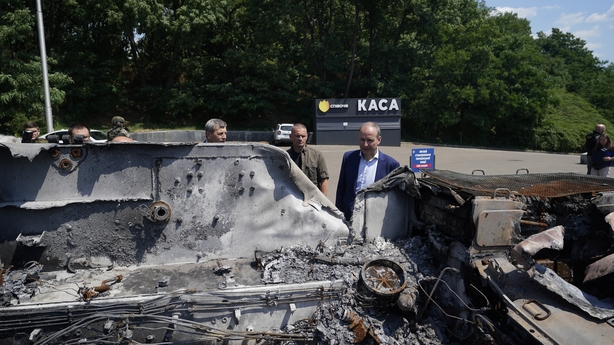 These bleak metal hulks form a powerful propaganda image. People wander around them, examining them and peering inside.
It is impossible not to think of the Russian soldiers who once occupied these tanks, and to wonder, were they in them when they were so thoroughly destroyed? If so, they could not have survived.
When Boris Johnson visited Kyiv last month, President Zelensky took him to this square, to view the cathedral wall and the burnt out tanks.
Our Taoiseach was not brought there, but the monuments and museums he visited communicated a similar message; that this war is just the latest chapter in what is a running saga, and that the hatred felt by many Ukrainians towards the Russian Federation, and towards its people too, is running very deep indeed.
Micheál Martin visited a museum commemorating the Holodomor, Ukraine's devastating famine of the 1930s.
Standing before a haunting statue of a little girl, who clutches ears of grain to her breast, he observed a minute's silence.
He heard how this man-made famine, which killed an estimated 8 million Ukrainians, was caused by the forced exportation of huge quantities of grain from the country under Joseph Stalin. The Holodomor is recognised in Ukraine as a genocide.
Ukraine was later to lose up to 5 million of its citizens as casualties of the World War II. A museum dedicated to this and other wars of the past has now made space for exhibits related to today's war.
Here, Micheál Martin viewed a real underground bomb shelter, taken in its entirely from Bucha, with beds, mattresses, water containers, icons and even graffiti on the wall still intact.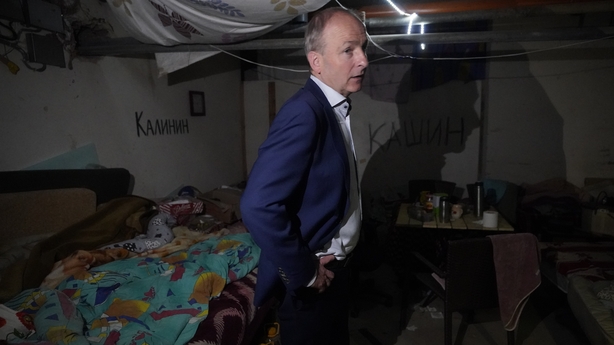 He viewed an exhibit made up of military boots abandoned by Putin's retreating forces, all gathered together within a soviet red star.
Close to this was a display of Russian documents, credit cards and even ID cards that belonged to Russian soldiers. There is no attempt hide their names or faces or dates of birth. Looking at these intimate documents on display one wonders what happened to these young men.
Other exhibits contained ordinarily mundane items such as TVs, washing machines and window frames, made powerful by the fact that they have been gathered from homes destroyed by Russian bombardment.
On tours of the towns of Bucha, Irpin and Borodianka, the Taoiseach saw some of those bombed out homes. Accompanying him, we saw through blasted windows the devastated remnants of ordinary lives.
On the side wall of one partially destroyed building, a sign advertising these new homes to young families was still in place.
Later that day, it felt very strange to see this war, which is ongoing, already taking its place beside wars and atrocities of the past, already being immortalised in the city's museums and memorials.
At the press conference, I asked Ukraine's President Zelensky when did he think Ireland's Ukrainian refugees could hope to return home, to peace, when this conflict looked like one with no end in sight.
Mr Zelensky took issue with the word 'conflict'. It's not a conflict it's an invasion, he said. And my question was one for the Russian Federation not Ukraine.
Suddenly, breaking into English, he asked: "Did Mr Taoiseach see NATO bases in Bucha? or in Irpin, or Borodianka? There is nothing there, no military, no nothing."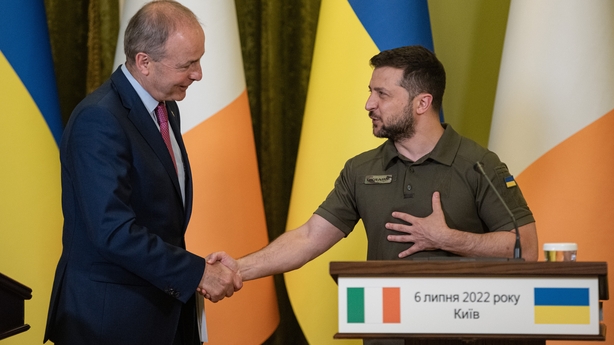 His point was Russia's deliberate targeting of civilian populations, which is a war crime.
Earlier, in Bucha the Taoiseach was told how 419 of this town's citizens had been killed by Russian forces during their occupation of the region in March.
More than 90% of those killed had been shot. In many cases their bodies lay on the streets for days, Mr Putin's forces not allowing their families or neighbours to collect them.
Atrocities such as Bucha explain Kyiv's naked displays; the burnt-out Russian tanks, the Russian boots and the identity cards. How could you not hate the soldiers who have done this?
Many in Ukraine see this Russian invasion as yet another genocide against them.
On Wednesday, as Micheál Martin toured Kyiv and met President Zelensky, the country's former president, the ousted pro-Putin Yanukovych, made a rare intervention.
In a statement posted on Facebook by his press secretary, he called on Ukraine to surrender. "Save those parts of Ukraine that are possible to save," he warned.
But the world knows there is no question of this.
And this week Micheál Martin became the latest western leader to be left in no doubt as to the determination of the people of Ukraine, and of its president, to fight its Russian invaders, if necessary to the very bitter end.