12-year-old Maria Baranova is one of thousands of people displaced by Russia's invasion of Ukraine who is spending this World Refugee Day in Ireland.
She and her mother, Oleksandra Yarmoliuk, arrived in Ireland in March, and have been living with a host family in Dublin since then. Maria and Oleksandra are among the 36,218 Ukrainians who have arrived in Ireland since the Russian invasion began.
For Maria, a keen gymnast since the age of four, resuming her training in Ireland brought some semblance of normality to her day-to-day life.
"For me, it's something interesting," she said about rhythmic gymnastics. "It's dancing but it's also acrobatic and all the mixture … I don't know how to say. It is a really nice feeling."
We need your consent to load this YouTube contentWe use YouTube to manage extra content that can set cookies on your device and collect data about your activity. Please review their details and accept them to load the content.Manage Preferences
Training at Excel Gymnastics in Dublin's Ballyfermot is a long way from their hometown of Vyshgorod in the northern Kyiv region, where Oleksandra no longer felt safe.
After hearing explosions outside her apartment building on the morning of 24 February, Oleksandra and Maria went to the basement of another house, where they stayed for a week with eight other families.
However, the situation deteriorated even further and when she heard on the news that civilians were being attacked, Oleksandra knew they had to leave.
"I understood that it's not a future for my daughter, I should do something. It was like a one-second decision," she said.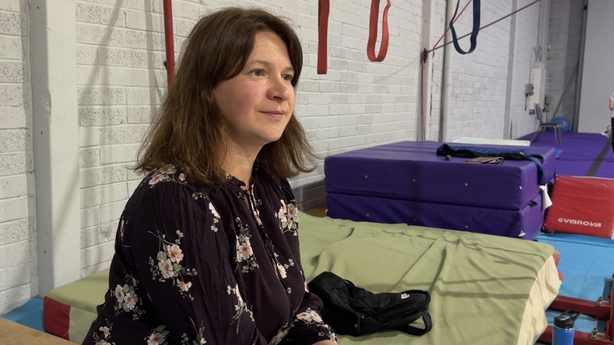 From there began a long and difficult journey to the western part of Ukraine, where they went through various checkpoints, hearing explosions along the way. They were travelling with Oleksandra's friend, Natalia Shvets, and her two children, and it was during their journey they heard about Ireland accommodating Ukrainians fleeing the war.
They are all now staying with Angie Gough, who set up the volunteer group Helping Irish Hosts.
"Angie right now is like our host mum," Oleksandra said, "because she opened her arms and her family and all the community who live around [us]. They met us and provided us everything we needed".
A priority for Oleksandra was finding somewhere for Maria to continue her rhythmic gymnastics training, something which proved to be a difficult task.
However, through word of mouth she was put in touch with Natasha Condell, Director of Excel Gymnastics. After contact was made on a Friday, Maria stepped foot into the gym later that day after school.
"I think when I came from school," Maria said, "my mom said: 'I have a surprise for you.' And I'm like: 'Club? With gymnastics?'. She said 'Yes!'."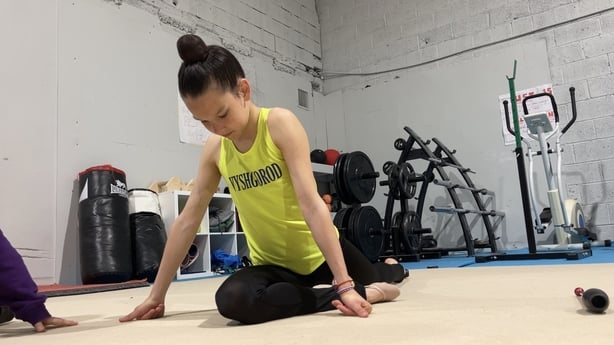 Maria is one of three Ukrainian girls training at the gym. Since joining the club, she has taken part in the National Gymnastics Championships, competing as a guest and coming third in her category.
"She went to a competition in May and she was like 'I'm part of Excel!'", said Natasha. "Her name was as a guest on the list because obviously she was only in the country a few weeks. She was like, 'I'm not a guest, I'm part of Excel.'
"It was just really nice to see her integrate into the club so easily."
Oleksandra, who teaches English to Ukrainians living in Ireland, said that while her husband and family are still in Ukraine, both she and Maria will stay in Ireland for the moment.
"What I really want is to go back to the Ukraine of 21 February, but you know, it is impossible," she said. "So the country it is now, it's not the country it used to be before.
"So maybe just right now, we are staying here and we will see. The future will show."
For now, Oleksandra is grateful that Maria can continue training in rhythmic gymnastics.
"The first day when she ran into this gym, it was like a deep breath of fresh new air in her lungs. She changed in front of my eyes in a second.
"So miracles can happen if you really need these and you wish, dreams come true."