Long queues formed outside a former McDonald's restaurant in central Moscow that has reopened a month after the US fast-food giant pulled out of Russia.
Russia's answer to McDonald's is called "Vkusno i tochka" ("Delicious. Full Stop" or "Tasty and that's it").
A new logo depicting a burger and two fries has replaced McDonald's iconic Golden Arches.
Fifty more of the burger joints will also open, the chain's management says.
The queues at the restaurant on Pushkin Square draw comparisons with the excitement generated by the opening of the first McDonald's in Russia in January 1990, which was hailed as a sign of Soviet detente with the West.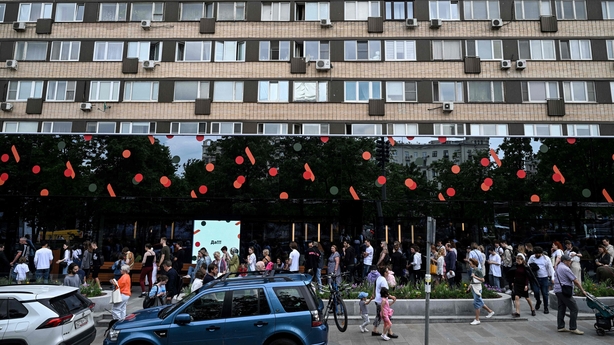 Oleg Paroev, chief executive of Vkusno & tochka, said the company was planning to reopen 200 restaurants in Russia by the end of June and all 850 by the end of the summer.
"Our goal is that our guests do not notice a difference either in quality or ambience," Mr Paroev told a media conference in what used to be the first McDonald's restaurant that opened in Soviet Moscow in 1990.
The rebranded fast-food chain will keep its old McDonald's interior but will expunge any references to its old name, said Mr Paroev, who was appointed Russia McDonald's CEO in February, weeks before Moscow invaded Ukraine.
Mr Paroev said the company would keep "affordable prices" but did not rule out that they would go up slightly in the near term.
McDonald's announced last month that it was selling its Russia business to its current licensee.
This brought to an end more than three decades of the restaurant chain's presence in the country, a decision taken following Moscow's invasion of Ukraine.