Troops holed up in the last Ukrainian stronghold in the besieged port of Mariupol have begun evacuating, appearing to cede control of the once prosperous city to Russia after months of bombardment.
Ukraine's deputy defence minister said 53 injured troops from the Azovstal steelworks were taken to a hospital in the Russian-controlled town of Novoazovsk, some 32 kilometres to the east.
Another 211 people were taken to the town of Olenivka, in an area controlled by Russian-backed separatists, Deputy Defence Minister Anna Malyar said.
All of the evacuees will be subject to a potential prisoner exchange with Russia, she added.
Reuters saw five buses carrying troops from Azovstal arrive in Novoazovsk late on Monday.
Some of the evacuated troops were wounded and carried out of the buses on stretchers.
Some 600 troops were believed to have been inside the steel plant.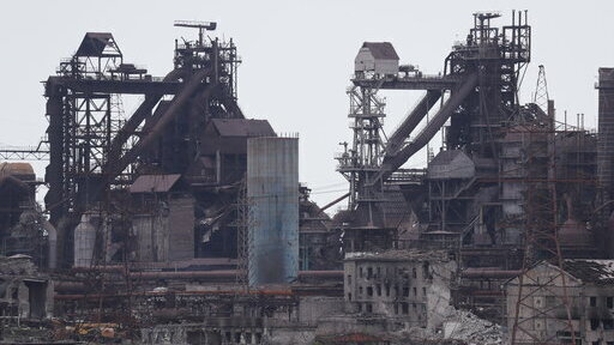 "We hope that we will be able to save the lives of our guys," Ukraine President Volodymyr Zelensky said in a late night address.
"There are severely wounded ones among them. They're receiving care. Ukraine needs Ukrainian heroes alive."
Ukraine's military said it had "ordered the commanders of the units stationed at Azovstal to save the lives of the personnel" and that troops there had fulfilled their combat mission.
Efforts to rescue troops still inside were under way, the military added. It did not say how many troops remained.
Ukrainian troops say they held out in Azovstal for 82 days, buying time for the rest of Ukraine to battle Russian forces and secure Western arms needed to withstand Russia's assault.
But the evacuation likely marked the end of the longest and bloodiest battle of the Ukraine war and a significant defeat for Ukraine.
Mariupol is now in ruins after a Russian siege that Ukraine says killed tens of thousands of people in the city.
Since Russia launched its invasion in February, Mariupol's devastation has become a symbol both of Ukraine's ability to withstand Russia's invasion and of Russia's willingness to devastate Ukrainian cities that hold out.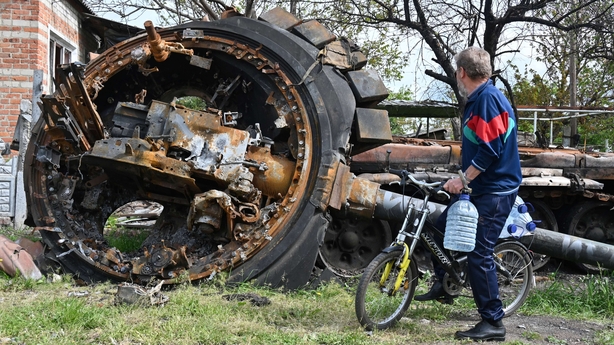 The evacuation came hours after Russia said it had agreed to evacuate wounded Ukrainian soldiers to a medical facility in Novoazovsk.
Azovstal's last defenders had been holding out for weeks in bunkers and tunnels built deep underground to withstand nuclear war.
Civilians were evacuated from inside the plant, one of the largest metallurgical facilities in Europe, earlier this month.
The wife of an Azov Regiment member described conditions at the plant earlier on Monday: "They are in hell. They receive new wounds every day. They are without legs or arms, exhausted, without medicines," Natalia Zaritskaya said.
Ukraine troops reach border
Moscow calls its invasion a "special military operation" to rid Ukraine of fascists, an assertion Kyiv and its Western allies say is a baseless pretext for an unprovoked war.
Nearly three months old, Russia's invading forces have run into apparent setbacks, with troops forced out of the north and the environs of Kyiv in late March.
A Ukrainian counterattack in recent days has driven Russian forces out of the area near Kharkiv, the biggest city in the east.
Ukraine's defence ministry said on Monday troops had advanced all the way to the Russian border, about 40 km north of Kharkiv.
The successes near Kharkiv could let Ukraine attack supply lines for Russia's own main offensive, grinding on further south in the Donbas region, where Moscow has been launching mass assaults for a month yet achieving only small gains.
In a video message, Mr Zelensky hailed the achievement and thanked the troops: "I am very grateful to you from all Ukrainians, from everyone, from myself, from my family, my gratitude is unlimited."
We need your consent to load this rte-player contentWe use rte-player to manage extra content that can set cookies on your device and collect data about your activity. Please review their details and accept them to load the content.Manage Preferences
Since failing to take the capital at the beginning of the invasion in late February, control of Donbas has become one of Moscow's primary objectives - but Western intelligence has predicted its campaign will stall amid heavy losses and fierce resistance.
"We thank everyone who, risking their lives, liberates Ukraine from Russian invaders," Kharkiv regional governor Oleg Synegubov said in a statement on social media.
"We still have a lot of work ahead of us," he added.
---
---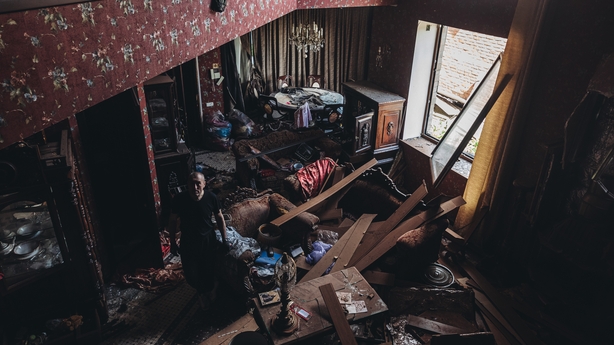 Ukraine can win war - NATO
NATO Secretary-General Jens Stoltenberg said Russia's offensive in Donbas has stalled and Ukraine could win the war, an outcome few military analysts predicted at the outset of the conflict.
"Russia's war in Ukraine is not going as Moscow had planned," Mr Stoltenberg told reporters yesterday evening.
In a strategic blow for Russia, which has long opposed NATO expansion, Finland yesterday confirmed it would apply to join the Atlantic military alliance.
Sweden's ruling Social Democrats also backed NATO membership, paving the way for an application and abandoning decades of military nonalignment.
NATO and the United States said they were confident both countries would be accepted into the alliance and that reservations from Turkey, which wants the Nordic countries to halt support for Kurdish militant groups present on their territory, could be overcome.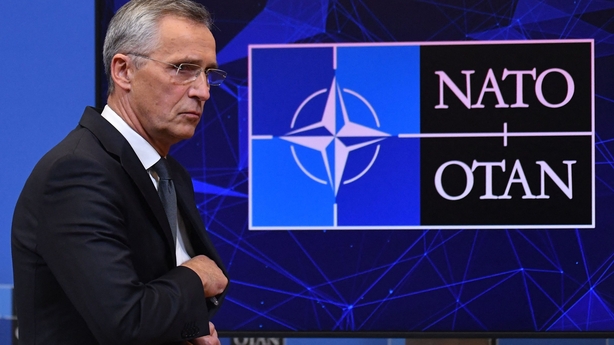 Ukraine has scored a series of successes since Russia invaded on 24 February, reversing an advance on the capital, Kyiv, and now driving Russian forces out of Kharkiv in the east.
Russia recognised the independence of the self-proclaimed Donetsk People's Republic and the Luhansk People's Republic days before it launched its invasion of Ukraine.
British military intelligence has said Russia had lost about a third of the ground combat force deployed in February, and its Donbas offensive had fallen "significantly behind schedule".
As well as losing large numbers of men and much military equipment, Russia has been hit by economic sanctions, while Western states have provided Ukraine with military aid.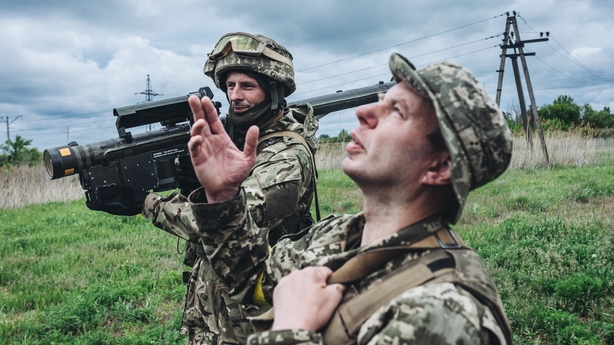 Ukraine has deployed many of its new US M-777 howitzers at the front lines, and the US has delivered all but one of the 90 artillery pieces they were due to send, the US embassy in Kyiv said.
US politicians are set to press ahead this week with efforts to send more aid.
Fighting around Izium
Ukrainian troops received a morale boost from the country's win in the Eurovision song contest on the weekend, with some saying it was a sign of battlefield victories to come.
"We have shown that we can not only fight, but we can also sing very nice," said Vitaliy, a soldier bunkered down north of Kyiv.
The most intense fighting appeared to be around the eastern Russian-held city of Izium, where Russia has said it had struck Ukrainian positions with missiles.
Ukraine's Joint Forces Task Force said its troops had repelled 17 attacks on Sunday and destroyed 11 pieces of Russian equipment. The command of Ukraine's air force said Ukrainian forces downed two helicopters, two cruise missiles, and seven drones.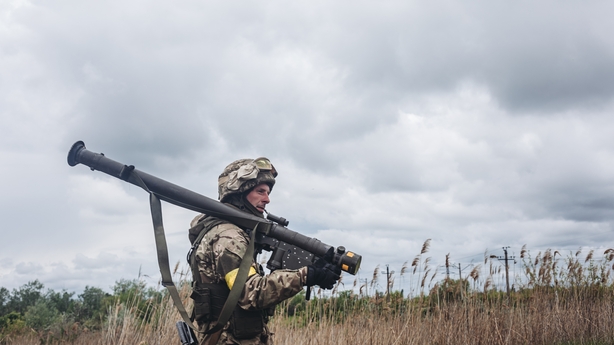 Russia continues to target civilian areas along the entire front line in the Luhansk and Donetsk regions, firing at 23 villages and towns, the task force added.
Reuters was not able to independently confirm the reports. Russia denies targeting civilians.
If Ukraine can sustain pressure on Izium and Russian supply lines, it will be harder for Russia to encircle Ukrainian troops in Donbas.
Ukraine's military also acknowledged setbacks, saying Russian forces "continue to advance" in several areas in the Donbas region.
In western Ukraine, near Poland, missiles destroyed military infrastructure overnight on Saturday and were fired at the Lviv region from the Black Sea, Ukrainian officials said.
Another ten civilians were wounded in the southern region of Mykolaiv, the regional council said, without providing details.