The entire G7 club of rich nations is "committed to phasing out or banning the import of Russian oil," the White House said, escalating pressure on Vladimir Putin over the invasion of Ukraine.
A statement from the Group of Seven - France, Canada, Germany, Italy, Japan, Britain and the United States - said the Russian President's "unprovoked war of aggression" has brought "shame on Russia and the historic sacrifices of its people".
"Russia has violated the international rules-based order, particularly the UN Charter, conceived after the Second World War to spare successive generations from the scourge of war," said the statement.
The announcement came as the G7 held its third meeting of the year today via video conference, with Ukrainian President Volodymyr Zelensky participating.
"We remain united in our resolve that President Putin must not win his war against Ukraine," they said.
Washington also announced a new round of sanctions against Russia, focusing on two major areas: the media, and access by Russian companies and wealthy individuals to world-leading US accounting and consulting services.
The US will sanction Joint Stock Company Channel One Russia, Television Station Russia-1, and Joint Stock Company NTV Broadcasting Company.
Any US company will be prohibited from financing them through advertising or selling them equipment.
"US companies should not be in the business of funding Russian propaganda," said a senior White House official who requested anonymity, stressing that these media were directly or indirectly controlled by the Kremlin.
The US State Department has also banned Americans from providing accounting and consulting services to Russians, and sanctioned executives from Gazprom bank to punish Moscow for its invasion of Ukraine.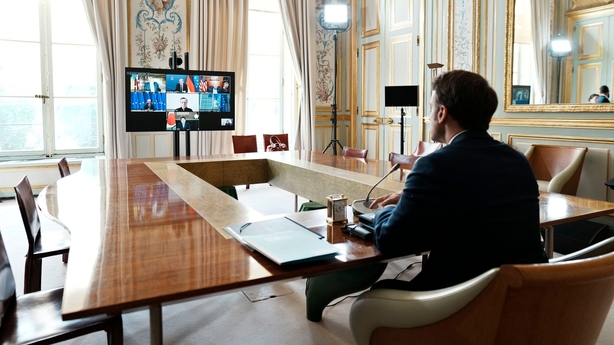 In addition, it introduced a raft of visa bans and a new policy of visa restrictions on more than 2,500 Russian military officials and Russian-backed forces in Ukraine.
The West has so far shown coordination in its announcements of sanctions against Russia, but has not moved at the same pace when it comes to Russian oil and gas.
The United States, which was not a major consumer of Russian hydrocarbons, has already banned their import.
But Europe is far more reliant on Russian oil.
The EU has already said it is aiming to cut its reliance on Russian gas by two-thirds this year, though Germany has opposed calls for a full boycott, with member states continuing intense negotiations today.
The talks come ahead of Russia's Victory Day celebrations tomorrow. Mr Putin calls the invasion a "special military operation" to disarm Ukraine and rid it of anti-Russian nationalism fomented by the West. Ukraine and its allies say Russia launched an unprovoked war.