There have been calls for more joined up thinking by Government departments and State agencies to house people with disabilities fleeing the war in Ukraine.
More than 27,000 refugees have come to Ireland from Ukraine since the war began, but the charity UNICEF has said that tens of thousands of children with disabilities are believed to have been abandoned in the country since the war began.
Speaking on RTÉ's News at One, UNICEF's Global Spokesperson James Elder said that children with disabilities in Ukraine are not getting the care they need because of war and appealed to governments in other countries to take them in and arrange for them to be given care.
He described how large numbers of children were in institutions across Ukraine before the war began.
"I think around 100,000, about half of them had a disability. Many of those did have family members somewhere and the initial aim was to get them to family members but in the intensity of war, carers left sometimes.
"Other carers stayed but three people dealing with what should be the job of 20 adults."
Catherine Kelly of the voluntary organisation WALK told the Oireachtas Committee on Disability Matters that disabled people have been disproportionately affected by the war.
She said shelters in Kyiv are inaccessible, so people with disabilities are forced to stay at home with no level of safety, while adults and children are being left in institutions to fend for themselves with little or no access to food and water.
There is no essential medication for lifelong conditions such as multiple sclerosis (MS) and epilepsy, and power failures have meant that electric wheelchairs have become inoperable in Ukraine.
"We have been told stories about the experiences of people with disabilities that have died unnecessarily because they cannot hide or navigate the cities' surfaces that are now covered in rubble making them completely inaccessible for anybody with mobility issues," she said.
The committee was told that the Health Service Executive has said 100 disabled people have arrived in Ireland, but witnesses, including Adam Harris of the National Autism Charity AsIAm, said they believed that figure was higher.
It is believed people with hidden disabilities may not declare their disability out of fear they may be stigmatised on their arrival in Ireland.
Mr Harris said while there was a lot of goodwill on the ground in removing practical barriers, there was a lack of joined up thinking between departments.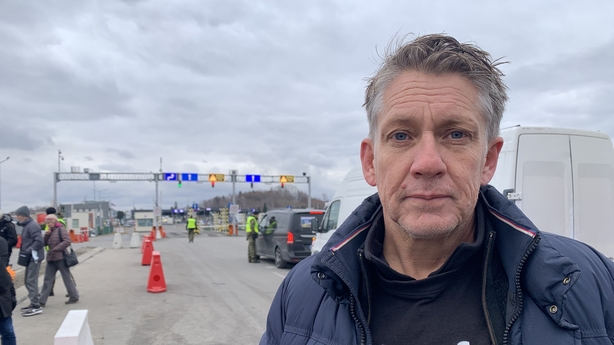 WALK suggested using deinstitutionalised settings that are available in Ireland for disabled people fleeing the war.
Ms Kelly said it was all very well to extend the hand of friendship and offer help, however, she pointed out that accommodation was an issue.
Dr Rosaleen McDonagh stressed the importance of ensuring there is not a bias against accommodating children and adults with complex needs.
"While everyone can't offer support, it's important that we don't cherry pick."
The committee heard that two Ukrainian families who have disabled members that were housed in Wexford holiday homes will lose their accommodation at the end of May.
Those before the committee stated progress was being made due to NGOs' ability to ask for favours or return favours.
CEO of WALK Joe Mason said while they are capable of "calling in favours", it was not the "most appropriate way to do business".
The committee agreed to request an update from Minister of State for Disabilities Anne Rabbitte after a spokesperson for the minister said a meeting had taken place with disability groups, the Department of Health, the Department of Children and the HSE in March.
Minister Rabbitte and Minister for Children Roderic O'Gorman also met the Ukrainian and Polish ambassadors to discuss supporting people with disabilities from Ukraine here, back in March.