Life in Lviv is surreal. On the one hand it's the sort of bustling city usually associated with weekend breaks.
Its stunning architecture reflects a mixed history. While the city has been part of Poland, the Austro-Hungarian empire and the Soviet Union, it is very proudly Ukrainian.
Once it was the main trading centre between East and West, now it's regarded as the country's main cultural hub. So it's difficult to think of this place as being in a war zone.
Even the frequent wail of air sirens and the constant traipsing to the relegated bomb shelter can't shift the feeling that Lviv is far away from the ravages of war.
But there are constant reminders everywhere.
Men dressed in army fatigues; a proliferation of checkpoints; the windows of ornate buildings covered in plywood; monuments enveloped in wire cages and hidden behind sandbags. Statues wrapped in protective sheeting looking eerily like body-bags.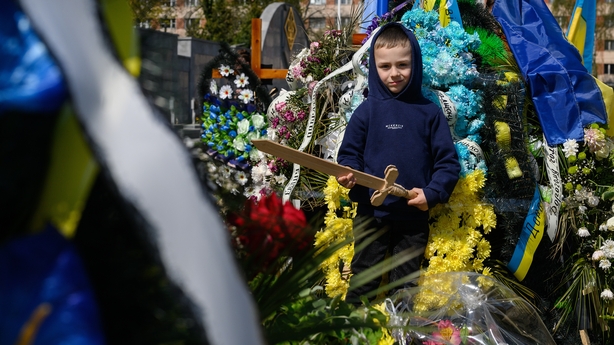 It is a city which fears the worst but wants to believe in the best.
The most visual sign of the current conflict is the floral shrine which has sprung up in Lviv's centre.
Every day it grows, like an out-of-control garden which might one day consume the city. New pictures of those killed are fastened to the wire fence which is festooned with artificial blooms.
The photographs are of people killed across the country, not just from Lviv. I have become used to passing and seeing the contemplative faces of passers-by as they study the newest additions to the wall, deep in thought and silent prayer.
But sometimes it would catch me unawares - glimpsing a photograph of a child and the shock hitting like a gut-punch.
Like little Sasha, who smiled into the lens cradling a comically startled cat. Or Semyon, star-jumping for the visual memento of a family day out.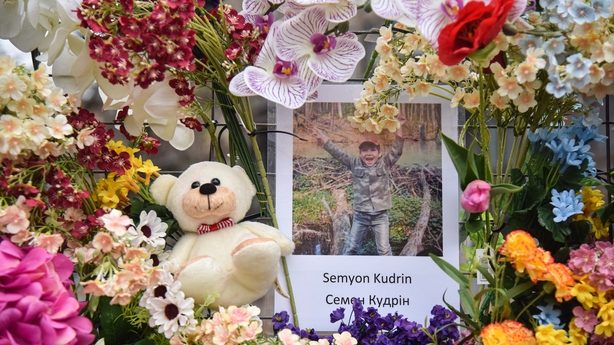 Each time I looked at the wall, it struck me. None of these men, women and children could have known when posing for these photos that their images would end up in a gallery like this.
That strangers would study their faces, wondering about their lives and weeping at the senselessness of their deaths.
This city is an open wound. People here try to carry on. Continuing with the normality of daily life.
But it's impossible to remain untouched by what is happening to the people of this country. The fighting may be far away but its impact is all around.
Lviv itself has been, and continues to be, a target for Russian missiles.
And not only are its residents subjected to the knowledge and guilt of what is happening elsewhere, but it's now home to thousands of people displaced by the fighting, sheltering in this city which is reassuringly close to the border but not too far from home.
The memory of ten-year-old Illya Mazepa is one which I don't think I'll ever forget. We met him and his father Nickolay in a shelter near the city centre.
His face brightened when he said how he loved to play with Lego but that happiness was fleeting. The Lego is now destroyed. Obliterated by a Russian missile which struck his family home in Kharkiv.
Later, he sat perched on a camp-bed, tears streaming down his face, as his Dad brokenly recounted how their beautiful life was destroyed.
The family fled the city after their home was bombed and the stress of that burden, of getting his wife and two children to safety, is clearly etched on Nickolay's face
Illya breaks down and sobs and his father pulls him close. This war has changed everyone who is living through it, and its cost will be far greater than the pulverised cities left in its wake.
Perhaps the only ones to escape this trauma are those too young to realise what is going on. Only babies can remain oblivious.
Everyone else, even small children must have some understanding that they're living through a nightmare.
But newborns are also a target, demonstrated by an attack on a maternity hospital in Mariupol in mid-March.
And that knowledge must weigh heavily on the minds of expectant parents, heaping stress onto pregnant women at a time when they are at their most vulnerable.
Dr Zoryana Salabay works in the neo-natal intensive care unit in Lviv's municipal hospital.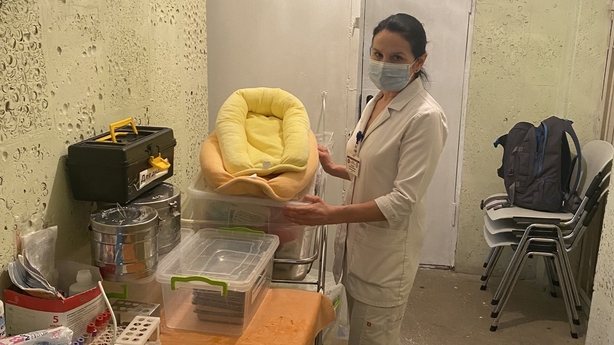 When the fighting first started, staff realised how at risk the babies would be if they stayed above ground, so she moved the facility into two cramped rooms in the basement.
It took two weeks with staff working night and day but with the help of UNICEF, they got the unit up and running. Dr Salabay says they've been lucky so far and neither the ICU or the adjoining rehabilitation unit has been forced to full capacity.
But with nobody knowing how long this war will last, she's not sure how much longer that luck can hold out.
She says they desperately need a proper ventilation unit because while the staff are amazing, it's becoming increasingly difficult to work in such stuffy and airless conditions, especially wearing facemasks.
Next door, a young mother hovers over her infant son, gazing lovingly at him as he sleeps.
Lev was a much-wanted baby and his mother Tetiana struggled to conceive and had a difficult pregnancy.
Before the war broke out, she was being constantly monitored in a maternity hospital in Kyiv. But when an explosion happened about 1km from her home in the capital, she and her partner fled.
She becomes emotional as she recounts how they struggled to find somewhere to live in Lviv, landlords were reluctant to rent to them because they had a dog.
Eventually they found somewhere "very basic" but it meant that a heavily pregnant Tetiana had to climb up and down stairs as there was no lift.
She had an emergency Casarean section at 35 weeks because the baby had brain asphyxia. Lev is now brain damaged and Tetiana says they have to wait to see how that develops.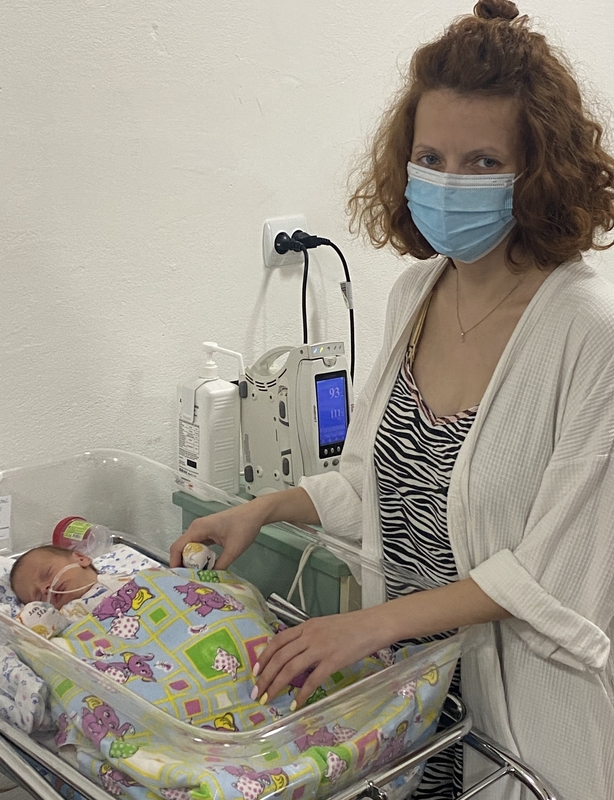 He has his own private battle to fight, unaware of the one that is raging around him.
Pinning Andriy Sadovyi down to an interview is difficult. Lviv's Mayor is keen to speak to us we are told but finding the time is proving a challenge.
Eventually, he locates a window and we arrive at City Hall, half expecting to be told that he must postpone once again. He doesn't but when we meet him he has the air of a man with a lot on his plate.
He's friendly and courteous, chatting amiably while we hurry to get the camera set up, but we're under no illusion that our time with him is limited.
The austereness of his palatial office is diminished somewhat by his casual dress and the presence of a tabby cat which stalks snootily around the room.
Sadovyi shares the same quality as many of his Ukrainian counterparts. Above all, he is convincing.
His enthusiasm for the bravery of the Ukrainian military and his faith in their ultimate victory is unshakeable.
"This clown has been humiliating the world for decades and decades, but right now the truth is becoming more apparent and we are returning to normal living"
He believes that this courage has 'fascinated' the world, inspiring Western countries to commit more weapons and military support.
Sadovyi says that recent Russian gains in the East will be short-lived and wagers that the war will shift in favour of Ukraine in the next two weeks. He predicts that the arrival of more cutting-edge military hardware on the battle fields will mark a turning point.
He is also confident that the fighting will be over by September and that that world will have finally woken up to Russia.
He speaks in English for most of the interview but breaks into Ukrainian to explain what he believes lies ahead.
"To be honest, I'm surprised that Russia has succeeded in intimidating the entire world, and a lot of countries just came to terms with that. Russia and Mr Putin corrupted politicians in Europe and in the US and a lot of countries just played along with it," he says.
"This clown has been humiliating the world for decades and decades, but right now the truth is becoming more apparent and we are returning to normal living. I believe that we need to fully isolate Russia and I think that there is a likelihood of Russia falling apart into several different states. For decades, Russia has been a problem for its neighbours and I think we will see some major geopolitical shifts in the next year."
He tells me that he is an optimist but also a realist.
In the months before 24 February, when Vladimir Putin began his "special operation", Andriy Sadovyi and others like him around the country, were quietly making preparations.
He says that six months before the war he had ensured that the city's water supply could operate without electricity, stocked up on medical supplies and bought lots of generators.
He had conversations with other mayors about the possibility of a wave of refugees. And so, while citizens may have been fairly laidback about the threat against them, behind the scenes politicians were making contingencies for Russian aggression.
There is a general sense here that this war was inevitable. That Putin had designs on the country, or on part of it at least, and it was only a matter of time before he acted.
Regardless of its outcome, this war has achieved what the Russian President was keen to avoid. He has united his neighbour, fusing the Moscow-sceptic West to the traditionally Pro-Russian East and creating a homogenous country with a fervent belief in its own independence.
That self-confidence is infectious, with countries in the West leaning-in and starting to take the prospect of a Russian defeat seriously.
This shift is crucial and is buoying hopes here that with a western wind at its back, Ukraine might finally vanquish the beast from the East.