Terror comes at night for Kateryna. That's the worst time – with loud explosions and relentless shelling. When it happens she sits in the dark praying for God to save her and her 96-year-old mother. Her mother cries and feels nervous.
Kateryna's city Chernihiv, which is situated in northeast Ukraine between the capital Kyiv and the Russian border, was one of the first targets of invading Russian troops.
Its population has dwindled from 285,000 to an estimated 130,000 since the start of the war. Those remaining have no electricity, gas, running water, heating and have little access to food.
"The worst thing is the night. They are bombing greatly at night," says 60-year-old Kateryna, who has remained in the city to care for her 96-year-old mother.
Kateryna spoke to RTÉ's Morning Ireland programme from inside the city, while the sporadic internet signal is working.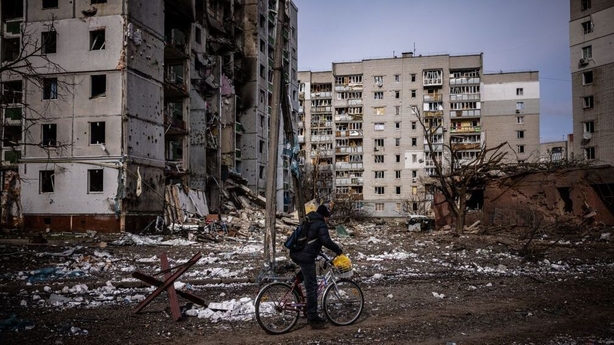 "It is terrible because we don't have electricity and we are sitting in total darkness. I am just praying. I am sitting and praying. I think that only God can save us. Nothing else," she says.
Earlier this week, Russia promised to "drastically reduce" military operations around Chernihiv and Kyiv. The promise was to "boost mutual trust" for peace talks.
Chernihiv's Mayor said the promise coincided with increased intensity of shelling. The local library, post office and market lie in ruins after heavy shelling.
Kateryna says she does not believe the Russian promise.
She says this is because when Russia said it would move its troops, her city met a "most terrible night" and the "city was greatly bombed".
"We were hearing explosions and bombing, shelling, everything – it was the most horrible night when they were saying they were going to take their troops away.
"My mother, she is 96, and for me it is a problem to get medicine for her"
"My flat was ruined. I had to move to my friend's flat. Now we are living at her flat.
"Our suburbs have been ruined. A lot of houses are burnt, ruined, destroyed. A lot of people have nowhere to live.
"In the centre, the market is ruined. The cinema is ruined. The central post office is ruined. The cemetery is ruined and is closed," she says, adding people are now buried in mass graves.
Chernihiv remains cut off and supplies in the city are short. Every morning from 5am Kateryna joins queues – some which take four hours – for bread and water.
"My mother, she is 96, and for me it is a problem to get medicine for her," Kateryna says.
Kateryna says she will remain in Chernihiv to care for her mother, who lived through WW2.
"It is the second war in her life. She is crying. She is very nervous. She says she never thought she would be suffering a war for the second time in her life. She can't believe Russians have invaded our country.
"She considered them to be brothers. For her it is a shock.
"If I could leave I would leave, but I couldn't unfortunately. I can't leave my mother here," she says.
She added it is not possible to leave the city, nor is it safe to attempt to do so.