"The mother called saying, 'I have my baby in my arms. I don't have food'," the deputy mayor of Mariupol says.
"It's a dead city. A city full of tears," he adds pausing as the telephone line momentarily shakes but then stabilises.
The most stressful moment of the past fortnight for deputy mayor Sergei Orlov was that phone call from the mother and what he couldn't do.
"I have my baby in my arms. I don't have milk. I don't have food. What should I do?" the woman asked him, he says.
He couldn't help. Mariupol was being shelled and bombarded by Russian forces. No humanitarian aid had reached the city.
"This is awful. We could not help her. It was two weeks ago. The situation has become worse," he says.
I hesitate, but ask: "Did that mother escape?"
"There is no contact with her," the deputy mayor replies. There's a long pause on the line.
This is the third time Sergei Orlov – the deputy mayor of Mariupol - has recorded an interview with me for RTÉ's Morning Ireland. There has been a gap of two weeks since our last contact.
Since then, his home was destroyed, he has left Mariupol, and while his voice sounds resilient, it is tired - more weary than when we last spoke.
We need your consent to load this rte-player contentWe use rte-player to manage extra content that can set cookies on your device and collect data about your activity. Please review their details and accept them to load the content.Manage Preferences
Mariupol is ruined, wrecked and demolished by war and the city council says 170,000 civilians remain trapped there.
"Do you feel helpless?" I ask Mr Orlov.
"I am helpless because I cannot help 170,000 citizens. But, of course, I have some optimism and we will continue to do our best to help our citizens in our city," he says.
Those who remain in Mariupol, he says, live underground.
"The people who are left there are hiding underground - living in bomb shelters. They are living like mouses [mice]. There still are no utilities - water, electricity, heating, sanitary systems. There is a lack of food, medicine and medical help. I would even tell there is lack of life in Mariupol," he says.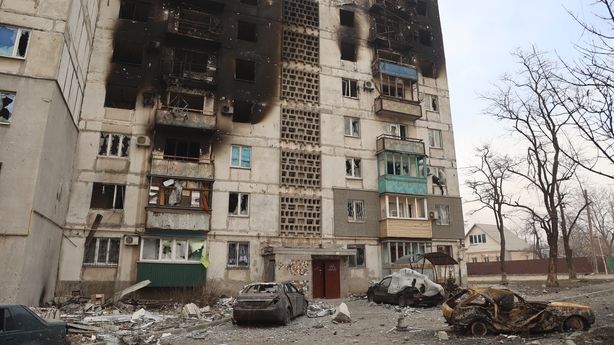 "The city is under continuous shelling and bombing - people are dying. There is no possibility to solve any humanitarian issue in Mariupol at the moment. There is nothing. Nothing exists. The only possibility is to provide evacuation of all our citizens from Mariupol.
"The city is burning. It is a city without life. The city is full of tears. It's like [a] dead city.
"Mariupol is in ruins. It is a city of war and ruins. Bodies are all over the streets and it is not possible to bury them in mass graves. We just don't have any service to bury them. So it is family, their relatives, could bury them in yards, in gardens - something like this," Mr Orlov says.
Attempts to evacuate people from the city is made difficult by a lack of transport. Attempts to organise safe exit with buses failed.
"All our attempts to set up humanitarian corridors to provide evacuation for our citizens in a centralised way by buses was not successful. Russia did not allow it," says Mr Orlov.
There are four options for people leaving, according to the deputy mayor.
"One possibility is to evacuate by private cars. The number is decreasing because there is not cars in the city.
"The second is to walk to the nearest villages in the western direction and look to be evacuated by buses.
"The third is deportation with Russia to temporary accommodation in the outskirts of Mariupol.
"The fourth one is to be dead."
He adds deportation from Mariupol is happening "in mass quantity".
"It is our estimation that 30,000 to 40,000 people have been deported by Russia in Donetsk Republic or to Russia," he says.
The deputy mayor has left the city himself.
"I left by private car. It is dangerous. But, what is more dangerous - to be killed by airstrikes or shelling or to be dead without water or the lack of food?"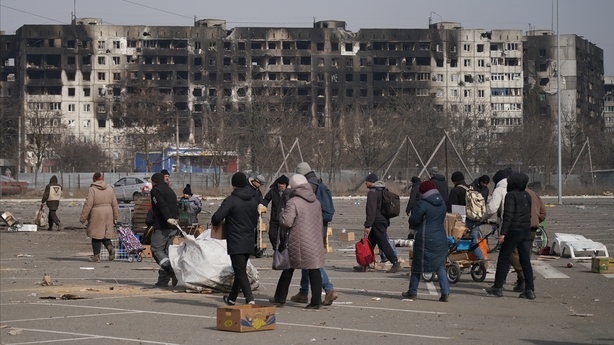 The council estimates "170,000 people remain" in Mariupol, "5% to 7% of those are children". The scale of destruction of the city by Russia could not have been imagined by Mr Orlov when it started.
"I could not have imagined that it is possible to bomb a theatre, an art school, a maternity hospital. I could not imagine that is was possible to shell - from missiles from warships - kindergartens school houses. I could not imagine it was possible.
"At least 40% of our city is ethnic Russian. Personally, I am half Russian and half Ukrainian … and so Russia kills ethnic Russians in Mariupol," he says.
The deputy mayor says he does not feel let down by the international community.
"The international community, they do a lot. We could not fight without international help. It is absolutely clear. It is all about sanctions. It is all about weapon supply. It is about helping with humanitarian aid. We are very thankful for that."
He added the future of Mariupol is with the Ukrainian state and the city should be rebuilt with help from the international community and money seized from Russian business interests.
"Russia won't rebuild. We believe the international community will help us to do this and we as a team in the city council want - and are ready - to do our best to build a new Mariupol, even better than it was."