The International Monetary Fund has said Britain's almost full reversal of a debt-fuelled mini-budget signals commitment to "fiscal discipline," after it called for consistent policies at the fund's annual meetings last week.
"The UK authorities' recent policy announcements signal commitment to fiscal discipline and help better align fiscal and monetary policy in the fight against inflation," an IMF spokesperson said in a statement.
Yesterday Britain's new Chancellor Jeremy Hunt scrapped Prime Minister Liz Truss's economic plan and scaled back her vast energy support scheme in a historic policy U-turn to try to stem a dramatic loss of investor confidence.
A meeting of the British Cabinet today was dominated by discussions on spending after Mr Hunt tore up Ms Truss's original plan for tax cuts and increased public borrowing.
Ms Truss survived that meeting without any ministers calling for her to quit, but Tory members and voters appear to be turning on her.
A snap poll of party members saw more than half respond that she should resign and 83% say she was doing a bad job.
However, Downing Street insisted the Cabinet fully supported the Prime Minister and stressed that Ms Truss was focused on the challenges facing the country rather than party infighting.
Asked whether Ms Truss was concerned about ministers discussing replacing her, the Prime Minister's official spokesman said: "Her view is she needs to be focused on what is right for the country rather than on any internal discussions among the party at the moment.
"She is conscious that these are globally difficult times and the UK is in a difficult situation economically."
Asked if ministers offered their support, the spokesman said: "Certainly ministers were very involved in the discussions around preparations for the medium-term fiscal plan."
When he was asked if any of the Cabinet suggested Ms Truss should quit, the spokesman said: "No."
We need your consent to load this rte-player contentWe use rte-player to manage extra content that can set cookies on your device and collect data about your activity. Please review their details and accept them to load the content.Manage Preferences
The challenge facing the Prime Minister was underlined by a YouGov survey of 530 Conservative Party members carried out yesterday and today which saw 55% say she should resign, and only 38% back her staying on.
About 39% of those who voted for Ms Truss in the Tory leadership race said she should quit, compared with 57% who said she should not.
Some 83% said she was doing badly as Conservative leader, compared with 15% who said she was doing well and 2% being unsure.
Boris Johnson, three months after he was forced to resign following a series of scandals, was favourite to succeed her on 32%, followed by former chancellor Rishi Sunak on 23% and Defence Secretary Ben Wallace on 10%.
Some 60% said they would back a proposal of a unity candidate to succeed Ms Truss being chosen without members having a say.
The poll is not large enough to be considered representative of the wider membership, but YouGov's research has frequently given a good indication of the party's mood in the past.
A separate YouGov study of 1,724 British adults between October 14 and 16 - before Monday's mini-budget U-turns - saw Ms Truss's net favourability plummet to minus 70.
Just 10% of Britons had a favourable opinion of the Prime Minister, with 80% viewing her unfavourably, the survey suggested.
Among Tory voters her support continues to drop: 20% had a favourable view, with 71% being unfavourable.
The Prime Minister's current net favourability score of minus 51 among Tory voters is down 26 points since last week.
She will meet Tory MPs from the European Research Group later today as she attempts to shore up her position in Westminster.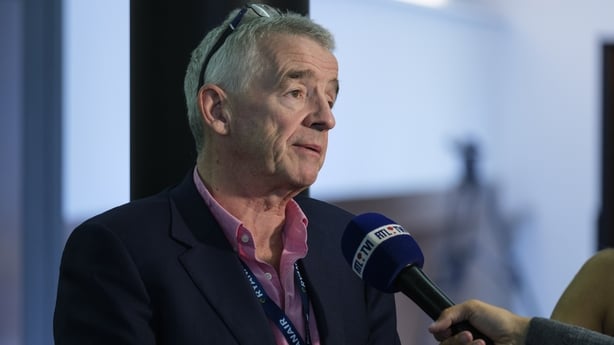 Ryanair boss blames Brexit for UK economic 'car crash'
Ryanair boss Michael O'Leary has described the economic situation in Britain as a "car crash" caused by the country's vote to leave the European Union in 2016.
"The mini budget was a kind of spectacular failure of the whole concept of Brexit," he said at a news conference in Rome.
Mr O'Leary added that the first thing Britain needs is what he called a sensible trading agreement with the EU.
Mr O'Leary said he expects Ms Truss, who became prime minister last month, to be out of a job within a week or two.
"The mini budget has been reversed. So she's in office, but not in power," he said.
Mr O'Leary said that Ms Truss, who had wanted Britain to remain in the EU at the time of the 2016 referendum, is paying a price for promises she made to Conservative party members who selected her to lead the country after Boris Johnson resigned.
"She got elected by appealing to all the Brexiteers for the last three months and it is the ultimate, I think, failure of Brexit and the Brexiteers," he said.
Ms Truss struck a eurosceptic tone during her leadership campaign over the summer, tapping in to the concerns of Conservative Party members and promising to scrap all remaining EU laws that still apply in Britain by 2023.
Mr O'Leary welcomed the appointment of Mr Hunt, who took over as finance minister last Friday and has since rewritten government plans presented only last month.
"The remainers are coming back, the adults are taking charge again ... we will return to some sensible economic policies," Mr O'Leary added.