British Prime Minister Liz Truss has said she is willing to be an unpopular PM to bring in measures she believes will grow the economy, as she admitted her tax cuts will disproportionately benefit the rich.
Ms Truss confirmed she would be reversing the national insurance hike and axing the planned increase to corporation tax, ahead of Chancellor Kwasi Kwarteng's mini-budget on Friday.
The new Tory leader also effectively confirmed a plan to scrap the cap on bankers' bonuses as she defended measures to swell "the size of the pie" and hit out at those with "vested interests" who will oppose her policies aimed at boosting economic growth.
As she was speaking, US President Joe Biden tweeted criticism of the type of economic policy she was advocating - a day ahead of their meeting at the United Nations summit in New York.
"I am sick and tired of trickle-down economics. It has never worked," Mr Biden said.
I am sick and tired of trickle-down economics. It has never worked.

We're building an economy from the bottom up and middle out.

— President Biden (@POTUS) September 20, 2022
While the US president's tweet was surely aimed at a domestic audience, it clearly underlined the differences between the two leaders' stances just as Ms Truss says she wants to foster closer ties with international allies.
The Prime Minister was asked in an interview with Sky News on the 102nd-floor observatory of the Empire State Building if she is prepared to be unpopular.
"Yes. Yes, I am," she replied.
"What is important to me is we grow the British economy because that's what will ultimately deliver higher wages, more investment in towns and cities across the country. That's what will ultimately deliver more money to people's pockets.
"In order to get that economic growth, Britain has to be competitive. If we put up taxes, if we have arbitrary taxes on energy companies, if we have high corporation tax we're not going to get that investment and growth..."
Economic experts and critics of her policies have warned tax cuts will benefit the rich far more than the rest of society.
Ms Truss accepted this would be the initial effect but rejected criticisms of unfairness.
"I don't accept this argument that cutting taxes is somehow unfair," she told Sky.
"What we know is people on higher incomes generally pay more tax so when you reduce taxes there is often a disproportionate benefit because those people are paying more taxes in the first place.
"We should be setting our tax policy on the basis of what is going to help our country become successful. What is going to deliver that economy that benefits everybody in our country. What I don't accept is the idea that tax cuts for business don't help people in general."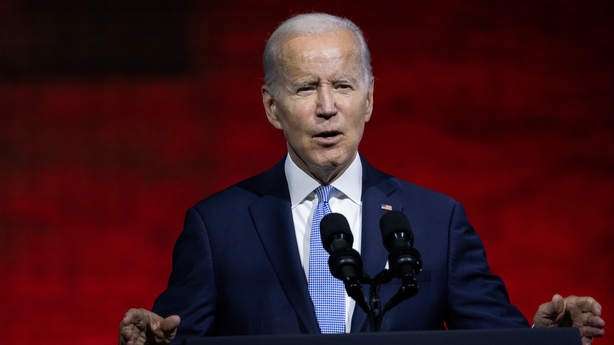 Ms Truss confirmed to the BBC that she will be reversing the national insurance hike and axing the planned corporation tax rise that were the policies of Boris Johnson's administration.
"I'll always work to make sure that we are helping those who are struggling. That's why we took the action that we took on energy bills because we didn't want to see households facing unaffordable bills," she said.
"And that's why we're going to take the action on national insurance, reversing that increase as well.
"So, yes, we do have to take difficult decisions to get our economy right.
"We have to look at all tax rates. So corporation tax needs to be competitive with other countries so that we can attract that investment," said Ms Truss.
No US-UK trade talks in short to medium term, says Truss
This morning, Ms Truss said that a post-Brexit UK-US trade deal is unlikely for years.
Ms Truss made her comments this morning as she kicked off her debut foreign trip at the UN General Assembly, where she will meet Mr Biden.
"There aren't currently any negotiations taking place with the US and I don't have an expectation that those are going to start in the short to medium term," she told reporters before travelling to New York.
During Ms Truss and Mr Biden's first call earlier this month, they "agreed on the importance of protecting" peace in Northern Ireland, according to Downing Street.
White House press secretary Karine Jean-Pierre had also said any efforts to undermine the Northern Ireland Protocol would not create a conducive environment for trade talks between the United States and the United Kingdom.
As a member of parliament, Ms Truss introduced legislation to undo the protocol, which was part of Britain's withdrawal agreement from the European Union.
"We're not prioritising negotiating a free trade deal with the US in the short to medium term," a spokeswoman for Ms Truss added.
"However, the United States is already our largest trade partner and we're continuing to grow our economic relationship."
At the UN, Ms Truss is also due to meet French President Emmanuel Macron and EU commission chief Ursula von der Leyen. Like Mr Biden's White House, they are unhappy with her hard line on Brexit and Northern Ireland.
Truss vows billions more in military aid to Ukraine
Ms Truss also vowed billions more in financial and military aid to Ukraine.
Ms Truss vowed to rally western support at the UN over Ukraine, saying her government would match or exceed the £2.3 billion it plans to extend this year.
"Ukraine's victories in recent weeks have been inspirational," she said in a statement, after Kyiv's forces pushed the Russian invaders out of almost all of the Kharkiv region in a lightning counter-offensive.
"My message to the people of Ukraine is this: the UK will continue to be right behind you every step of the way. Your security is our security."