British Prime Minister Boris Johnson described Health Secretary Matt Hancock as "f****** hopeless", according to a WhatsApp message published by former aide Dominic Cummings.
Mr Cummings, who left Downing Street in November, published a screenshot purporting to show an exchange between him and Mr Johnson.
It showed the controversial aide criticising Mr Hancock over testing to which a contact purporting to be the prime minister replied: "Totally f****** hopeless."
Alongside the image of the apparent WhatsApp exchange with Mr Johnson, Mr Cummings tweeted: "Evidence on the covid disaster: as the PM said himself, Hancock's performance on testing, procurement, PPE, care homes etc was 'totally f***ing hopeless', & his account to MPs was fiction."
His message, which was dated March 27 last year and contained several typos, read: "US has gone from 2200 tests a fortnight ago to 27,000 a week ago to 100k yesterday. This is what we said we shd do.
"Instead we are still stuck on about 5-7K and MH saying today he's 'sceptical' about getting to 10k by Monday which he said wd 'definitely' happen on Tuesday. This means tens of 1000s of NHS staff arent at work over next critical 3 weeks - apart from my earlier point re testign being integral to escape plan..."
The prime minister, whose name appeared as Johnson Boris in the screenshot, appeared to reply "Totally f***ing hopeless".
Mr Johnson did not respond to the publication of the messages when asked at Prime Minister's Questions in Westminster.
However, Downing Street has insisted Mr Johnson has full confidence in Mr Hancock but did not dispute the authenticity of messages in which he apparently called him "hopeless".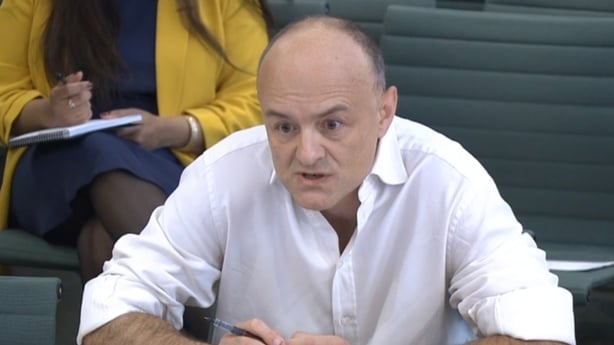 Asked if the messages published by Mr Cummings are genuine, the Prime Minister's official spokesman said: "Our focus is not examining those specific images but delivering on the public's priorities.
"I don't plan to get into the detail of what's been published."
Asked if Mr Johnson called Mr Hancock hopeless, the spokesman said: "I'm not planning to engage with every allegation put forward, the prime minister worked very closely with the health and care secretary throughout and continues to do so."
Asked if Mr Johnson has full confidence in Mr Hancock, the spokesman said: "Yes."
But Labour said the messages showed the need for an immediate start to the public inquiry into the handling of the Covid-19 outbreak.
Shadow health minister Justin Madders said: "This is more evidence that the Conservatives were too slow to lock down, too slow to deliver PPE and too slow to protect our care homes.
"With this evidence that even the PM thinks (Health Secretary Matt) Hancock is useless, why in the worst pandemic in our history has he left him in charge?
"Hancock and Johnson need to respond to these latest revelations and immediately start the public inquiry into their handling of the pandemic."