One of Johnny Depp's security team has told the High Court in London that the actor was "in emotional distress and panicking" after his finger was severed during an incident in Australia.
The episode, in March 2015, is one of 14 allegations of violent behaviour Amber Heard has made against her former husband, which are at the centre of his libel claim against The Sun newspaper.
Malcolm Connolly, who has worked for Mr Depp and his family for about 16 years, said in a witness statement that when he and another security guard arrived at the property, the Hollywood star told him: "She's cut my f***ing finger off. She's smashed my hand with a vodka bottle."
Mr Connolly said the actor also told him Ms Heard had put a cigarette out on his face, and he saw a mark.
The security officer said Ms Heard's account of the incident bore "no resemblance" to his recollection and that when he arrived at the house, the actress "did not have any marks on her face or arms".
He said he got to the property at about 1.30pm after receiving an urgent call from the head of Mr Depp's security team, Jerry Judge (now deceased) who told him: "Malcolm, get in the car, extract the boss from the situation."
Mr Connolly said: "I could hear the ruckus inside. I opened the door, which wasn't locked, and saw Johnny in the foyer area of the house.
"He and Amber were screaming at each other. She was wearing a sort of green silk night thing, you might call it a slip. I shouted at Johnny words to the effect of 'Come with me, you are coming with me'.
"I then took his arm trying to move him out, but he broke away. I said again words to the effect of 'Johnny, come with me'. It wasn't easy but I did get him outside.
"I had the car door open and when we were outside, Johnny said to me words to the effect of 'Look at my finger. She's cut my f***ing finger off. She's smashed my hand with a vodka bottle'. I saw his finger and it was a mess."
Mr Connolly's statement continued: "Amber appeared at the door and then came close to the car, screaming and crying, calling out words along the lines of 'Are you just going to leave it like this, you f***ing coward?'
"Then she was saying 'I love you, I love you. Is this how you are going to end this?'
"She was not making a lot of sense - one second she was begging Johnny not to leave the house and then she was screaming at him for running away.
"She was absolutely hysterical. I was worried that she might start throwing objects at Johnny, or at myself, as I had seen her throw objects before.
"For example, I had seen her lob a fork in Johnny's general direction once; another time I recall she threw a lighter at him, another time a can of coke.
"I knew that we needed to get out of there as soon as possible."
Mr Connolly said he could see Ms Heard's face "very clearly", adding: "She did not have any marks on her face or arms. She didn't look in any physical distress.
"I was much more concerned about Johnny. He was obviously in emotional distress and panicking. He wasn't that drunk or out of it though, and was easily standing on his own and having a conversation."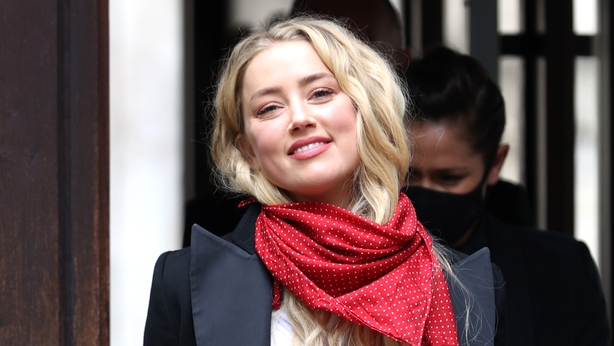 The security guard said the team knew the true cause of Mr Depp's injury would "create extremely bad publicity" and that Mr Judge suggested they should say at hospital that the actor had injured his finger while slicing onions.
Mr Connolly said: "I thought it was fairly obvious that this was not true, given the severity of the injury, and suggested we say he jammed it into a car door.
"However we went with the onion cover story. The specialist didn't believe us for one second."
He said Mr Depp did not go back to the house over the next few days and stayed at Mr Connolly's apartment with him instead.
Also giving evidence today, a Hollywood stylist told the court that Amber Heard had "no visible" injuries the day after the actress alleges Johnny Depp was violent towards her during a heated row.
Samantha McMillen said she spent "much of the afternoon and early evening" with Ms Heard on December 16 2015 as the star prepared to appear on James Corden's The Late Late Show, and she could "see clearly" that Ms Heard had no marks, cuts or bruises.
Mr Depp is alleged to have been violent towards Ms Heard in an argument at their Los Angeles penthouse on December 15, which he denies.
In a witness statement, Ms McMillen said that she saw Ms Heard "in good light, at close range, wearing no makeup" the following day, adding: "I could see clearly that Ms Heard did not have any visible marks, bruises, cuts, or injuries to her face or any other part of her body."
Ms McMillen claimed that after her appearance on the programme, Ms Heard said to her "can you believe I just did that show with two black eyes?"
The stylist said: "Ms Heard did not have any black eyes, and had been visibly uninjured throughout the day and at that moment."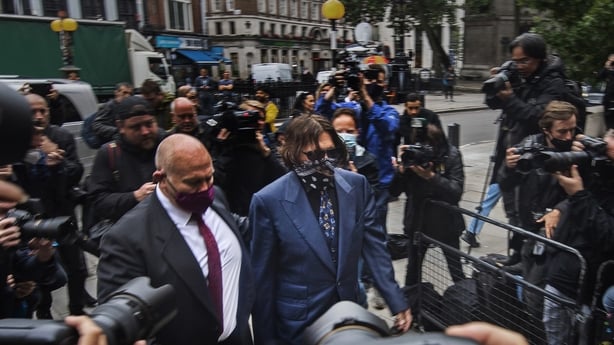 In her written statement, Ms McMillen also claimed she "interacted closely" with Ms Heard five months later, on May 24 2016, at Mr Depp's house in west Hollywood.
This was shortly after another episode in which Ms Heard alleges the Pirates Of The Caribbean star threw a mobile phone at her, hitting her in the eye, and smashed items with a wine bottle.
Mr Depp denies the allegations.
Ms McMillen's statement says: "I went to the house in the afternoon, and encountered Ms Heard. Ms Heard was not wearing makeup.
"There were no visible marks, bruises, cuts, or injuries to her face or any other part of her body. I saw her by the kitchen door during daylight in Mr Depp's house.
"She gave me a hug, crying. After hugging me, she began to have an intense conversation in Spanish with Mr Depp's housekeeper, Hilda Vargas."
Today is the sixth day of the trial of the actor's libel claim against The Sun newspaper over an April 2018 article which labelled him a "wife beater".
The Pirates Of The Caribbean star, 57, is suing the tabloid's publisher News Group Newspapers (NGN) and its executive editor Dan Wootton over the publication of an article on April 27 2018 with the headline: "Gone Potty: How can JK Rowling be 'genuinely happy' casting wife beater Johnny Depp in the new Fantastic Beasts film?"
His lawyers say the article bore the meaning there was "overwhelming evidence" Mr Depp assaulted Ms Heard, 34, on a number of occasions and left her "in fear for her life".
Ms Heard claims that, during the incident in Australia, she was subjected to a "three-day hostage situation" during which Mr Depp drank to excess and took pills.
NGN is defending the article as true, and says Mr Depp was "controlling and verbally and physically abusive towards Ms Heard, particularly when he was under the influence of alcohol and/or drugs".
Mr Depp finished giving evidence yesterday, after around 20 hours in the witness box over five days.