Reimposing lockdown in the British city of Leicester is proving "emotionally devastating" for older members of the city's Irish community, a return to GAA training in the city has been put on hold, while businesses set to reopen their doors this weekend say they are facing "a nightmare".
An Irish community centre in Leicester is preparing to help some of the city's older residents through the loneliness of a second lockdown there.
The East Midlands city of 350,000 has had restrictions re-imposed due to a spike in Covid-19 cases, accounting for 10% of all new cases nationally.
"Emotionally it's been devastating," says Kiran Kala, manager at The Emerald Centre.
"It's been really hard having those conversations with people…They just sound so much more frail. They're so disappointed. They've used the word 'locked up'… and they're so locked in to that negativity at the moment, we're really concerned about the long-term impact that's going to have on them in terms of their health and wellbeing."
Whilst the centre, which is regularly used by close to 200 people from the city's Irish community has remained closed for over three months, an outreach project called Shine a Light has proved an invaluable support to many older people in the community, from all backgrounds.
That support has come through deliveries of shopping and hot meals as well as online quiz nights and dance sessions for those who have the technology.
However, Ms Kala says many people had just been getting used to meeting friends and family face-to-face again, when the new lockdown was imposed.
"They were allowed to go out to the shops and they were allowed to go out for a walk and they were allowed to visit their families… they were able to be part of support bubbles and have their grandchildren in their homes again. That's all had to stop."
The Emerald Centre recently received money from the Irish Government through its Emigrant Support Programme (ESP), which provided emergency Covid-19 funding to help meet the needs of people of Irish descent living abroad.
The centre then accessed further funds from the National Lottery in the UK and began to offer their services across all communities in Leicester.
"Through word-of-mouth more and more people found out about it so it got bigger and bigger," says Ms Kala.
"Help was also offered in other areas including gardening, counselling over the phone, and bereavement services for those who have lost loved ones during the crisis."
A sewing project led to the making of over 200 reusable cloth masks which were sold for £3 each to raise funds, or given free to people who needed them most.
"It's been a lifeline to the people who're actually involved in sewing and those who can't sew have been offering to cut the material, cut out the squares and iron on the interfacing. It is quite a nice little production line," she says.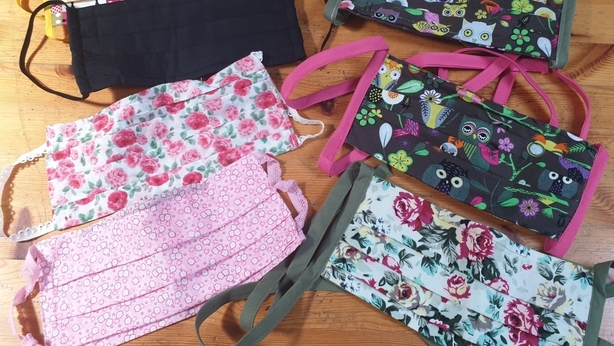 The Emerald Centre not only provides a space for the Irish community to meet but is also regularly used by other groups including older members of the Asian community in the city.
In Leicester close to 28% of the population is of Indian heritage, and a further 21% are from black or Asian backgrounds.
Earlier this month, a Public Health England (PHE) report showed the virus has had a disproportionate effect on these ethnic minorities, revealing that black and Asian people in England are up to 50% more likely to die after being infected with Covid-19.
"We have an elderly Asian women's group that has been coming to the centre for over a decade," says Ms Kala.
"They are absolutely refusing to come back to the centre until they are close to getting a vaccine. That is how critical it is for them, as unhappy as they are being at home for all this time and not being visited by friends and family."
By contrast she says many of those in the Irish community groups cannot wait to come back once they receive assurances that all the safety measures are being put in place.
The centre had been making plans to reopen very slowly and cautiously due to the age profile of the majority of its members, many of whom have underlying health conditions.
They had been sanitising the building and securing PPE when the new lockdown in Leicester was imposed.
Many businesses in Leicester had also been making preparations to reopen this weekend for the first time in over three months.
Barrie Stephens runs five hairdressing salons in Leicester and Leicestershire and has had to postpone the opening of two of them in the city centre.
"We've spent a lot of money trying to put in place all of the plans and the things necessary and then to be told we couldn't open on Saturday is completely devastating," he says.
He said he lost a night's sleep as soon as news of the new restrictions broke.
"It's very stressful and it's very frustrating.
"I'm cross as well because of many people who are not taking social distancing seriously. I for one have been in all the time and abided by the rules and then my business is suffering as a result of selfish people who are not complying with the social distancing.
"It makes me sad because I'm a Leicester boy, born and bred and for me to see the city have such bad PR and press. You know people won't want to come into this city and it's such a tremendous city. It's a multi-cultured city, its so cool."
He adds: "Every day I'm a little bit poorer. I've worked hard to be where I am in my life and now I'm just going into debt, trying to keep my business afloat."
Another salon in Leicester, Malcolm Murphy Hair even spent additional money on refitting expensive new air conditioning, fearing that staff working and blow-drying hair behind plastic visors would get too hot.
Joe Causier, creative director, says the reimposition of lockdown came as a "huge surprise".
"We had all our hopes pinned on the 4th of July. We've spent a lot of money. We've had glass screens put in. We've had air con fitted which is really expensive, as well as the PPE and marketing material for the windows to explain how social distancing is going to work."
He says the reimposition of lockdown will be particularly hard for hairdressers: "For a business like ours which depends on appointments - to be honest, it has been a nightmare.
"We were booked for six weeks in advance, if not more, so now having to try and contact all those people who were booked in the first two weeks and almost push them to the back of the queue, I feel awful, but I really don't know any other way around it."
Back at The Emerald Centre, Mick Walker, Chairman of Naomh Padraig Leicester GAA, says the club had been making preparations to restart training this week - but now they are back on hold and "everything is up in the air".
The club had been following the exact same protocols on return to play as every other GAA club around the world with players and staff filling out health questionnaires.
Mick Walker says: "We are very disappointed that suddenly Leicester has a second lockdown. I think I speak for everyone in the city that we're confused and surprised that Leicester has got such a serious problem because there was no communications to tell us that."
He adds: "We can't train now so we're going to have to wait, follow all the guidelines and wait for the next lockdown to finish."
The Chairman of a GAA club in Leicester has said they are 'surprised' the city is facing a second coronavirus lockdown. However Mick Walker said that the safety of players is most important and if they have to wait to return to play they will | Read more: https://t.co/w1DXg6HA1L pic.twitter.com/392n4YhIk8

— RTÉ News (@rtenews) June 30, 2020
"But the most important thing for our club is the safety of our players, so if we have to wait, we have to wait."
No one knows exactly how long these new measures will be in place for, but it will be a minimum of two weeks before reopening can begin again.
Leicester's mayor Peter Soulsby has urged everyone in the city to unite over the lockdown.
He said: "While it is a pain for us and a nuisance for us in the city to be subject to that level of restriction and to have the clock as they were turned back in the development of the virus, it is nonetheless something that has some realistic prospect of being effective and certainly for us now being effective is what this is all about."