What started off as a trickle has quickly developed into a steady flow of politicians leaving office ahead of the UK general election.
Many of them are women from across the political spectrum.
High profile, household names, including former ministers Amber Rudd and Nicky Morgan, are stepping down citing online abuse and threats against them and their families as a major factor in their decision.
Joining them are the Liberal Democrats Heidi Allen, Independent Justine Greening and Labour's Gloria De Piero among many others.
More than 20 women have said they won't be running in next month's election.
A growing concern over death and rape threats, and racist abuse, are some of the reasons senior female politicians don't want to return to parliament.
In her resignation letter, former Culture Secretary Nicky Morgan said: "The clear impact on my family and the other sacrifices involved, and the abuse for, doing the job of a modern MP can only be justified if, ultimately, parliament does what it is supposed to do."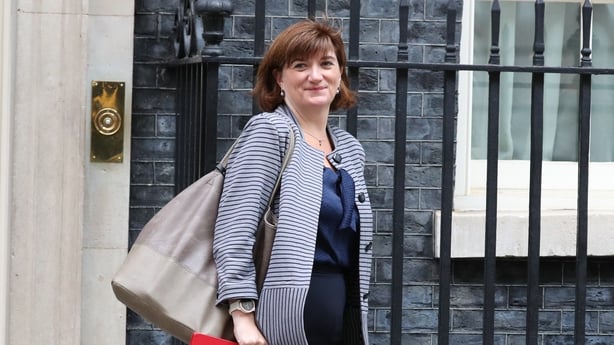 Ms Morgan said that the abuse MPs receive has "contributed" to the decision but was not the main deciding factor about why she is stepping down.
Brexit has been blamed for the toxic political atmosphere, and on the streets MPs have been dealing with an increasingly hostile and weary public who want an end to the political chaos.
The exodus of experienced female MPs has been described as "alarming" by groups campaigning for equality in parliament.
"It's tragic that the online abuse is stopping some female candidates from running in the election,"' said Frances Scott of 50:50 Parliament, a group campaigning for a gender-balanced parliament.
"The online threats can be extremely personal and violent in nature," Ms Scott told RTÉ News.
"Women have received death threats, threats of rape, there's also been threats made to family, children, close relatives and fathers. It's frightening."
We need your consent to load this rte-player contentWe use rte-player to manage extra content that can set cookies on your device and collect data about your activity. Please review their details and accept them to load the content.Manage Preferences
On a chilly, but sunny afternoon in north London, two female MP candidates gingerly make their way along the Holloway Road.
They cautiously approach members of the public, politely inquiring if they have two minutes to chat about the election issues in their constituencies in Islington.
The two Green Party candidates prefer to campaign in groups in daylight because it is safer than going out alone on the cold winter nights.
Deciding when to campaign has become a major factor for female candidates running in the general election because online abuse is making many candidates "fearful and tearful" according to one female MP in parliament.
"Our public debate has been so distorted and degraded and I'd be lying if I said I wasn't concerned about being a woman and putting myself forward," said Talia Hussain, a Green Party candidate in Islington South.
"We are organising our campaigning around weekends and afternoons so that we can be out in daylight and make sure that we are all in groups. It's something we have to work around unfortunately," Ms Hussain said on the campaign trail.
A recent study carried out for the Commons' Women and Equalities Committee found that online abuse is putting women off standing for election.
Two-thirds of female MPs (65%) said that progress on tackling violence against women in politics - including online abuse - impacted their willingness to stand for re-election, compared to one in four (24%) male MPs.
"Evidence shows that women MPs get three times as much abuse as men and it is of a personal nature," according to Ms Scott.
Rights groups say that the social media giants need to do more to tackle the online trolls.
"Facebook and Twitter need to ensure that the posts are not of a violent nature because it is undermining democracy," Ms Scott explained.
208 female MPs were elected in the last general election setting a new record.
The fear is that many of the modest gains made during the last campaign are being undone because of the culture of fear generated by online abuse.
"There's a kind of misogynistic undertone from a very few people," said Caroline Russell, a Green Party candidate running against Jeremy Corbyn in the Islington North constituency.
"It can be a bit draining when all your mentions on Twitter are full of abusive messages. I don't let myself get drawn into the nastiness and anger," Ms Russell said as she campaigned for votes.
More than 30% of those leaving parliament ahead of the election are female politicians.
"It's really important that women are supported to stand and that parties understand the unique pressures on women," said Ms Russell.
All the political parties have pledged to stop the online abuse targeting not just women, but also minority ethic and LGBTQ candidates.
The aim is to make political life easier so political parties can attract the next generation to replace the long-standing, experienced female MPs deserting the House of Commons.