Lindsay Hoyle has emerged victorious in the election to replace John Bercow as UK House of Commons Speaker.
The Labour politician received more than 50% of votes in the fourth ballot of MPs, defeating his party colleague Chris Bryant.
Mr Hoyle, formerly a deputy to Mr Bercow, received 325 votes to Mr Bryant's 213.
Speakers must be politically impartial, meaning Mr Hoyle will be required to resign from the Labour Party in order to carry out his duties.
Standing to congratulate Mr Hoyle, Prime Minister Boris Johnson said: "Mr Speaker, in congratulating you on your election I observe that you have prevailed over an extremely strong field and that every other candidate earlier on spoke forcibly and well."
Mr Johnson praised the newly elected Speaker for his "kindness and reasonableness" which he said he hoped would "bring us together as a Parliament and a democracy".
Labour leader Jeremy Corbyn said Mr Hoyle will "stand up for the principle" of parliamentary democracy, adding: "The job of Speaker is not just a ceremonial one. It is about the rights of backbenchers to be able to speak up".
Mr Corbyn joked that the new Speaker had "eyes in the back of his head" after a photo emerged at the weekend of him watching the Rugby World Cup Final but not facing the television.
"It's a difficult job, you don't know what's coming at you next and so I realised you've actually been in training in this," he added.
Farage takes Brexit poll challenge to Johnson
Meanwhile, Brexit Party leader Nigel Farage has said he will field hardline Brexit candidates across Britain despite fears he could deny Mr Johnson a majority in next month's election.
Mr Farage wants to sever all ties with the European Union and calls Mr Johnson's divorce deal agreed with Brussels last month a "sellout" of the hopes of Britons who triggered Brexit in a 2016 referendum.
He said Mr Johnson's ruling Conservatives could pay dearly for rejecting his offer for a "non-aggression pact" in the 12 December election.
"There will be no Brexit without the Brexit Party," Mr Farage told a London rally of hundreds of Brexit Party candidates standing in the country's third election in four years.
"Here's the problem with the proposition Boris Johnson is putting to the British people - it is not Brexit," he said to a standing ovation.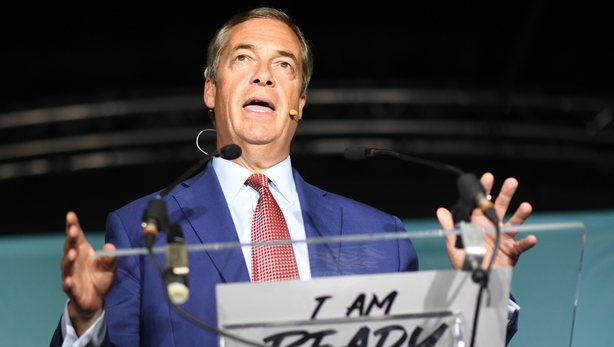 Mr Farage's promise of a swift and complete break from the 28-nation bloc brought him victory in European Parliament elections that Britain was forced to take part in due to Brexit delays in May.
The Brexit Party's ratings fell sharply after Mr Johnson seized power in July on a "do or die" pledge to deliver Brexit by 31 October.
But Mr Johnson was forced to accept another postponement after failing to push through his withdrawal terms through parliament in time.
His hopes of securing the majority needed to see his deal ratified and Britain leave by the latest 31 January 2020 deadline are now being clouded by Mr Farage's party.
His offer to Mr Johnson came after US President Donald Trump - a "no-deal Brexit" backer who supports both men - endorsed a collaboration.
Mr Johnson has until a 14 November deadline to register candidates to still accept the Brexit Party's "clean break" terms, according to Mr Farage.
But on Friday, the prime minister said he has "ruled out a pact with everybody because I don't think it's acceptable".
Mr Farage called Mr Johnson's decision "truly regrettable".
He also rejected accusations from the Conservatives that he was splintering the pro-Brexit vote.
"We won't split the vote because we'll be the only party offering to leave the EU," Mr Farage declared.
Even the most ardent backers of Brexit have attacked Mr Farage for his decision to contest the vote.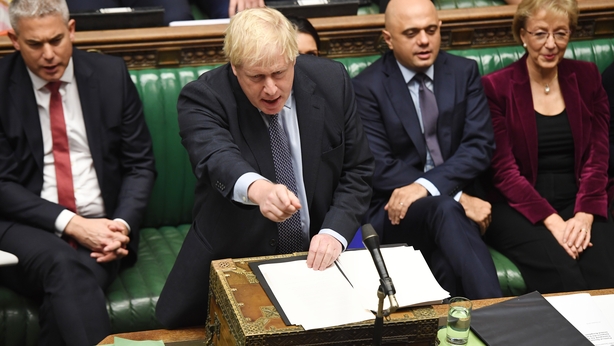 Conservative pro-Brexit lobby leader Steve Baker said Mr Johnson "will not succeed if Nigel Farage creates a hung parliament by dogmatically pursuing purity".
Mr Farage insisted that his party's main target will be the pro-Brexit voters who traditionally support the main opposition Labour Party.
He estimated that nearly five million Labour Party members who voted for Brexit in 2016 could be lured into voting for his party.
But most analysts think that past voting records show the Brexit Party potentially hurting the Conservatives more.
"The Brexit Party drew 72% of its support from 2017 Conservatives and 17% from 2017 Labour voters," Jon Mellon and Geoffrey Evans of the British Election Study research group wrote in a report.
"In Labour-held seats, this gap narrows slightly to 64% Conservatives and 24% Labour voters."
Yet analysts doubt that Mr Farage's party will be able to win more than a handful of seats.
Mr Farage himself will not be contesting the election - he has lost seven previous attempts to become an MP since the 1990s - and will instead be focusing on nationwide campaigning.
He refused to answer repeated question from reporters about how many seats he thought he might win.
Additional Reporting PA