Eleven members of a Traveller family have been convicted of running a modern slavery ring in the UK which kept one of its captives in "truly shocking" conditions for decades.
Vulnerable people were forced to work for the Rooney family for little or no wages, while their pay-masters lived a life of luxury, Nottingham Crown Court heard.
The 11 gang-members, convicted of fraud and slavery charges, enjoyed holidays to Barbados and cosmetic surgery and even shelled out on a Manchester United soccer school, earned off the backs of their workers.
Operating from sites in Lincolnshire, England, they targeted victims who were homeless, had learning disabilities or complex drug and alcohol issues.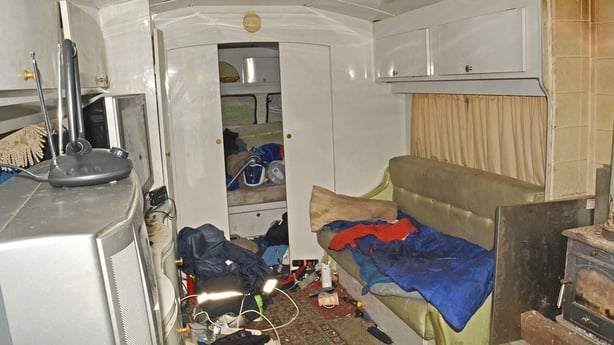 The men, aged 18 to 63, were freed after raids carried out by Lincolnshire Police and the British National Crime Agency in 2014.
One of the victims was found to have been working for the family for 26 years.
Labourers were forced to live in shabby run-down caravans, or in stables next to kennels, with little or no access to basics such as heating, water and toilets. Some were forced to squat in woods behind their living areas, while electricity was "dangerously" tapped from a nearby pylon.
Some of the gang also targeted four elderly home-owners, getting them to sign over properties into their names and selling three on for profit.
In all, 18 men were forced to work at the sites or for the Rooneys' businesses, repairing properties and tarmacking drives.
The Rooneys also used "threats" and "violence", including punishment beatings, and the victims were denied medical help for their injuries and ailments.
The impact on the victims was severe with many suffering mental and physical torment during their "gruelling and emotional" ordeal, said police.
The defendants, ranging in age from 31 to 57, will be sentenced in September.
Offers of fair work exposed as lies
Members of the family would go looking for victims on the streets, hostels and shelters, offering work for food and accommodation.
But at sites in Linconshire the offers of fair work for fair pay were exposed as lies.
However, it was through false promises, drugs, alcohol and violence, family members made sure they kept their victims "financially-trapped".
The police said victims were also "poorly fed" and often went hungry - or were given the "family's left-overs", even though they were worked for hours on manual tasks.
If victims complained, the gang would say they still owed money and would claim more labour to pay off the bogus debts.
The gang provided alcohol and drugs as part of what prosecutors had described as a "grooming" process.
But as their hold on the victims increased, that illicit supply gave the clan an ever-tighter hold over their victims, including their bank accounts.
In some cases, the accounts were used to pay for gym memberships, soccer schools and building materials to supply the business.
For the convicted gang-members, there were luxurious holidays to Australia, Egypt and Mexico, high-performance BMWs, spa days and cosmetic surgery.
It was a far cry from what Chief Superintendent Nikki Mayo, who led the investigation, described as the "suffering" inflicted on the men they employed.
She said: "The tragedy in this case is that the victims will never get those years of their lives back - we believe one man was held for 26 years.
"The severity and gravity of the charges speak for themselves.
"Modern slavery is a cruel and extremely demoralising crime."
She added many of the victims "have now got their lives back".