EA's latest soccer simulator continues its trend of evolution over revolution - but it remains the gold standard title in the sport's sub-genre.
Platforms: Xbox Series X/S, Playstation 5 (reviewed), Playstation 4, Nintendo Switch, PC
This year, for the first time in a long time, EA has the soccer field to itself. That's because long-time rival Pro Evolution Soccer has been ditched by its developer in favour of a free-to-play (and critically panned) alternative called eFootball.
Thankfully, that lack of on-field competition does not appear to have led to an easing in EA's relentless march forward - with FIFA 22 representing another solid advancement in the series.
So-called 'Hypermotion' is perhaps the most notable sign of progress, adding detailed motion-capture animation to give the game more realism.
Other changes have been made to on-field play, including the AI, to help (or hinder) real-world players. This has the effect of reducing the ease with which goals can be scored, forcing a bit more care and skill in order to succeed.
Meanwhile, new features have been added to a variety of the 'modes' available to players. For the most part these additions represent slight tweaks on last year's game, however they build on the remarkable breadth of options available to players.
FIFA 22 players can simply jump into a quick 'head-to-head' match, or play through a league or tournament as the team (or teams) of their choice.
Within that they can give squad selection and tactics as much, or as little, attention as they like.
Those looking for something more in-depth can start a career as a young player and try to work their way up the ranks (this includes the option of controlling that player only on the soccer pitch, or the entire team). Or they can enter management and try to progress from the sidelines, while also paying heed to the transfer market and a club's other financial dealings.
The 'Volta' section is built around a street soccer style, adding some more over-the-top options that are reminiscent of the standalone FIFA Street series.
Meanwhile there is a range of multiplayer options available, from standard head-to-head games to a 'Pro Clubs' mode that allows numerous players each to control individual avatars on the screen.
In addition, EA also adds to the FIFA Ultimate Team feature - which allows users to build a team of their own, pulling in players from various real-world clubs and leagues.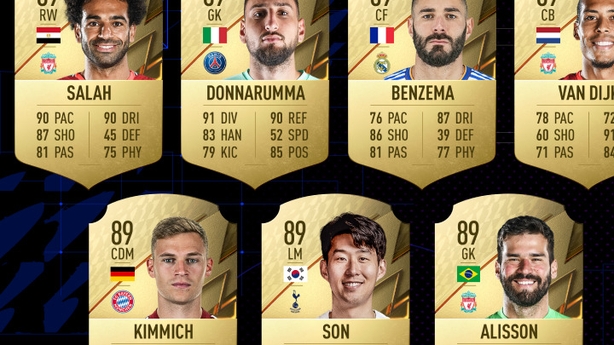 There are various ways to do this - but it's here that the dreaded micro-transaction takes centre stage.
That's because players can be added through 'card packs', which include an assortment of mystery characters and in-game accessories. They can be purchased using points earned when playing or, as a short-cut, through credits bought with real-world money.
They're EA's version of the controversial 'loot box', which ask players to hand over cash for the chance to get an in-game feature that they want (which that might also help them to perform better).
At the time of writing this review there were card packs available for anything from 75c to €3. Perhaps not a huge burden in isolation, but multiple purchases would quickly add up… and that's after you've paid €70 for the game itself.
But even steering clear of that portion of the game, the other features and modes could make FIFA 22 a slightly bewildering proposition for players - especially those that are new to the series.
However EA does a pretty good job of holding users' hands through the process - opening with a mini-story at the start to show you the basics.
The range of gameplay modes also give you the option to simply get on with a game, or pour over tactics, form and player data if that's what you want to do.
But it is all very much a case of 'easy to learn, difficult to master'.
At its heart the in-game controls - like dribbling, passing and shooting - are all easy to get your head around at first. But pressing the right button at the right time, for just the right duration, with just the right curve applied, is another thing altogether.
And that's not to mention the degree course you need to get to grips with the myriad of variables involved in lining up a free kick.
But, overall, FIFA 22 does a very good job at offering something to any type of player - whether you're a casual fan looking for a quick game or an expected goals obsessive who fancies themselves as a Jürgen Klopp.
Given the fact that it's a relatively mild upgrade on its predecessor does raise the question of whether FIFA 21 players would get much value in moving up a year. Though those that spend a lot of their time online may find the critical mass of players shifting them in that direction soon either way.