With every new generation of smartphone comes another wave of capabilities. Though, as they're often building on existing features, or hidden behind various multi-touch gestures, they usually require a degree of pre-existing knowledge in order to be accessible to users.
Emporia's Smart 4 is an attempt to buck that trend, and bridge the gap between smartphone features and unfamiliar consumers - and it is clear from the get-go that they have made no assumptions about its users' tech abilities.
Inside the box is a set of clear and colourful instructions, while the phone itself carefully guides you through the set-up process - to the point that it even has an app training you to use the touchscreen.
Once set-up, users will find a big and bright screen, with a custom interface built around large, easy to see (and tap) icons and options.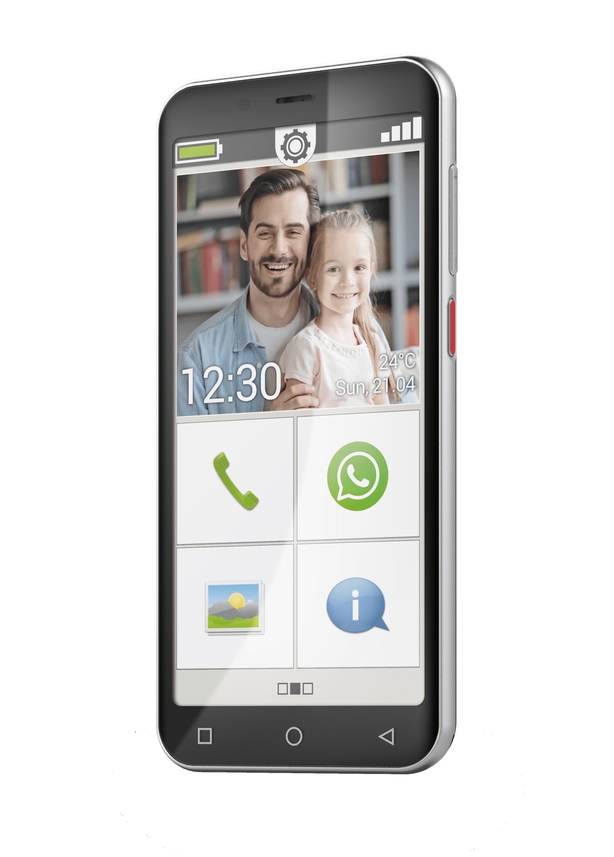 A quick menu means it is easy to access things like the torch, alarm and notification alerts settings - while the text in apps like Messages and Email can be easily enlarged for those struggling to see.
But it's not just software tweaks - there are physical differences too.
The device itself is easy to hold, with no glossy casing creating a fear of slippage. But even if it does fall, the Smart 4 feels sturdy enough to survive a knock.
Users can also opt to have access to a physical emergency button on the back of the device, which can be set-up to either contact a specific person, or the emergency services, when held down.
But beyond that the Emporia Smart 4 is a fairly standard, mid-market Android smartphone.
That means the likes of its camera is more than adequate - including a good front-facing lens that will allow for a decent picture during video-calls.
It also offers access to the same kind of apps a "normal" smartphone has, including the likes of WhatsApp, Spotify and Revolut.
And it is capable of tapping in to Google Pay, which allows users to set up bank cards and make contactless payments through their phone (at the moment all banks bar Permanent TSB facilitate this).
The Smart 4 is quite clearly aimed at the entry level user - or those who want more from a device but struggle to see what's on a regular smartphone's screen. That will be a major selling point for many, but it also comes with a trade-off, as the larger icons and text mean less information can be displayed at any one time.
There is no real way to square that circle - but it does mean users may have to go through more 'taps' to access some features. For example, in order to record a video you have to open the camera, tap the options bar, tap 'video mode' and then hit 'record'.
Given its accessibility-friendly pitch, another area it falls somewhat short in is audio volume.
The phone's ringer is impressively loud, but the call volume (including in speaker mode) is fairly average.
Sadly the headphones that come with the device are also quite flimsy too - though on the plus-side it uses a standard headphone jack, so finding a better pair should be easy (and, of course, it has Bluetooth for those that might want a wireless option).
Summary:
Overall the Emporia Smart 4 achieves its goal of offering smartphone features in an easy-to-use package. Though there are a few inevitable compromises on show, it's sure to be tempting - not only to older users, but also those seeking a more streamlined experience from their device.
The Emporia Smart 4 is available from An Post Mobile from €140 on a €15/month plan