Dashcams aren't new technology. In many parts of the world, they've been in widespread use for many years now.
But the devices are still relatively rare in Ireland, which is slightly odd given our obsession with technology and our high insurance costs.
That is likely to change though, as insurance companies increasingly follow the lead of FBD for example, by offering discounts to drivers that use them.
The lowering of the cost of the technology also means they are quickly becoming more affordable.
And they are pretty useful too, mostly for proving culpability in the event of an accident, but also for that occasional moment where you drive past something strange, unusual or bizarre on a journey.
There are hundreds of dashcams out there and as with everything tech related, the quality varies considerably.
Nextbase is a British company that has been around for almost 20 years and is among the market leaders in dashcams.
We've been trying its 512GW model to see what it has to offer.
DESIGN
The first thing to say about dashcams is that as technology goes, they aren't particularly attractive looking.
And the 512GW is no different.
That shouldn't really matter though because at the end of the day, they are stuck to the windscreen or dashboard, usually more or less out of sight.
The 512GW is rectangular in shape, with rounded edges and a protruding lens.
At the top is the bracket to which the window clamp is attached.
To the rear is a small 3" LED screen, with a resolution of 960x240.
The clamp itself is a fairly standard affair, with a sucker pad and a ball joint for repositioning and angling it. (There's also a magnetic click and go mount in the box).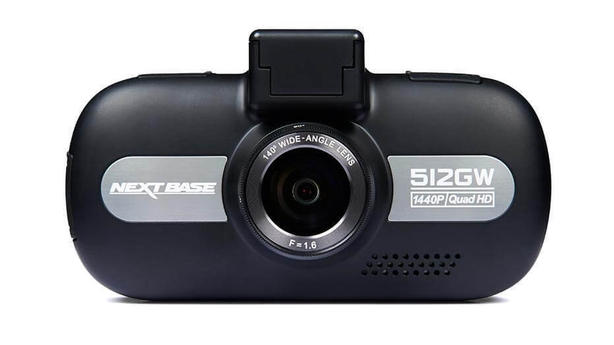 SETUP
Setting it all up is pretty straightforward. It doesn't come with the required microSD card, so you need to get one.
That just slots into the side and then you are effectively ready to go.
Attach the camera to the mount, plug the power cable into the powered mount and the other end into your USB socket in your car, and stick the mount to the dash or windscreen, and 'Hey Presto'!
The dashcam will pick up the GPS signal and automatically set the time and date.
The GPS system will also log your journey, allowing you to view it in Google Maps once you stop.
There are many other setup options buried in the Setup Menu – like language, speed units (km/miles), country, timezones, etc. But for the most part you won't need to go near them.
USE
The device starts recording automatically when the car begins moving.
You should probably adjust the polarising filter on the lens to reduce glare and reflection and get the best clarity through the windscreen though.
Inside there's a Sony Exmor R CMOS sensor, which can record at Quad HD 1440p at 30fps or 1080p at 60fps.
The 6 element glass lens provides a 140-degrees wide angle view, capturing all the road and a decent amount either side of it too.
The camera records files of three minutes in length each, so if you do need to pull a file, you don't have to download hours of material before viewing it.
This default though can be adjusted to either 2 minutes or 5 minutes.
The card will fill up of course, but the device is set to automatically overwrite the last file when this happens, meaning you never run out of space.
A 16GB card will typically hold up to an hour of footage before it starts deleting.
When you stop, the device immediately stops recording.
REVIEWING FOOTAGE
You can view the video back on the dashcam itself or download it to a computer for reviewing either directly or using the supplied Nextbase Replay 3 video playback software.
The device also has Wifi built in, so you can connect it to the Cam Viewer app where you can view and download your recorded footage, change settings on the dashcam and access support.
There's also a mini HDMI port on the Nextbase, so you can play the content directly to a HD screen.
The quality of the recorded footage is pretty good, enough to capture clearly anything that happens in the immediate vicinity of the front of the vehicle.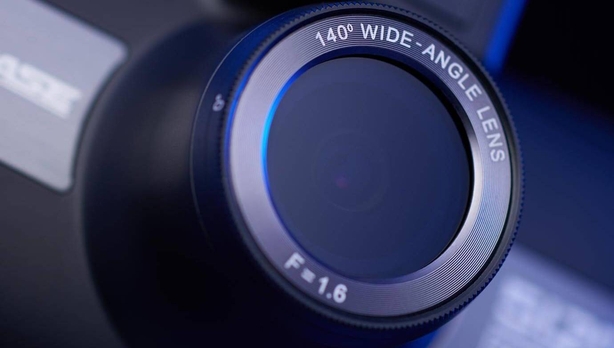 OTHER FEATURES
For recording longer journeys, there's a timelapse mode, but this is only for gathering images for "leisure" purposes, the manufacturers say.
It won't be much use in the event of a crash. You can record up to 3 minutes or one hour of footage for use in a time lapse.
There's also a Parking Mode, which when turned on will cause the device to go into standby mode when the power supply turns off (typically when the ignition key is taken out).
It also turns off when no movement is detected for 5 minutes.
There's also a plethora of other settings to be played with – you can enter your car reg number so it is recorded in the video; you can record audio or not; resolution and exposure can be adjusted; speed and GPS location can also be stamped on the video.
If you want to ensure the current recording is protected from deletion when a crash takes place, you can set the built in G-sensor.
This will detect when a force hits the car and automatically protects the file. There are three settings for the sensitivity – low, medium and high – or it can be turned off.
You can also use the dashcam to take photos by simply changing modes.
There's no rear-view camera on this model, but you can plug one in.
VERDICT
Overall, this is a well designed, easy to use and feature packed dashcam.
It is straightforward to set up, the menus are reasonably simple to navigate and the footage it captures is of a high quality.
But the absence of a rear-view camera will be a downside for some, there's no night-vision, the manufacturers could throw in an SD card for the relatively high price (€179) and it can't record 4k.
There are higher spec'd versions in the Nextbase and other manufacturers' ranges though if you do want to spend and get more for your money.
As a first-time user of a dashcam, you would probably find most of what you need in this device though.
Comments welcome via Twitter to @willgoodbody