Trying to get good quality Wifi coverage across your home can be tricky.
And that can be a real issue given our growing dependence on a good signal for devices ranging from smartphones and tablets, to TVs and gaming consoles and all manner of smart home devices.
All sorts of manufacturers now make fancy routers and extenders that claim to get over the problem.
But Google reckons the future is mesh – an easy to set up and manage, overlapping, expandable smart Wifi network, driven by one or more hubs placed around a home.
And so it has built Google Wifi.
What does it look like?
Each hub is a small cylinder shape that has an LED groove around its centre.
It's aesthetically unremarkable. It wouldn't look out of place on most shelves or tables, but equally you wouldn't be displaying it in a design museum.
They are powered by USB-C and have Ethernet ports in their backs.
How do you set it up?
All of the Google Wifi devices are the same, so any of them can act as the primary node to be plugged into your existing modem.
To set that primary node up, you'll need to power up the device, connect it to the modem and download and install the free Google Wifi iOS or Android app.
You then follow the instructions, scan the QR code on the base of the node that's plugged into your modem, name the network and set a password.
From that point on, you are up and running.
Once one is plugged in your "network" can in theory function.
But to get the best out of the concept you will probably want to add at least one more hub to make a proper mesh.
So following the same procedure you add the other nodes using their QR codes and before you know it you have your mesh network.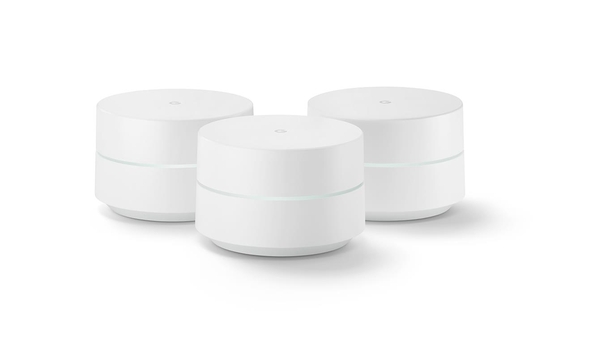 How does it work?
The Google Wifi system handles all the techie stuff for you.
The system runs on intelligent software called Network Assist that works in the background to maximize your connection.
In other words, the system will automatically place you on the clearest Wi-Fi channel, choose the optimal Wi-Fi band for your device and transition that device from point to point as you walk around your home.
Being smart it can also help you to improve its service, like for example telling you if you could get faster speeds by moving a Wifi point to a new location.
You can also use the app to give priority to certain devices, so that if bandwidth is limited those devices will get take care of first.
What about controlling family access?
The system enables the user to limit Wi-Fi access to specified devices, like those operated by your children.
Yes, that means that when all you can elicit is a grunt from a moody teenager who has their head stuck in their phone or won't put their tablet away at bedtime, you can pause or cut-off the signal to it.
It is also possible to set up a guest network with a sharable password.
And the system is also compatible with Google's On.Here smarthome device control platform, allowing you to control devices from the app.
Does it work?
Yes, it does.
Across our home, the network based on two devices was strong and reliable.
It appeared to draw the best from the available bandwidth through the smart software.
Speeds seemed to be higher than on our traditional router/wifi modem/extender set up.
The insights it gives you into who is using what and how the signal could be improved are useful too.
How much does it cost?
It certainly isn't cheap, with a single unit costing €139, and a three-pack around €359.
Google says a single unit is perfect for smaller homes up to 900 sq. ft, while a three-pack can cover homes up to 2700 sq ft.
The question is, what price would you pay for a good Wifi signal?