By Will Goodbody, Science & Technology Correspondent
Phablets aren't for everyone.
Those that try them and like them, tend to obsess about them. And those that don't embrace them, tend to hate them.
Nevertheless, there is demand for big screen smartphones, and as sales of handsets like the iPhone 6 Plus, Nexus 6P, Samsung Galaxy S6 Edge+ and others show, it is strong.
Huawei is now present in pretty much every segment of the mobile market.
With the Mate series it is trying to appeal to those who are looking for something a little bigger.
The Mate S was announced at IFA in Berlin last September.
But only now is it becoming available here in Ireland - the first of the Mate series to do so.
DESIGN
The Mate S is a lovely looking handset. It's thin, at just 7.2mm, and has an all metal body, giving it a premium feel.
Despite its size, it also feels light. This coupled with the contoured back and edges makes it much more comfortable to hold than the larger screened Mate 8.
Also on the rear is the recessed fingerprint scanner and the camera, the edges of which just peak up discreetly above the surface.
The volume rocker and power button are situated on the right side, two thirds of the way up – a placement that didn't pose a difficulty for my long fingers, but which could prove troublesome for some.
DISPLAY
The screen on the Mate S is a 5.5 inch AMOLED Full HD display.
That's less impressive than the QHD displays on other similarly priced comparable handsets, and the minimum one might expect.
But nonetheless, unless you are something of a screen connoisseur, you are unlikely to really notice.
It may not quite be pin-sharp all the time, but on the whole it provides rich contrast, strong colours and deep blacks.
The handset can't record 4K video, so really there's no need for a 4K display.
The Mate also boasts 3D Touch technology – a bit like Force Touch on the latest iPhones.
The feature allows you to execute extra commands by touching and holding on the screen.
The catch, however, is that 3D Touch is only available on the 128GB version of the Mate S, not the 32GB and 64GB.
Which begs the obvious question, why?
The handset I had to review was a 32GB version, so I can't pass comment on the feature.
But the consensus among other reviewers seems to be that while technically it works well, Huawei hasn't really put much thought into where it should be used yet – a missed opportunity perhaps.
It also has the gimmicky knuckle technology of other Huawei handsets, which enables the user to capture sections of the screen and to open apps by drawing the outline of a letter on the screen.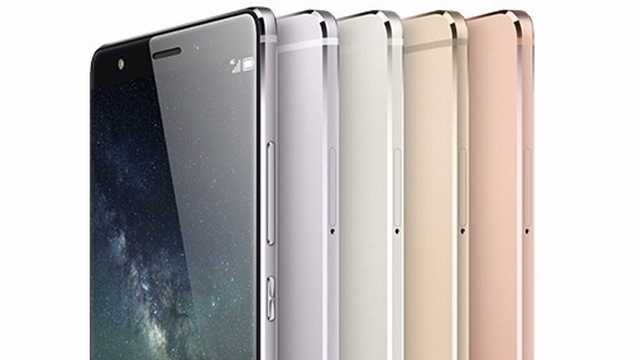 HARDWARE
The phone is powered by a Kirin 935 Octa-core 64 bit processor, and comes with 3GB of RAM.
It's an impressively fast handset, with apps opening at lightning speed, and no lag when hopping from app to app.
Perfect for everyday use and well capable of handling more if asked.
As mentioned earlier, it comes with a choice of 32GB, 64GB or 128GB of ROM – and a microSD expansion slot.
INTERFACE
The Mate S runs the Android 5.1 Lollipop operating system – not the most recent version, but still pretty up to date.
One top of that is Huawei's Emotion UI interface, which seems to still attract a lot of criticism.
The Mate S runs version 3.1 of Emotion, and one of the criticisms is that it still doesn't have an app tray, which can lead to overly cluttered home screens.
Some customisation of the themes is possible, but this is limited to six – so if you are a design fiend, you may be more than a little frustrated.
There is also evidence of a little bloatware – unnecessary apps which take up space and potentially slow down performance.
BATTERY
The phablet has a 2,700mAh battery – that doesn't sound huge for a pretty big phone.
But in reality the hardware architecture coupled with the power saving features in Android, mean it generally lasts the day under normal use.
Of course gaming, movie playback and other screen intensive activities will compromise that.
FINGER PRINT SENSOR
The rear placed updated Fingerprint Sense 2.0 sensor is supposed to bring better accuracy and sensitivity.
In practice, I found it fast when unlocking, but a little less reliable for other gestures it can be used for, like scrolling images and bringing down the notification panel.
All told though, it is pretty good.
CAMERA
The main camera is a 13MP chip with dual-tone flash.
It's perhaps on paper not the best premium Android camera on the market, but the results are nonetheless impressive.
It performs very well in bright light conditions and reasonably well in low light.
Shutter reaction speed and autofocus are rapid enough, and there are plenty of manual options available for those who want to customise their settings, like ISO and white balance.
Huawei might not be a leader in camera hardware, but certainly its software is very good.
And the Mate S boasts a range of fun and clever features for image editing – my favourite being "Beauty" mode.
There's also an 8MP front-facing selfie camera.
As mentioned earlier it only shoots full HD video, but that's probably perfectly adequate for most.
CONCLUSION
The Mate S isn't a cheap phone.
It will set you back around €459.99 if you are to buy it SIM free. That puts it in or a little below the same territory as some of the best phones on the market.
On some metrics it comes close to meeting the same marks.
It looks and feels great. The reduced screen size renders it more practical than its predecessor.
The camera and finger print sensor are better than average.
And the price is competitive relative to the competition in the segment it occupies.
But it has some flaws.
The absence of 3D Touch on the models with smaller memory, and the lack of a useful purpose for it on the model it is on, is an opportunity lost.
The Emotion UI interface will be something that either won't bother you at all, or will bother you a lot.
And arguably, it doesn't pack enough punch to justify the price tag.
The question you must ask yourself, therefore, is how much punch do you need?
The Huawei Mate S is available exclusively from Three.
Comments welcome via Twitter to @willgoodbody