By Yvonne Murray
On 2 June a new direct flight from Dublin to Hong Kong, operated by Cathay Pacific, will take to the skies. Ten days later on 12 June, Hainan Airlines will launch its Dublin-Beijing route.
It's the culmination of considerable effort and lobbying by the Irish diplomatic and business communities here to deepen links with China as its vast economy expands.
"The growing numbers of Irish tourists, students, business people and other travellers living and spending time in China will not only benefit from the non-stop services to Beijing and Hong Kong," says Ireland's Ambassador to China Eoin O'Leary, "but also from the numerous connections that the airlines offer throughout China and the wider Asia-Pacific region".
About the Hong Kong flights starting on Saturday, he said: "These direct flights will open up many new opportunities between Ireland and Hong Kong across many sectors, including in financial services, education, food, beverages and culture."
At the Aberdeen Fishmarket in Hong Kong, crates of groupers, sea urchins, flatfish and shellfish are being loaded onto trucks for distribution across the city.
Among them, there's a box of razor clams marked Glenmar Shellfish Ltd., all the way from Dublin Bay.
Juan Blanes is sales and marketing director for the company based in Dublin. They currently fly their live products to China via hubs in the Middle East using refrigeration to counteract the heat. The direct flight will only work for them if the price is right.
"Our competitors in Scotland, England and Wales will have the same species available and we compete with them in the same marketplaces. They have plenty of flight options from London.
"So while the direct flight out of Ireland sounds like a great thing and it is a great thing," he said, "many of our competitors have been working with direct flights for a long time."
At first glance, Hong Kong with its high population density and sweltering tropical climate might not appear to have much in common with Ireland.
But the two places have some interesting parallels. They are relatively open economies with a similar GDP (around $330bn) standing at the foothills of a giant market - China in the case of Hong Kong and the Eurozone for Ireland.
Ireland and Hong Kong also share a deep love of horse-racing.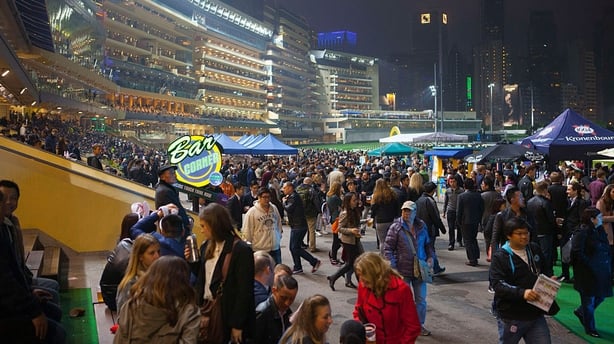 At the Wednesday night races at the Happy Valley Racecourse, the atmosphere is jubilant as punters watch the horses line up.
"I've never been to Ireland before," one local fan tells me. "But my friend has. I saw her pictures on Facebook and it's beautiful."
"I think it's cold in Ireland," says another, as his wife wraps her arms round herself and shivers. "But I do want to go," he adds. His wife shakes her head.
In research carried out ahead of the introduction of the flights, horseracing was identified as a "nano-market" - an area where there's already a connection between Hong Kong and Ireland - more than 10% of Hong Kong's racehorses have Irish bloodstock, which could create a foothold in the wider market.
"You identify groups that maybe have a connection to or an affinity with Ireland who are influenceable to go to Ireland and they become the ambassadors who recommend to the next wave," says Rob Agnew, current chairman of the EU Chamber of Commerce in Hong Kong and former chairman of the Irish Chamber of Commerce.
In terms of why Chinese and Hong Kong tourists might choose Ireland, he said: "The clear message that came out was about the environment, about 'clean and green' and scenery. So it is more about the Wild Atlantic Way rather than Ireland's Ancient East."
Strong links already exist in many industries.
"The vast majority of funds under management in Hong Kong are UCITS products administered out of Ireland and Luxembourg," said Conor O'Mara, Managing Director and Head of Technology, Specialist Sales at Jefferies and also local representative of Irish Funds in Hong Kong.
He added: "We therefore have a large financial community here that will benefit from direct flights.
"In terms of Ireland's tech sector. I think there could be some benefit there as well, as the largest tech clusters in China are in Beijing and Shenzhen with ZTE, Huawei, Tencent, Ping An and a host of others all based around Shenzhen (across the bay from Hong Kong). There should be trade opportunities there."
Last year, Chinese residents made 145 million overseas trips. By 2030, Chinese travellers abroad are expected to number around 400 million a year.
How many choose to check-in for the Dublin flights will depend on expanding business and trade links and continuing to promote Ireland as a destination of choice.