Today's preliminary Census data on religion has huge pertinence for the long-running school patronage debate.
The picture it reveals fits with what campaigners for change have long argued; that there is a steadily growing demand for non-religious or multi-denominational schooling here, writes Education Correspondent Emma O Kelly.
The data published today by the Central Statistics Office does not give any great detail but it shows a significant increase in the number of people stating that they have no religion, up by 73.6% on four years ago from 269,800 to 468,400.
On top of that, a further 125,000 chose not to tick any religion box when they filled out their Census form last year. This is a 78% increase on those ticking no religion box in 2011.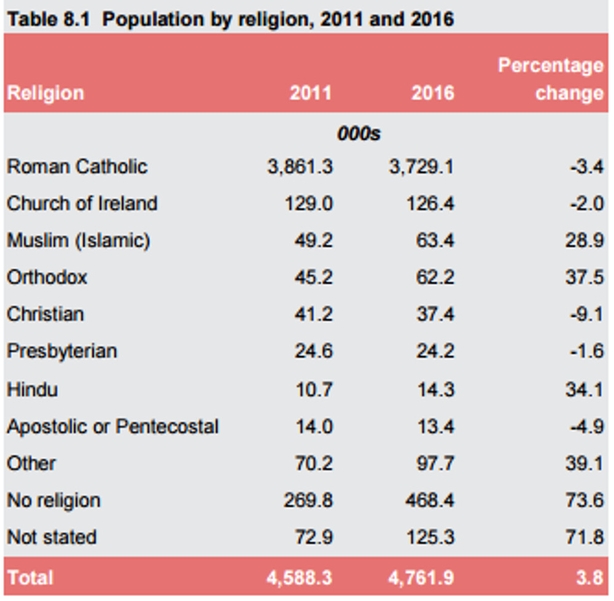 The Census data also shows a rise in numbers practising non-traditional minority religions here, such as Islam or Hinduism, although those numbers still remain quite small overall.
But in terms of the school patronage debate the most interesting figure contained in today's preliminary data is the fact that 45% of those who say they have no religion are in the 20 to 39 age bracket. This, even though this bracket represents just 28% of the general population.
This is the age group that is having babies, and sending young children off to school, and it's significant that it's here that the highest proportion of people stating they have no religion is found.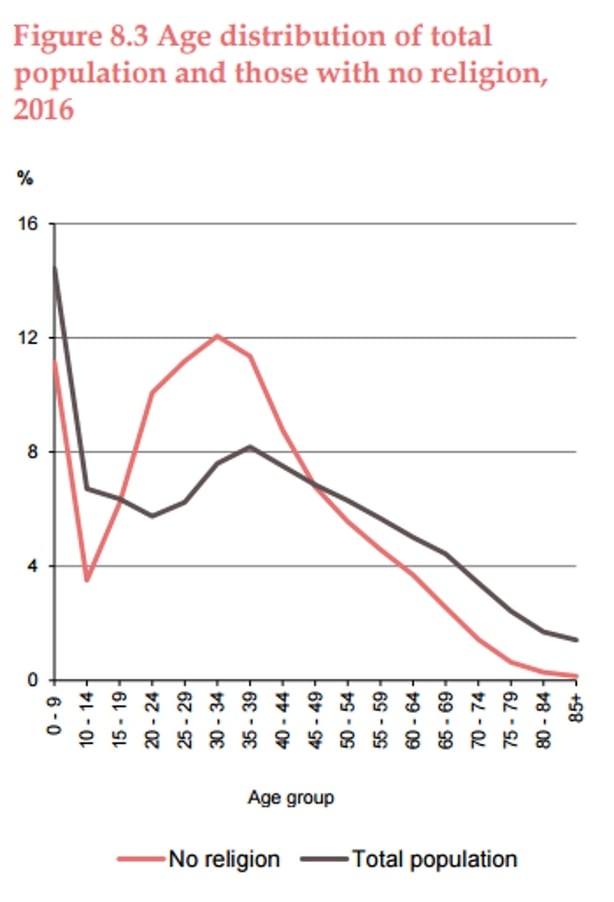 The Roman Catholic religion continues of course to dominate, but its dominance has fallen sharply, according to the CSO.
78% of people here identify as Catholic, compared to 84% five years earlier. That's a fall of 6%. Yet the Catholic church still runs 92% of Irish primary schools.
While 16% of the population is now not Catholic, that percentage is probably significantly higher when it comes to children.
Yet very many of those children have no option but to attend Catholic schools, where the Catholic faith is taught as an integral part of the school day.
Today's CSO summary provides one other piece of relevant data. Examining the percentage of non-Catholics by county it finds that in three large urban areas, Dublin City, Dún Laoghaire, and Galway city more than one in three of the population is non-Catholic.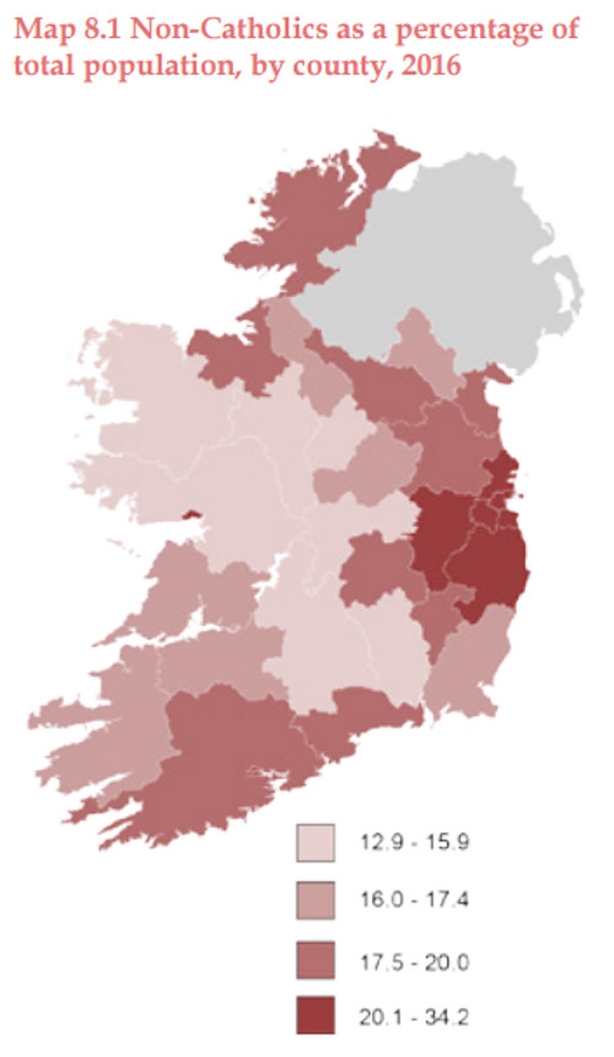 Yet the overwhelming majority of publicly-funded schools in all three of these areas, at both primary and second level, continue to be controlled by the Catholic church.
The CSO data begs one further question; how many of the 84% who ticked the Roman Catholic box were baptised into that faith simply in order to secure a school place? Unfortunately the Census data won't provide any answer to that question.
For all those who are interested in a more comprehensive breakdown of this data, there's a six-month wait. The CSO plans to publish its detailed figures on religion in October.