The Health Service Executive has provided €30m to fund treatment for hepatitis C, however there is a call for additional funding for more community outreach programmes to raise awareness among vulnerable people who could be unknowingly infected.
Hepatitis C is a contagious virus that affects the liver, and can only be contracted through contact with infected blood, writes Mark O'Flynn.
It is estimated that between 20,000 to 50,000 people in Ireland are infected with the virus.
An anti-viral tablet can treat the virus and can cure the majority of patients.
People can live with the disease for a number of years, and if the virus remains undiagnosed and/or untreated, it can cause liver failure, cirrhosis of the liver or liver cancer.
According to the HSE, the most common way to become infected by Hep C is by sharing contaminated needles while injecting drugs.
A recent study by the Health Research Board, estimated that over 12,400 people who injected drugs are infected with hepatitis C. It said that 9,317 of drug users are chronically infected from the disease.
Dr Jack Lambert, an infectious disease specialist at the Mater and Rotunda hospitals in Dublin, said that more needs to be done to reach vulnerable people who are infected with the disease.
"Look at the profile of people with hepatitis C, they are vulnerable populations. They do not and will not come to the hospital. I have a clinic every week at the Mater Hospital and about one-third of my clinic does not show up. Most of the patients who don't show up are the hepatitis C patients.
"Sometimes it's because they just don't show, because they forget. But sometimes I think it's because they are sent out appointments and they don't have an address.
"The best way to access hepatitis C treatments is to go to them, and not have them come to the hospital centres. There really needs to be better partnerships between secondary and primary care", he said.
We need your consent to load this rte-player contentWe use rte-player to manage extra content that can set cookies on your device and collect data about your activity. Please review their details and accept them to load the content.Manage Preferences
Access to the treatment is provided under the National Hepatitis C Programme and the HSE has provided €30m to cover the costs of the drugs for patients.
A full course of the treatment, which lasts 8-12 weeks, costs €20,000 to €40,000 per person.
Nicola Perry is the Manager of Community Response, an alcohol and hepatitis C support service, and also the Chairperson of the Hepatitis C partnership.
She said she has been involved with a few general public awareness campaigns in the last couple of years, and believes that people do not know what hepatitis C is.
"What we currently have is money being put into treatment, which is fantastic by the way; we've got like one piece of a jigsaw, it may be the biggest piece of the jigsaw in the drug itself, but what we need is the pieces around that," she said.
"Community testing, easy access to community testing, follow-up in supports for people who need to carry on with treatment. We need additional monies to put a treatment programme in, around the drug itself."
In a statement to RTÉ, the HSE said that patients who wish to have access to the programme are prioritised on the basis of clinical need.
It said that 1,600 people will be provided with treatment this year, and the development of a set of National Hepatitis C Screening Guidelines is under way.
"I didn't know anything about hepatitis at the time, it was shocking when I found out."
'John' is a former intravenous drug user who is currently in rehab. He said he first heard of hepatitis C when he was diagnosed with it while in a treatment centre.
He said that he is not currently experiencing any physical deterioration with his health, but results which have been presented to him show that he is at the mild stage of cirrhosis of the liver.
'John' is about to undergo treatment for the virus under the National Hepatitis C Treatment Programme.
"If I get this treatment now and do it now, hopefully I've caught it at the right time," he said.
Paula O'Connor contracted hepatitis C over 30 years ago. She is a former intravenous drug user.
Ten years ago, during a detox treatment, she was diagnosed with severe liver problems as a result of hepatitis C.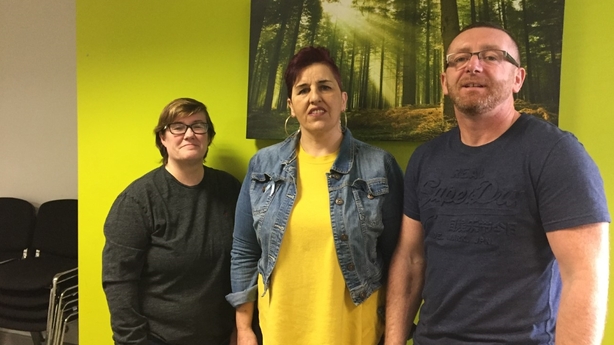 Ms O'Connor suffered severe side effects from initial treatment she undertook to cure herself of the disease, which was unsuccessful.
She said: "I was very upset that it didn't work after spending six months, and my kids were very upset."
Following this, she undertook further treatment which was also unsuccessful.
However in late 2015, she took part in an early access programme of a new treatment initially made available to those with the most pressing clinical need. The treatment cured Ms O'Connor of the virus.
She said: "I'm feeling great, I have a little grandchild now. The energy, I could be out all day. It's a whole new lease of life and thank God for that."