The main developments in Iraq since Sunni Arab militants launched an offensive, seizing territory in the north and the west:
June:
- 10 June: Militants led by jihadists of the Islamic State of Iraq and the Levant, also known as ISIS or ISIL and later renamed the Islamic State, seize Iraq's second biggest city Mosul as government forces take flight.
- 11 June: The insurgents seize executed dictator Saddam Hussein's home town Tikrit.
- 12 June: Kurdish forces take over the long-coveted northern oil hub of Kirkuk as government forces flee in the face of jihadist advances on several Arab towns in the west of the province.
- 20 June: Grand Ayatollah Ali al-Sistani, the highest religious authority for the Shia majority, says the jihadists must be expelled quickly and that the next government must avoid "past mistakes", an apparent rebuke to Nuri al-Maliki, prime minister since 2006 and often accused of having a sectarian bias against the Sunni Arab minority.
- 23 June: Insurgents overrun the strategic Shia-majority northern town of Tal Afar and its airport.
- 29 June: The jihadists declare an "Islamic caliphate" extending from Aleppo in northern Syria to Diyala province northeast of Baghdad. Renaming itself the Islamic State, it declares its chief Abu Bakr al-Baghdadi "caliph" and "leader for Muslims everywhere".
July:
- 3 July: Massud Barzani, president of the autonomous Kurdish region in northern Iraq, asks its parliament to start organising a referendum on independence.
- 18 July: Christians flee Mosul after mosques relay an ultimatum giving the minority the option of converting, paying special taxes for non-Muslims, leaving or being killed.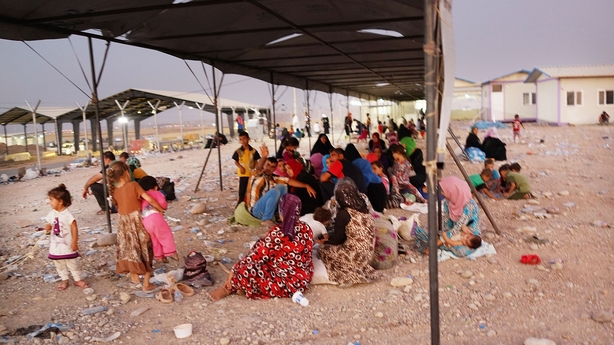 August:
- 2-3 August: The IS conquers several Kurdish-held towns, including Sinjar and Zumar near the Syrian border, ousting Kurdish peshmerga fighters. Tens of thousands of civilians, many from the Yazidi minority, flee, some seeking refuge in the mountains.
- 7 August: IS gunmen seize Qaraqosh, Iraq's largest Christian town, prompting tens of thousands to flee. IS fighters take the Mosul dam, Iraq's largest. US President Barack Obama authorises US air strikes against Sunni militants "to prevent a potential act of genocide".
- 8 August: US jets strike jihadist positions, the first US military operation in Iraq since its troops left in 2011. The US military has since carried out daily air strikes and announced arms deliveries to Kurdish forces.
- 10 August: The United States and Britain air drop food and water to thousands of Yazidis besieged on a mountain. Kurdish peshmerga troops retake the towns of Makhmur and Gwer from the IS.
- 11 August: President Fuad Masum nominates Haidar al-Abadi as new prime minister, to succeed Mr Maliki. IS fighters defeat peshmerga troops in the flashpoint town of Jalawla.
- 12 August: The US sends 130 more military advisers to Iraq, in addition to 300 already there.
- 13 August: Thousands of displaced pour across a bridge into Iraqi Kurdistan.
- 14 August: Mr Obama says US air strikes have broken the siege of the mountain where civilian refugees are sheltering, but adds that US air strikes will continue against the jihadists. Mr Maliki concedes political defeat, bowing to huge domestic and international pressure.
- 15 August: EU ministers meet to seek unanimous approval to arm Iraqi Kurds.