Since I was a small child I have always known that my grandfather, John Cassin, served in the First World War, writes RTÉ's Anne Cassin.
Served and survived, as my father, Barry, was born in 1924, six years after the war's end.
A Post Master in the fledgling Irish Free State, my grandfather lived a quiet life after he came home from France, and kept his wartime memories largely to himself.
I did not know much about his wartime experiences. Aside from a few newspaper clippings and faded postcards in a dusty, broken suitcase, there was only one war-time memento which registered with us as children.
And it was pretty impressive as mementos go – a German bayonet which, when fully withdrawn from its scabbard, brought home in one swift instant the violence of armed conflict.
Scared and thrilled in equal measure this prompted a flurry of questions: How did it work? Did Granddad use this? Did he kill people?
My father told us that the bayonet was German and that his father had brought it home from the war along with a German helmet and some medals.
And no, Grandad had never used weaponry in the war as he was a telegraphist and worked away from the front.
And that was all I ever knew about my Grandfather's involvement in the Great War.
A couple of weeks ago, in preparation for our Nationwide series of programmes on World War I, I asked my father if I could see the old German bayonet.
Stored with it were several documents, including Grandad's Soldier's Pay Book, and some photos.
I brought these items along to the RTÉ Radio 1 World War 1 Roadshow in Trinity College earlier this month.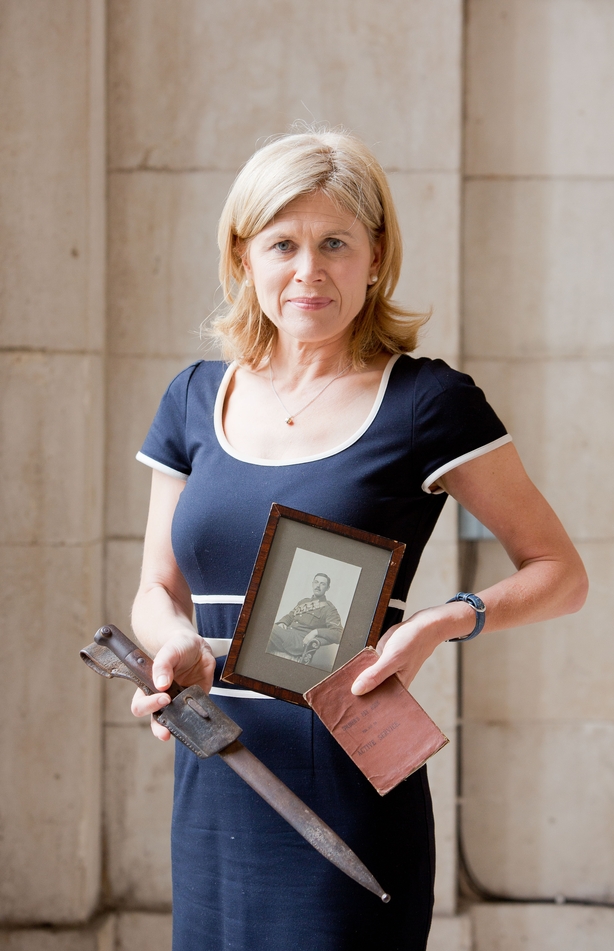 Pic: Tom Honan/Irish Mail on Sunday
We filmed there with Tom Brace, a former army man himself and Research Associate in Contemporary Irish History at TCD, who provided expertise for people with WWI artefacts.
Tom was able to tell me that John Cassin, 165695, joined up at 34 years of age as a Regular with the Royal Engineers, attached to the Cavalry Division.
His letter of release from the Postmaster General, dated 12 November 1915, thanks him for his "patriotic action in placing your services as a Telegraphist completely at their disposal for purposes of the war".
This chimed with my father's memory that as the British Civil Service provided his father's livelihood, it was his duty to enlist when called upon.
Also, with the benefit of hindsight we can surmise that John Cassin, a supporter of John Redmond, would have calculated that Home Rule would follow the end of the war. How wrong.
Other items included Sapper Cassin's Pay Book, which shows that the net daily rate on 2 May 1917 was 1 shilling and 4 pence.
Not a fortune by a long chalk. As the war progressed, wages were paid in the local currency so the last entry, on 16th April 1918, shows us that the promoted Lance Corporal Cassin earned 15 francs. The page for making a Will is blank.
A typed Syllabus of Training, dated 20 July 1917 itemises duties for Signal Office Staff, including a daily two-hour Improvement in Morse under Lance Corporal Cassin.
There are cleaning duties, 15km marches on cycles or on foot and the maintenance of equipment.
Also, an unused Ration Book with coupons for Meat, Tea, Butter and Lard.
Lance Corporal Cassin also received Victory and War medals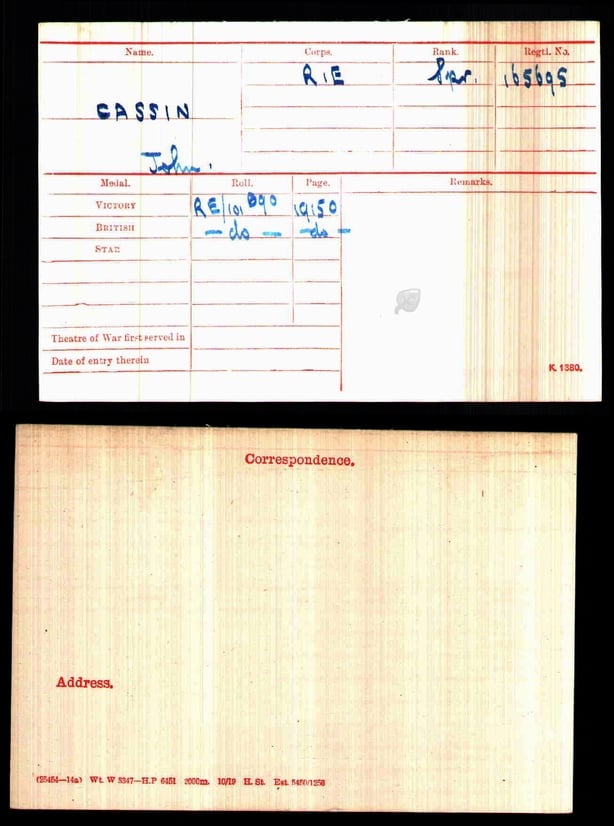 After the war he transferred to the Army Reserve, and returned to Ireland in 1919 where he resumed married life and work as a Post Master.
Did he talk much about the War? I asked my father. Not much outside the family. People weren't interested.
After independence and the Civil War here, former British Army soldiers and their contribution fell out of favour in Ireland.
They were effectively airbrushed out of history and several years after the end of the war John Cassin found himself jeered for wearing the Poppy on Armistice Day.
Did he feel let down by the new Irish State? I presume he did but kept his head down and his mouth shut.
Yet memories of the Great War remained alive to him and fragments survive through my father.
He recounted to his family what it was like to see a pilot in flames hurtling to his death or the quietness in the evening which would precede a bombardment.
A hand-written entry to AJP Taylor's 'The First World War', reads "I was on The Somme on the 20th but I didn't stay very long. With the rest I ran like hell."
Maybe he saw more bloody encounters but, if so, he never shared those with his family.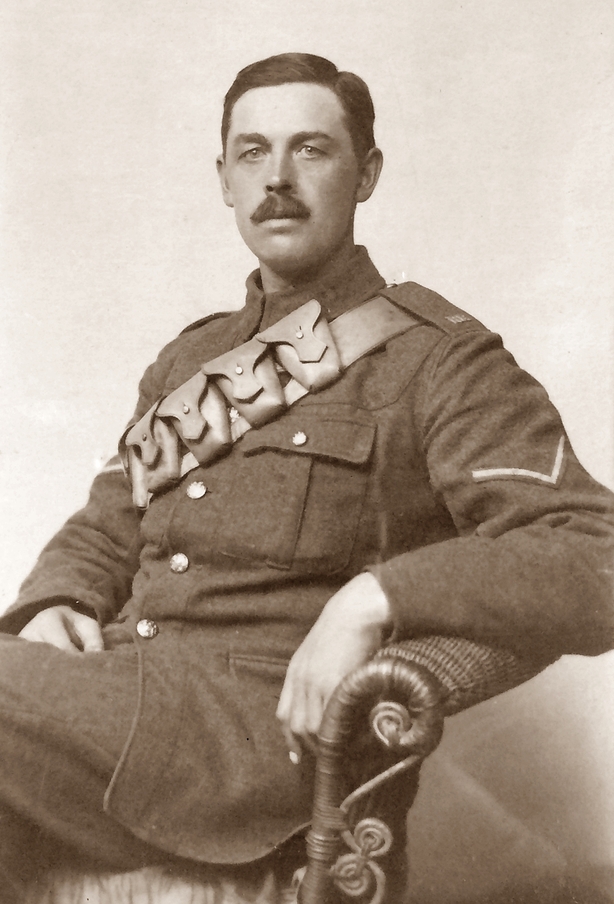 He remained anti-German to the end of his life. Nonetheless, he held on to his German bayonet, along with the papers that I retrieved from my father's house.
A German helmet was lost along the way. Tom Brace tells me German war memorabilia was sold off as souvenirs after the war.
So it's quite likely that's how he acquired the bayonet rather than the rather grisly notion of taking it from a German corpse.
100 years on, I find myself drawn to stories of WWI, and now I have one of my own. How I would love to talk to Lance Corporal Cassin and hear about his wartime experiences. But he has taken those to the grave, where they shall remain.
For relatives interested in sourcing WW1 information see:
www.nationalarchives.co.uk
admin@royaldublinfusiliers.com