Brothers Donnie and Ronnie Galyon celebrated a very special milestone on Saturday.
The world's oldest conjoined twins celebrated surpassing the life span of another pair of twins with a celebration in their hometown of Beavercreek, Ohio.
Donnie and Ronnie Galyon turned 62 years, 8 months and 8 days old, thereby outliving Chang and Eng Bunker, conjoined twins who lived from 1811 to 1874.
Friends and supporters of the Galyons threw a party for the brothers to mark the occasion, complete with cake and strawberry sundaes.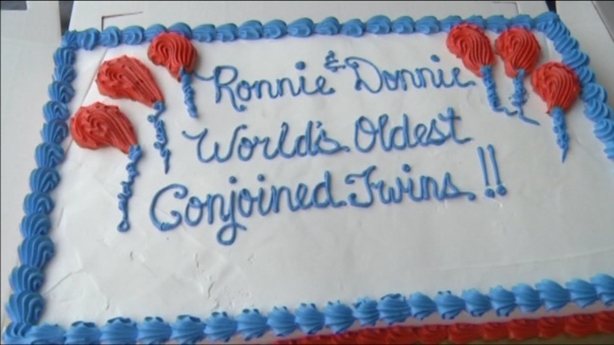 They were "very happy and very stoked"; the twins said in unison at their party.
The Galyons are joined at the sternum and share organs, which became an issue four years ago when Ronnie was sick with a virus that affected Donnie's health as well.
Dr Glenn Kwait has been working with the twins for two decades and said it is "unheard of" to have male twins of this type survive as long as the Galyon brothers have.
"I remember the first time I saw them, the thing that amazed me the most was tying a shoe," said Dr Kwait at Saturday's celebration.
"Ronnie's left hand and Donnie's right hand would tie his shoe and just that ability to co-ordinate is amazing," he said.
The twins live with their younger brother Jim and his wife Mary.
Jim Galyon said his older brothers toured with their father, and at times seven other siblings, as a "human oddity" until the shows fell out of fashion in the 1970s.
The twins aim to break the Guinness Book of World Records as the longest-lived conjoined twins when they turn 63 in October, their brother said.
According to the Guinness website, the longest-living twins, Giacomo and Giovanni Battista Tocci of Italy, were born in 1877 and died at 63, he said.