As counting in the local elections resumes this morning – and counting in the European elections begins – we now know how we voted; but questions remain over exactly why we voted the way we did – and more importantly, what it means for the future.

By David McCullagh
Among the questions that have been raised: where did all those Labour votes go? What were the main issues driving public anger at the Government?
Should the result lead to any party leader losing his job? Was the vote for Sinn Féin and Independents and others a protest vote?
And if so, does that mean it won't be repeated in a general election? And what does all this mean for the formation of the next general election?
Luckily, thanks to the RTÉ Exit Poll, carried out by Behaviour and Attitudes, we have some answers to those questions.
Carried out on polling day, among 3,000 voters nationwide, it tries to dig a little into the reasons for the decision delivered by the people.
First of all, those disappearing voters. In the 2011 General Election, Labour received 19% of the vote; in the Local Elections, that figure dropped to around 7%.
In the exit poll, 27% of those who voted for Labour in 2011 said they stuck with the party; 8% went to Fine Gael; 6% to Fianna Fáil; 18% to Sinn Féin; 7% to the Greens; and a massive 34% to Independents and others.
Labour sources have taken comfort from this figure, suggesting that this chunk of voters can be won back when the General Election comes. That seems to err on the side of optimism, especially when you look at some of the other figures.
For instance, people were also asked who they'd vote for if there was a General Election tomorrow – and only 5% opted for Labour, an even lower figure than the party received in the Local and European elections!
21% said they'd vote Fine Gael, 19% Fianna Fáil, 18% Sinn Féin, 3% Green, 22% Independent/Other, while 12% said they didn't know.
We know people were angry with the Government, but what were the main drivers of that anger?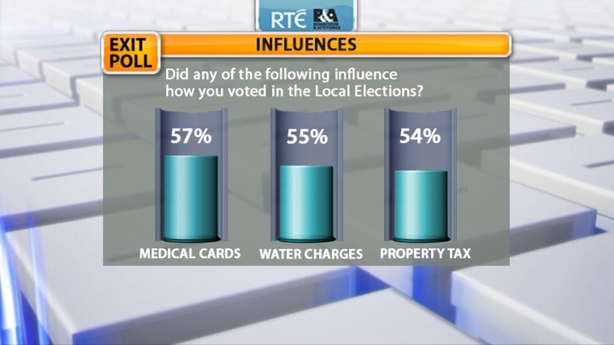 According to the exit poll, 57% said they were influenced by the removal of some discretionary medial cards; 55% by the introduction of water charges; and 54% by the introduction of the property tax.
By contrast, only 29% said they were influenced by the exit of Ireland from the Troika bailout, the Government's much trumpeted main achievement.
45% said they were influenced by reduced unemployment figures, while 32% cited the handling of controversies surrounding the gardaí and the resignation of Alan Shatter – a lower figure than might be expected, given all the media focus on it in recent months.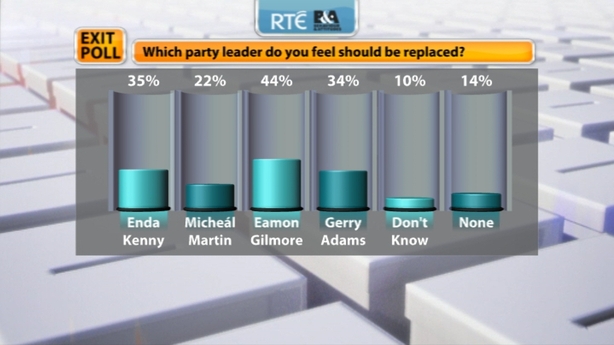 Only 23% of voters said they were influenced by the arrest and questioning of Gerry Adams – and by far the most influenced were those who voted Sinn Féin, with 38% citing it as an influence, presumably in the sense that the arrest encouraged them to go out and vote to show their support for Mr Adams.
Voters were also asked which of the party leaders they felt should be replaced over the next three months or so – 35% thought Enda Kenny should be replaced as leader of Fine Gael; 22% wanted Micheál Martin gone from the Fianna Fáil leadership; 34% want Gerry Adams to go; and a whopping 44% said Eamon Gilmore should go.
More worrying for him, 40% of Labour supporters think he should be replaced.
Despite that blunt message for Mr Gilmore, it appears that party leadership had a very marginal impact on how people voted.
Exactly half of all voters said the main reason for their local election vote was the personality or qualities of the candidate; 23% said it was the party of the candidate; 21% said the policies of the candidate; and just 2% said the candidate's party leader was the main reason for their preference – so changing the captain may not save the rest of the team.
Was the vote for Sinn Féin a protest vote, and therefore, as some have suggested, a "flash in the pan"? The answer is yes – and no.
A massive 82% of those voting for Sinn Féin thought it was important to use their vote to protest against the Government and its policies.
Only voters for the Socialist Party and People Before Profit at 75% came anywhere near this figure – so we can fairly describe the Sinn Féin vote as a protest vote.
(The vast majority of supporters of all parties agreed it was important to choose a candidate who represented their views on local issues, although 10% said it wasn't – what's going on with that?)
But just because it's a protest vote doesn't mean it's a flash in the pan. A whopping 82% of those who voted for Sinn Féin in the local elections say they'll support the party in the next General Election, which, if accurate, suggests the Sinn Féin vote is here to stay.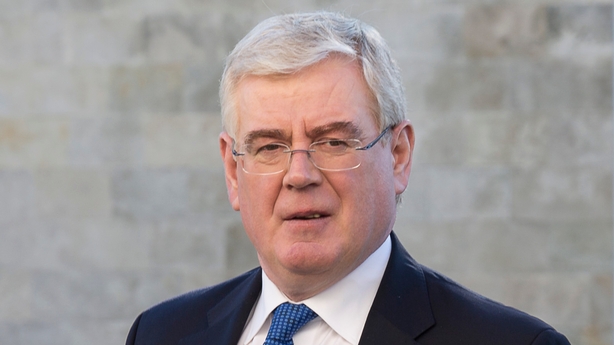 By contrast, just half of those who voted Labour on Friday say they'll do the same in the next General Election.
And finally, what does the exit poll tell us about what combination of parties people want to form the next Government?
On Saturday's television election programme, John Bowman suggested a Fine Gael-Fianna Fáil combination could end up in power in 2016, mischievously quoting Yeats – "A terrible beauty is born".
An FG/FF combination would probably have the numbers, and would be more ideologically coherent than many coalitions we have seen (though in Irish government formation, numbers have always trumped ideology in any case).
But what do the voters want?
Those voters who stuck with the Government parties seem content with the arrangement in place at the moment – 45% of Fine Gael supporters, and 46% of Labour, prefer a coalition between their two parties, while just 20% of Fine Gael supporters favour a coalition with Fianna Fáil.
The latter option is preferred by 30% of Fianna Fáil voters, while 24% would prefer a coalition with Sinn Féin.
It may provide an insight into Sinn Féin support to note that while 29% of that party's supporters would favour a coalition involving themselves, Labour, the Greens and other left-wing parties and independents, a higher proportion, 35%, would prefer a coalition with Fianna Fáil, suggesting that at least part of the Sinn Féin support base is not quite as radical on economic issues as some may suppose.